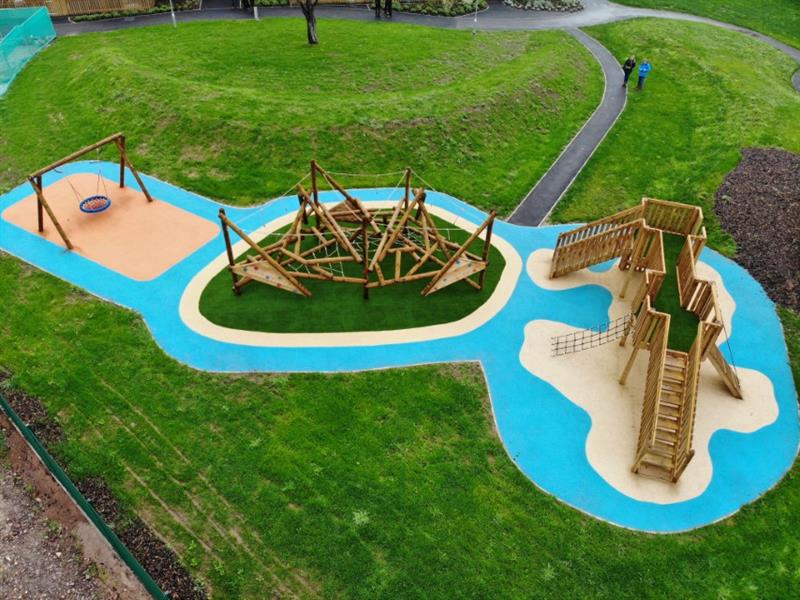 An Inspiring SEN Playground Environment For Children With SEND
Selworthy's new Hazelbrook campus, for their Secondary and 6th Form pupils, brings a welcome extension to this fantastic school for children with Special Education Needs and Disabilities in Somerset.
We worked with Headteacher Mark Ruffet, and Deputy Headteacher and Head of Progress Andy Holden, on the redevelopment of their outdoor play and learning area for primary-age pupils on their existing site. We're thrilled to have also had the opportunity to work with them on this exciting new project, which will allow more children with SEND to be educated closer to home.
Our expert playground consultant Becky Hazell, who has experience of teaching both within mainstream and special schools herself, worked carefully on the project to make sure that it stayed true to Selworthy and Hazelbrook's learning and play vision.
She designed a scheme that would be practical, with multi-use areas for both learning and break times, but also engaging and unique, with areas that inspire and enthral all interests, needs, age groups and abilities.
We were able to incorporate all of the key learning priorities identified by Mark and Andy within the new outdoor learning space:
Physical Challenge Zone
At Hazelbrook, they wanted a high-performance physical challenge that would extend their most physically able children and present them with a thrilling place to play and exercise.
Our magnificent Crinkle Crags Climber is the perfect tool for the job - and it's immense! It's a log and rope climber with dozens of climbing and crossing points, plenty of climbing and hanging opportunities and a compelling climbing wall feature. It's big enough to accommodate a whole class at once, so there's plenty of opportunity to keep everyone engaged.
The school particularly love their Crinkle Crags Climber because of its open-ended nature. Children can get on and off it wherever they like and gradually build up their confidence as they play.
We built a beautiful bespoke wooden Lookout Tower for Hazelbrook that supports occupational and physical therapy sessions. It features:
2 stair access points with supporting hand rails
A ladder for climbing up and down and improving grip strength
A scramble net for developing gross motor skills
A climbing ramp with rope for a medium-level climbing challenge
A perch seat for social interaction and cosy den building activities under the tower deck
An attractive deep-green Artificial Grass top deck for sensory stimulation and a gentle surface to play on that won't become slippery in the rain.
A super Timber Swing with a Group Seat completes the active space and allows children to swing individually or join together if they like - it never fails to bring smiles and laughter at playtime.
Sensory, Science and Nature Zone
Under the watch of Hazelbrook's weeping willow tree, we created a therapeutic sensory space: a space which allows for quieter play, gardening and musical play.
The centre of this zone features a welcoming and versatile, made-to-measure Outdoor Classroom Gazebo. It's wheelchair accessible and includes a Chalkboard for writing and recording during outdoor learning sessions and integral bench seats for enjoying a spot of outdoor reading and conversation.
Built-in planters will allow pupils to grow a selection of fragrant plants and flowers to create a stunning sensory space during the spring and summer months.
We extended an assortment of Planters in different shapes and heights along the accessible pathway around the zone. They can be enjoyed by all pupils at Hazelbrook and they're a great resource for bringing science lessons to life.
A set of brightly coloured African Drums, Musical Chimes on posts and a large outdoor Tuned Xylophone, staggered along the pathway for easy wheelchair access, have brought a fun musical dimension to the space. The children love experimenting with the different sounds they can make.
Motion and Travel Zone
The third zone that we created is all about movement and travel. Swinging is a really popular activity at Hazelbrook and especially for children who require proprioceptive input.
This energising zone features swinging opportunities - a Timber Swing with a Group Seat and our super Wheelchair Swing. It has an anti-slip surface and a ramp design for easy access.
Children can move the swing themselves using the suspended rope pulleys (great for developing their upper body strength and manual dexterity), or they can have someone else push them and enjoy the swinging motion as they ride.
We built a bespoke "Hazelbrook Garage" for the children to use as a store for their bikes and scooters. They love being able to access and make their own choice of vehicle to race around on! It has double opening doors and an internal racking system and shelves for helmets and general storage. Porthole windows allow natural light to flood into the store.
A new Outdoor Gym feature brings a whole range of movement and motion opportunities to the children at Hazelbrook. We installed an Elliptical Cross Trainer, a Double Air Walker and a Double Air Skier - all designed to promote aerobic exercise and develop physical strength in all areas of the body.
They're fun to use too as children enjoy the sensation of movement that the equipment allows them - a real boost for mental wellbeing.
Playground Surfacing
At Hazelbrook, it was really important that all of their wonderful new equipment would be accessible for everyone, wheelchair-friendly and usable in all weathers.
Playground surfacing is often overlooked - but it can make or break any playground and has a huge impact on how and when an outdoor learning space can be used. It's fair to say that we're just a little bit proud of our outstanding Playground Surfacing range - we can do just about anything with it!


We prepared all the baseworks and installed a combination of our Playturf Artificial Grass (with a shock-pad safety layer under the equipment) and Wetpour Safety Surfacing to suit the different zones.
The surfacing alone has brought sensory interest, depth and colour to the area. It's all wheelchair-friendly, self-draining, and can be used in all weathers without becoming muddy. Best of all, it's extremely low-maintenance, so there's nothing to stop the children at Hazelbrook from getting straight outside and enjoying their amazing new playground every day!
Are you redeveloping your outdoor learning area? At Pentagon, we have been creating incredible playgrounds for schools and nurseries for over 20 years. We have designed an exciting new range of specialist Outdoor Play Equipment for children with Special Educational Needs, which you can view Here. Please don't hesitate to Contact Us for more information, or to arrange a free playground consultation with one of our education experts.