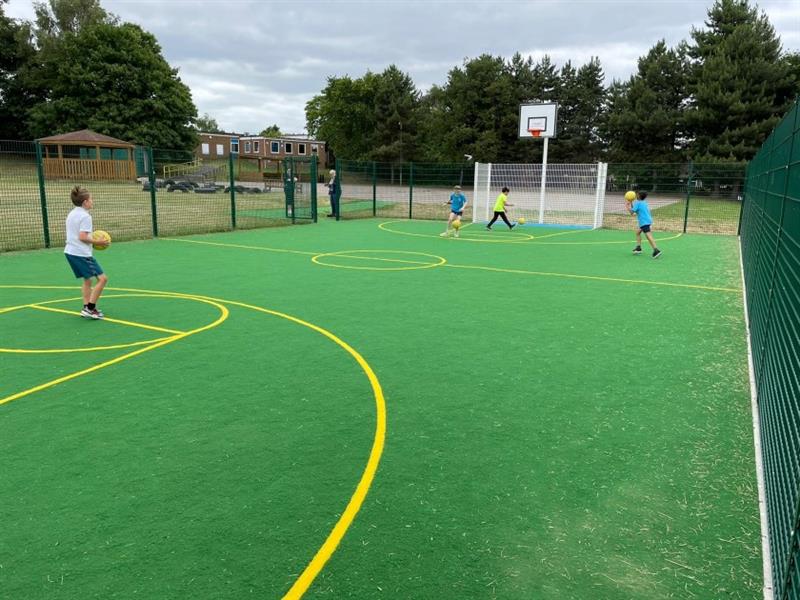 A New MUGA for the Sporting Stars of Hilltop Primary School
Expert Playground Consultant, Donella Felton, met with staff from Hilltop Primary school in Kent to discuss plans for the development of a high quality MUGA (Multi Use Games Area).
The ideal size of the pitch (20m by 12m) was decided upon by staff and our amazing team of installers set to work laying the hard-wearing sport surfacing with added shockpad layer for protection.
A Space for Competitive Sports in All Weathers!
One of the main advantages of a MUGA pitch is that it can be accessed in all weathers, during all seasons.
Excellent drainage ensures that marshy, mud filled play becomes a distant memory! A MUGA is a terrific space for pupils to participate in competitive sports. Tournaments with local schools can be organised, knowing that the MUGA is the ideal location.
Useful Features of the Impressive MUGA
Bright, yellow inlaid sports lines really help pupils to learn rules of play during football, basketball and netball matches. Hilltop Primary can now offer a broader range of sports and activities to their lucky pupils. A MUGA can be a perfect, all -weather space for pupils to complete their 'Daily Mile,' leading to improved focus and concentration in the classroom.
A super soft and durable, green pathway leads children from the playground to their impressive new MUGA, with a single gate allowing for easy access and safety. Recess fencing ensures that equipment is contained and play is not disturbed by a ball rolling half way across the field!
Recessed goals with defined red and blue colours are a brilliant idea for team games and help to establish when a goal has been scored! Two basketball hoops have already been a big hit with pupils as they practise scoring techniques and passes.
A Dedicated Space to Develop Physical Activity
The DfE vision for primary school physical education is that pupils have the necessary knowledge, skills and motivation to equip them for a healthy lifestyle and lifelong love and participation in physical activity and sport. A MUGA pitch is a fantastic space which can be dedicated to physical activity, allowing school staff to develop their own knowledge and skills and to spark interest and enthusiasm amongst their pupils.
Hilltop Primary is part of the Skills for Life Trust, helping to prepare children for the adults they will become. Through participation in sport and physical activity, pupils develop key attributes such as respect, collaboration, perseverance, leadership and enjoyment to name a few.
We hope to have inspired the next generation of 'Sporting Stars' at Hilltop Primary and expect they will be very happy with their MUGA for many years to come.
If you're looking to create the ideal sports and P.E space in your playground environment, then Contact Our Team today for a free consultation!