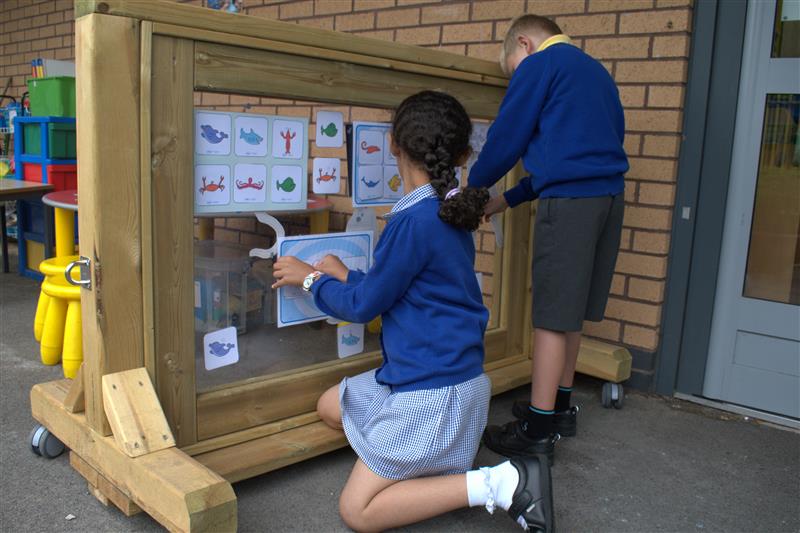 The Customer
Hollin Primary School located in Manchester wanted to add to their outstanding facilities by creating a stimulating outdoor learning environment where EYFS pupils could thrive. Headteacher, David Fenton, selected a variety of key pieces from our Pentagon Online Shop.
Their Objectives
Hollin Primary wanted to support its creative curriculum by providing more first-hand, outdoor learning experiences where children would develop both physical and social skills.
They wanted to have a flexible playground where they could change their playground daily with the use of high-quality products.
Our Approach
Our Pentagon Online Shop offers an ever-increasing range of products which can be delivered directly to your setting. Hollin Primary selected a Coniston Mini Water Play Package which consists of a water wall and different sized channels. Pupils have been working very well together to direct water flow and many 'What if?' questions have been generated.
A Flow Table further extends water play, allowing children to observe and formulate their own investigations. Testing different-sized boats seemed popular with Hollin Primary pupils! Artificial Grass-topped steps ensure learners can access the top of the ramp, helping children to develop both essential gross and fine motor skills.
A Sorting Table, complete with storage for loose parts is the perfect place for collaborative group builds. Pupils can easily explore a range of materials linked to different curriculum areas.
Two Construction Tables on Wheels allows learners to explore and test ideas and offers a fantastic space for pupils to create their own small worlds.
Mud is a much-loved material in EYFS outdoor spaces! Our Mud Kitchen Island is an ideal height for young learners, it provides plenty of storage for loose parts, a sink for mixing and even a chalkboard for menu creation! A Mud Box offers a brilliant storage solution, allowing easy access for pupils to create many marvellous mud-filled creations!
A calm, breakout space has been created using Large and Small Moveable Artificial Grass Topped Seats. This area is a lovely spot for reading, storytelling, listening games and focussed group activities. Pupils adore the sensory elements of the seats and can easily reposition them depending on needs. Extra seating has been added with our Picnic Table with Playtown Gametop which aids pretend play and communication skills.
An Interactive Paint Panel on Wheels can be moved to create different zones and provides an interesting surface for painting, drawing and manipulating resources.
The easy-to-wipe polycarbonate panel allows new masterpieces to be created each day! Tuff Spot Tables help to encourage independent play as children can complete interactive learning activities. They are also ideal for sensory and water play as Hollin Primary pupils demonstrated when developing their understanding of capacity.
A wonderful performance area has been created for budding stars using our Freestanding Stage Quadrant. No longer an unused corner of the playground, pupils are now building their confidence using instruments and projecting their voices!
The Results
Hollin Primary School have made an immediate change to their outdoor provision by purchasing a selection of items from our Online Shop. All products were delivered directly to the school, fully assembled and ready to go!
Our fantastic range of quality timber products are all made by expert in-house teams and many of our items are moveable allowing for great flexibility.
The new outdoor items have certainly sparked pupils' imaginations, broadening their horizons and offering fresh, exciting learning opportunities.
Children are using their autonomy to access different areas of outdoor provision and independently accessing school 'Rainbow Challenges.' Our Online Shop is definitely worth a browse when looking to improve your EYFS outdoor space this academic year.
If you're looking for freely movable playground equipment take a browse of our Online Shop Here!