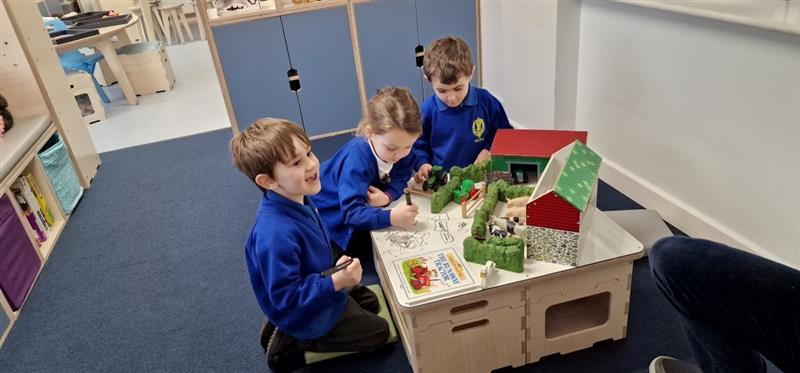 Happy Pupils at Holmes Chapel Primary School and their new Indoor Classroom!
As many of you will now know, Pentagon Play recently decided to use our knowledge of learning and play environments to expand into indoor classroom furniture.
Our fantastic product design and workshop teams have used their research and manufacturing skills to design and build indoor classroom resources like no other!
Prioritising flexibility and storage in every development, we have created a full range that is now available to purchase via our Online Shop!
Holmes Chapel Primary School were our very first customer and we're thrilled to share with you everything we've installed at the school.
The Versatile Stack and Sits
Holmes Chapel Primary School have 4 Stack and Sit Stools and 2 Stack and Sit Benches.
These versatile seating and storage solutions create the perfect sitting and working environment for the pupils to enjoy. Children can choose between sitting on the sage green or grey cushions that come with the seats, and whether they want to sit with a friend on a bench or individually on a stool!
If they lift the removable cushions from the seat, the pupils can uncover a world of sorting, problem solving and storytelling with the engraved game tops on the lids of the seats. There's a different game top on every seat!
Like we mentioned previously, storage was a big influence for the design of our indoor range, and so it was important that we incorporated it into the seats too…
If pupils lift the lightweight lid from the seat, they will find an abundance of storage for their toys and resources. Everything is so easy to store in this handy spot, and children can easily self-select. They can even peer into the base to identify resources before lifting the lid from the seat.
The Unique Art Easel
Holmes Chapel also have our fantastic new Art Easel, which incorporates a storage and display space for pupils.
This Art Easel is designed to create an interactive space for your pupils to collaborate on group work and an environment conducive to visual learners. Pupils can build their fine motor skills and dexterity as they write and draw on the easel to aid their learning and develop their understanding of topics.
The panels of the Art Easel can also be removed and easily stacked on top of the Stack and Sit Stools and Benches to create a low-level work space for the pupils to gather round. Whether working on independent activities or group tasks, this is the perfect table for them to work at.
It also comes on a dolly with wheels meaning it can be easily moved around the classroom and into different spaces, depending on the tasks.
The hidden shelved storage behind the mark-making panels means that the teachers at Holmes Chapel can store all of their art resources in one secure place, where pupils can access them when needed.
How fantastic is this addition?
Coming soon…
Holmes Chapel have even more cool items in their classroom that we can't wait to share with you, but we're afraid you'll have to wait and see…
If you are interested in renovating your classroom space, then Contact Us Today to find out more…
Or, if you like anything you see here at Holmes Chapel, check it our on our Online Shop now…