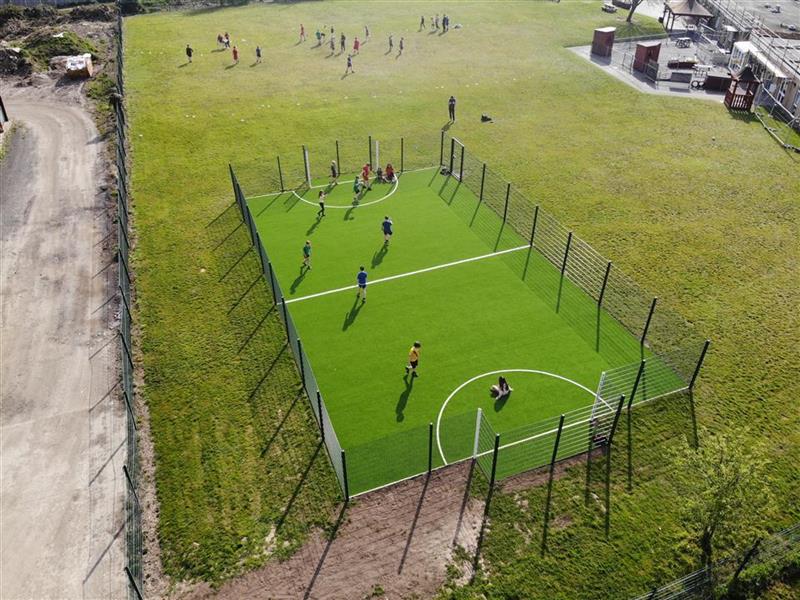 An exceptional MUGA pitch for a variety of different sports
What was once just a school field has now been transformed into a high-quality sporting provision for the pupils at Hook Church of England Primary School in Goole, East Riding of Yorkshire.
Our fantastic playground consultant, Greg Gavin, worked alongside the school to design an outdoor area where sporting activities can take place no matter what the weather.
Why choose a Multi Use Games Area?
Hook CE Primary School are "committed to ensuring that all children are given the opportunity to develop in every area of their lives".
Therefore, they wanted to create a space that engages children in fun, physical activities all year round.
PE will never be called off again!
The multi use games area can be used during breaktimes and lunchtimes for a friendly kick about with friends, whilst also being used as a great space for PE lessons and extra-curricular activities after school.
The MUGA
On the school field we installed a 20m x 12m Multi Use Games Area to create a sporting legacy at the school.
The pitch is surrounded by 2m high green fencing to ensure the sporting equipment will stay inside the area and time is not being wasted retrieving balls from outside of the pitch.
With two goals, semi-circle pitch markings and a halfway line… this MUGA can really bring a game of football to life!
Due to the all-weather 3G Sports Surface, competitive sports and fresh air exercise can be enjoyed all year round, fully enhancing children's experience when practising their chosen sport and helping them to master their technique and ability!
Greg Gavin loved working on this project, saying:
"When I first visited the school back in 2019 it was a project they really wanted to make happen. Then of course with all the uncertainty of 2020 during the pandemic, the project was put on hold. To finally get it over the line and create a space that can offer children the much-needed physical play is amazing."
The young footballers at Hook CE Primary School have been enjoying their new MUGA pitch and it has been great to see the children utilising their new outdoor area!
Could your sporting provision be enhanced by installing a Multi Use Games Area onto your playground or school fields? Contact Us Here today to begin your journey with Pentagon Play.
You can view all the fantastic playground projects we've competed in Yorkshire by visiting our Yorkshire Projects Page Here.