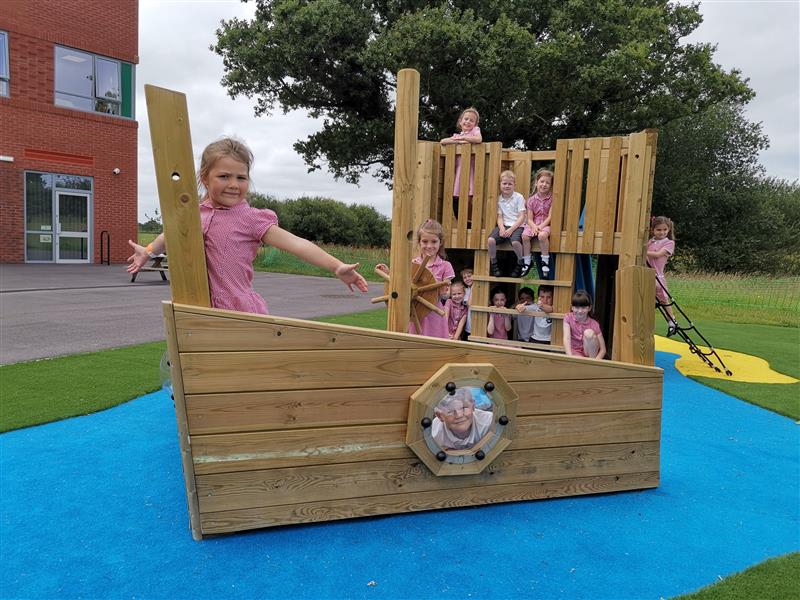 Inspiring Active Play Areas For KS1 and KS2
Huntington Community Primary School contacted us as they had begun the process to move into a new building. We were thrilled to be chosen, after presenting fantastic designs and a thorough consultation process, to create the first amazing play spaces at their new school site.
Paul Bayliss, our sales director, worked with the Chester primary school's headteacher, Duncan Rose, to install active playground equipment to inspire imaginative play in the KS1 playground and enhance physical development in the KS2 play area.
Focusing the KS1 area around a pirate ship and extending our already fantastic trim trails was an excellent suggestion made by Paul and loved by the school.
It was a lovely blank canvas, which was a fantastic space to work with since we were able to enhance an already amazing development. A blank area is always perfect for creating colourful, imaginative playgrounds on.
We went on to design two unique areas for the children in both key stages to use each day; promoting active play and physical development. They are hugely inspiring and colourful zones, which are always full of children playing, running and climbing.
In both areas, Duncan opted for our vibrant Artificial Grass Playground Surfacing. This surfacing is great for school playgrounds as it creates all-weather, maintenance-free spaces for the children to enjoy throughout every season.
KS1 Playground
Ahoy me hearties! We have created an enchanting, cross-curricular pirate themed playground environment for little pirates and sailors attending Huntington Primary School to explore.
Central to the design, our imaginative play ship sits in a sea of blue Saferturf representing the Atlantic Ocean and the sand of a Barbadian beach, inspiring the children to participate in imaginative and creative role play activities.
In addition, we have also installed a Trim Trail made up of a huge variety of active play equipment to extend the physical play opportunities offered to the young children.
Our brand new Play Ship includes a huge selection of features that enables children to truly take the role of a pirate. The Ship's realistic Mast and Wheel encourages them to lead the way through the ocean as they search for an undiscovered island, whilst others slide onto dry land to claim buried treasure.
The children will certainty develop their upper and lower body strength, gross motor skills and fine motor skills as they transport themselves to other imaginary worlds across the climbing net, up the climbing wall and ladder or turn taking down the slide.
As an open-ended resource, there is plenty of space for interactive learning as geography, history and literacy come to life. The top deck is perfect for storytelling as children share their favorite pirate themed fairy tale or take cover in the excellent den area to learn all about pirates and where they come from.
Surrounding the Atlantic Ocean, an active combination of trim trail equipment offers children exciting challenges to conquer. The equipment, placed in such a way, offers varied physical play opportunities that get progressively harder as the children move through the trial.
The trail is made up of:
Inclined Balance Beam
Walk and Stretch
Wave Rider
Log Weaver
Net Traverse
Giant stepping logs
Single Sided Timber Climbing Wall
The trim trail compliments the pirate theme well as they walk the plank on the inclined balance beam, surfing the crashing waves with the wave rider or climbing along the side of the ship with the net traverse.
Plenty of physical skills are developed within the area, including muscular strength, cardiovascular exercise, coordination and finer motor skills as they use their fingertips to grip and grasp the climbing holds on the climbing wall.
Along with this, the children have been heard motivating each other to complete a challenging piece of equipment, setting each other objectives to meet and participating in competitions amongst one another – enhancing their communication and language skills, too.
The children love the new area – stepping, climbing and traversing across the equipment as they imagine they are in a world away from their own, moving across the rocks to reach the sandy beach below.
Truly enhancing the physical play opportunities and imaginative play outdoors, the new area has been a huge hit with the young pirates at the school!
KS2 Playground
Duncan didn't want just a standard trim trail for his new KS2 playground. He wanted something that would truly inspire the children to get active while enhancing their key physical skills as they played.
As this was then case, Paul worked carefully on the design in order to extend our Primary Trail 3 with additional equipment to meet their needs and create a stimulating area that the children would look forward to using each day – and they certainly do.
In the centre of the active zone, we placed a Double-Sided Climbing Wall that has been extended and developed with 2 additional bays; creating a wonderful piece of equipment where many children can practice their climbing skills at once.
Fine motor skills are truly targeted with this fabulous piece of equipment as the children grip and grasp the holds to move across the wall. The wall also sparks an interest in bouldering as it is an introductory climbing challenge.
The children love transporting themselves to cliff faces and mountains high up in the sky as they move across the equipment.
Around the focal point, spans an enormous 16 piece trim trail, featuring a massive selection of varied challenges for the children to complete.
Made up of our Primary Trail 3 and extended with Linked beams, a Wobbly Bridge and Stepping Logs, it includes the perfect difficulty selection of equipment for the age and ability of the children using the area. They love racing across the equipment, competing against one another as they battle to see who is the fastest.
Not only are key physical skills such as upper and lower body strength developed, fine and gross motor skills, cardiovascular fitness, balance and coordination is enhanced as the children use the equipment.
Determination, communication and language skills are also being targeted as the children traverse along the linked beams, determined to complete the set without touching the ground. A real sense of accomplishment is being expressed by the children as they conquer a challenge they once couldn't complete!
The Key Stage 1 and Key Stage 2 children absolutely love the fresh equipment at their school and look forward to using the areas each and every day: getting active and participating in imaginative play games.
If you'd like to enhance imaginative play at your school with fabulous Themed Playground Equipment or extend the physical play opportunities with our Trim Trail Equipment, please feel free to Contact Us here to arrange a free, no obligation consultation with one of our expert playground consultants.