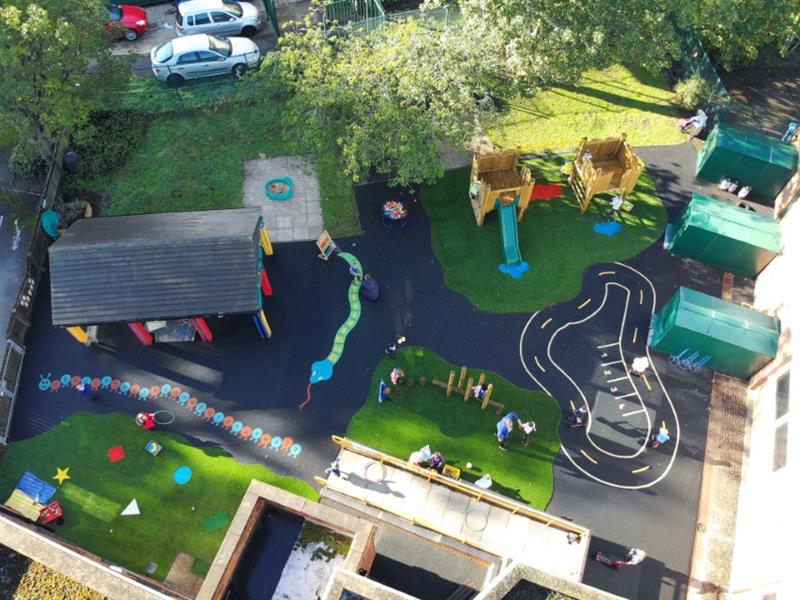 An Educational Play and Learning Environment For EYFS
We've installed a stately new playground fit for little Kings and Queens at Imperial Avenue Infant School in Leicester.
Our playground consultant, Daniel Young, met with the school's Business Manager, Debbie Maycock, to discuss their needs for a playful, educational EYFS outdoor learning environment.
As an infant school, it was essential that we created a playground that could be used for outdoor learning every day, in all weathers and all year round. Debbie wanted us to design an area that would help to achieve key learning objectives, specifically around physical development, literacy and numeracy, communication, language and PSED.
Energising Active Playground Equipment
And as we're talking Imperial, our Castle Themed Bolsover Modular Play Tower was the perfect choice for a thrilling physical-play centrepiece!
It's designed to capture young children's imaginations and inspire role play and games, as well as to offer all sorts of age-appropriate physical challenges.
With ladders, nets and walls for climbing and scaling, a slide to whizz down and look-out towers to hide and build dens in, it develops balance and coordination, physical strength and fitness.
The children at Imperial Avenue are getting plenty of exercise and practicing gross motor movements as they run around the Tower. They're working on their fine motor skills as they grab, grasp and grip the ropes, ladders and climbing holds.
We created a bespoke Trim Trail with Stepping Logs and a Log Weaver, specifically to help the EYFS children at Imperial Avenue improve their balance, core strength and stability. It's a fun combination that has a clear start and finish point to challenge children, but they can join and exit at any point as they feel comfortable.
This is great for building self-confidence and encouraging the children to test themselves and play independently.
Vibrant School Playground Surfacing
The playground area at Imperial Avenue enjoys plenty of natural shade, so it was important to play close attention to Surfacing and Landscaping. It needed to be clean and self-draining to avoid waterlogging and ensure that the space could be used even in the wettest of winter months.
We have a fabulous range of bold and engaging playground surfacing options that allow schools to use the ground as a wonderful play and learning resource in itself. Imperial Avenue chose a great combination of our unique Wetpour Safety Surfacing designs:
A multi coloured A-Z Caterpillar,
A multi coloured 1-12 Number Snake and
A continuous Roadway with individual Parking Bays.
These designs offer some brilliant opportunities for incorporating letter recognition and counting practice into physical play - perfect for younger children who learn kinaesthetically. They also encourage role play leading to important social interactions as children learn to play together.
We installed Playturf Artificial Grass zones for colourful contrast and an alternative texture for sensory play. It's a beautiful, natural green colour, but we made it extra-special at Imperial Avenue by incorporating some bright and bold fun shapes.
Featuring a star, hexagon, square, triangle and circle meant an interesting take on shape recognition exercises! We added some soft blue and red "splash puddles" under the Bolsover Tower for children to land in at the bottom of the slide and the climbing net.
The new playground surfacing at Imperial Avenue is porus and free draining. It is installed onto our special baseworks, with impact-absorbing shockpads under the physical play equipment to provide protection from falls - extra safety as younger children play and learn how to balance and coordinate themselves.
If you would like to develop your school playground to offer wonderful outdoor play and learning opportunities year round, please Contact Us Here for a free, no obligation quotation. You can view our full range of Products for Schools and Nurseries Here.