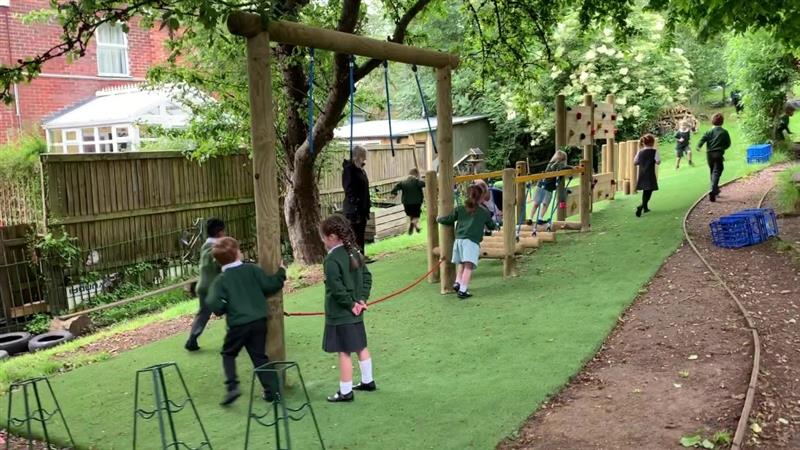 A Stimulating Trim Trail For Physical Development
Our playground consultant, Donella Felton, worked closely with Ivy Lane Primary School in Wiltshire to extend the school's physical play opportunities.
During the consultation with Ivy Lane's EYFS Teacher, Louise Kay, it was clear that Louise wanted to improve opportunities for physical development to create a stimulating outdoor learning environment.
Louise wanted an active challenge that would encourage children to balance, grip, stretch, hang, climb and improve both their gross and fine motor skills.
The outdoor area also had a muddy and unusable area that stretched alongside a pathway. Viewing the long stretch of underused space, it was an ideal location for an exciting low-level Trim Trail.
The Exciting Trim Trail For Ivy Lane
We created and installed an energetic and challenging Trim Trail which includes the following challenges:
Wobbly Bridge
Rope Swing Traverse
Climbing Wall
Walk and Stretch
This magnificent trail enables children to develop their upper and lower body strength, gross and fine motor skills, balance, coordination and core stability.
To ensure that a once unusable space can be accessed year-round, we installed our excellent Artificial Grass Surfacing underneath and around the trail equipment.
With an impact absorbing underlayer, the children can now be confident to take safe risks and land safely when an inventible tumble happens.
Ivy Lane Primary School's EYFS Teacher Louise Kay, had this to say about the school's new Trim Trail:
"We wanted to create an area in our garden where the children could develop their physical skills.
Pentagon Play enabled us to create an exciting trim trail that challenges the children both mentally and physically.
The children are really enjoying balancing, gripping, stretching and climbing to develop their gross motor and fine motor skills. It has really improved the look of the garden as well and has created a very stimulating outdoor learning environment."
If you would like to develop your play area to include exciting trim trail equipment, please Contact Us Here. Alternatively, you can view our full range of Trim Trail Equipment.