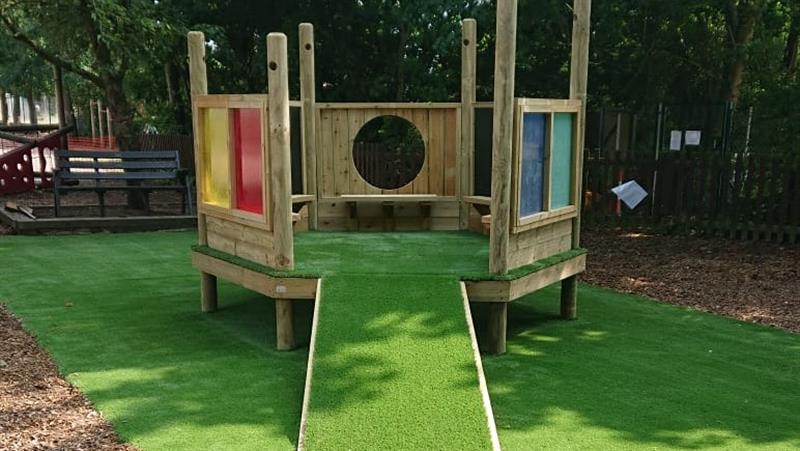 A New Play Space That Enables Children's Imaginations To Run Wild
Ixworth Primary School in Suffolk contacted our expert outdoor learning consultant, Marion Rolph, as they wanted to add more physical and imaginative play opportunities into their outdoor area. The aim of this exciting project was to transform a section of their playground into a space where imaginations could run wild.
Presenting many options that would fit the school's criteria and budget, they fell in love with our Imagination Station!
Exciting New Dimensions for Play
Our Imagination Station is the perfect cross-over between physical play and imaginative play as little feet bounce up the raised ramp, and little hands carefully thread materials through the den making holes and write, draw and scribble on the mark making boards.
Fine and gross motor skills are truly being targeted during exciting playtime activities!
Since the new space is transformed through the children's input and interactions, it enables children to transport themselves to creative new worlds.
Where will the children go today? From astronauts in the space station to pirates sailing the seven seas, anything is possible!
The bubble windows, sensory panels and mark making panels allow the children to decorate their space in line with the theme of their imaginative game or role play topic.
Alongside this, the colourful space develops the children's teamwork skills, communication and language, understanding of the world, social skills, PSED and early literacy skills as they participate in fun-filled, creative playtimes collaberatively.
Creative Games Can Take Place Come Rain or Shine
Previously, the space was a blank canvas surfaced with bark, which was very expensive to maintain and became very muddy and wet during the poor weather.
As a result of this, we removed the bark and laid our vibrant Artificial Grass Playground Surfacing.
The area can now be used in all weathers and provides the children with a comfortable seating space to relax and socialise in the playground.
"This has been a perfect project for our children and community…"
Sarah Branchett from Ixworth Primary School had some lovely feedback for us after the playground project was complete:
From the beginning to the end, we have been impressed with the efficiency and enthusiasm given to this project. Our school has needed an uplift for some time, and this has been a perfect project for our children and community.
The installation was easy, the builders were brilliant, they were so friendly and accommodating. We are so pleased that we did this as the impact on our school has been huge.
The children love playing on it and love using it for their learning. They have found new ways to use the imagination station and have even used it as a den! We look forward to working with you again.
Are you looking to create a space where your children's imaginations can run wild? Take a closer look at our huge range of imaginative and creative playground equipment here.
Your journey with Pentagon Play can begin today! Contact Us Here and one of our expert consultants will be in touch to arrange a free, no-obligation quotation.
With so many excellent outdoor play and learning projects completed in Suffolk, click here to view some more of the outstanding playground projects we've completed for schools and nurseries in Suffolk.