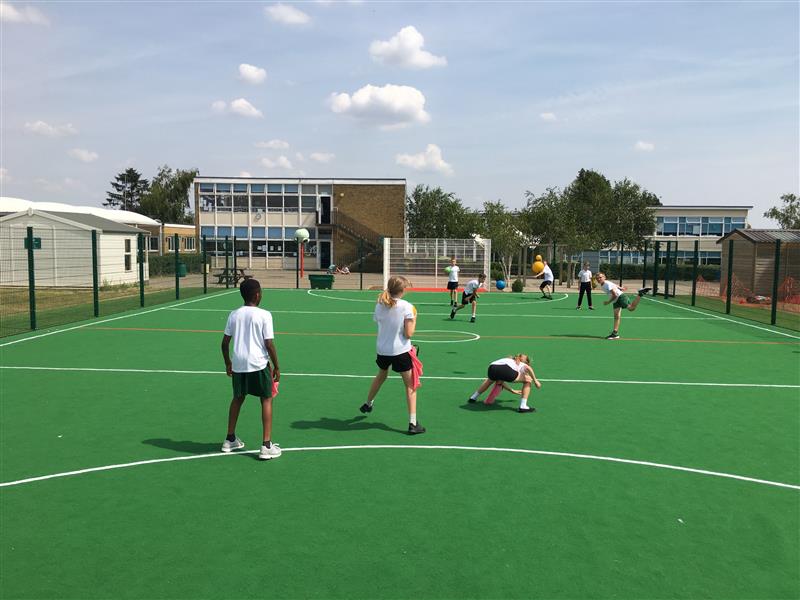 Enhancing The Sporting Provision With A Multi Use Games Area
After being recommended by other schools in Essex, Deborah Bailey, the headteacher of John Bunyan, approached us to help create an all-weather, dedicated sporting space.
She mentioned that she felt confident in our services as, from the initial communications, we put the children first and are happy to make adaptions to ensure the project would be bespoke to their needs.
Due to the weather, the school's field was out of action for the majority of the school year, so our playground consultant, Luke Banner, worked with the growing primary school to install an active Multi Use Games Area: meeting both the requirements set out and the budget set aside for the project.
A MUGA Pitch has provided the children with more all-weather spaces for the children to use during lunchtime and playtime as well as a devoted space where sports and PE lessons could take place without the weather preventing play.
MUGA
The MUGA is a 26m x 16m pitch that has been surfaced in our vibrant, all-weather, green multisport surfacing. Not only does it enable the school to further develop their sporting legacy, it also ensures that the children learn to lead a healthy lifestyle.
Through the installation of the magnificent sporting facility, the children are able to improve a vast range of physical skills and development. Fundamental movement skills, cardiovascular fitness and upper and lower body strength can be targeted through multiple sporting and game opportunities throughout the day.
We surrounded the pitch with our 2m high rebound fencing, so the children can continually play without the need of running back and forward for the ball when it goes out of play.
Luke suggested that we installed our Recessed Goals with Blue and Red surfacing as it ensures the young sports people can distinguish what was a goal and what was out of play; there is also no time wasted on the arguing of teams.
The children love participating in games such as football, netball and basketball all year round. The increased opportunities extend their sporting skills – will the next David Beckham be an ex-John Bunyan pupil?
Daily Mile Track
Bordering the MUGA is an all-weather Artificial Grass Daily Mile Track. The children now have space to participate in the heathy initiative and improve their overall fitness all year round, even if the field is out of action.
The children love competing with one another to see who can complete their mile the fastest or who can do more than one mile within the 15 minutes allocated for this activity.
Deborah is more than pleased with the school's new facilities and had this to say about working with ourselves on this project:
"From start to finish all members of Pentagon have been highly professional, communicated well and it has been a pleasure working with them. I would most definitely recommend Pentagon Play to other schools. In fact, we are planning our next project with them!"
If you would like to create a dedicated sporting space for your children to practise a range of sports, please feel free to contact us here. You can also view our full range of healthy MUGA's and Daily Mile Tracks.