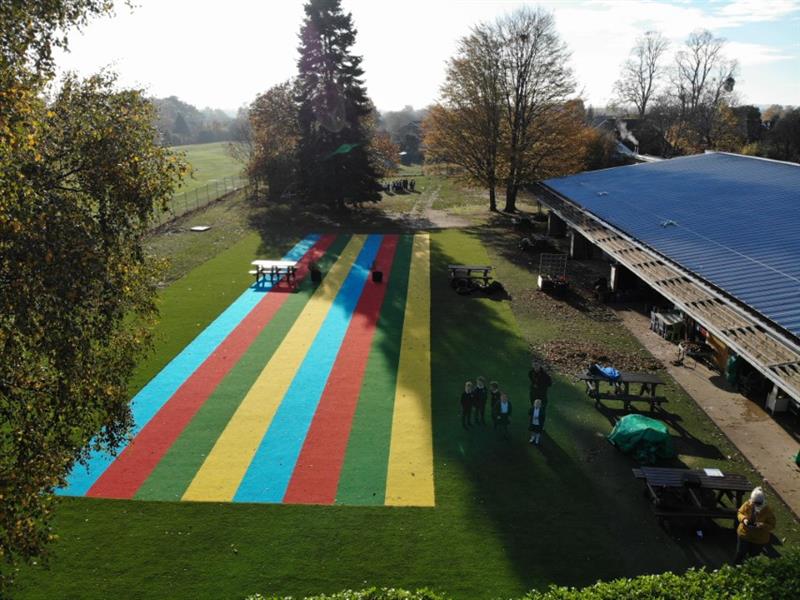 A Bright and Beautiful All-Weather Surface for Competitive Physical Activities
Knaphill Lower School in Surrey contacted us as their school field was a muddy, slippery bog during the winter, but a dry desert landscape throughout the summer months.
With the space not being useable during much of the school year, they decided they wanted to inspire a love of exercise in their school playground come rain or shine.
Our playground consultant, Donella Felton, worked alongside the school to design an inviting yet competitive play area, where physical activities could take place all year round, no matter that the weather may bring.
A Vibrant Space for Physical Activities
We began the installation by excavating and preparing the groundworks for the new surface with our sport base works, before laying a mixture of Saferturf and Artificial Grass Surfacing.
This mixed selection of surfaces creates a clean and self-draining space. It's the ideal surface for all weather exercise and floor-based activities.
In the centre of the huge natural-green, artificial grass space, we installed eight one-metre lanes in bright and bold colours, laid alternatively to match the school's house colours: blue, red, green and yellow.
The new running lanes not only create an inviting but competitive play space for the children, it also extends the sporting curriculum as the school use the area for different sporting activities.
Children can compete against one another to beat their metre sprint time, participate in relay races or even use the area to partake in imaginative play games, using the vibrant strips as a focal point!
A healthy sporting space such as this brings endless opportunities and health benefits to the children.
Children's lower body strength and cardiovascular fitness is being targeted with each run they completed and there are also numerous other benefits the track brings, including:
Enhancing confidence and self-esteem
Promoting teamwork and social skills
Sharpening coordination and agility
Improving good sportsmanship
Inspiring a love of exercise
Educating children about healthy lifestyles and how they can lead one themselves.
The vibrant space is being used regularly by the children and ensures they can get outside in the fresh air in all weathers!
The school have even used their four-season space to hold sports day activities, PE lessons taught by sports coaches and extracurricular sports!
It has proven to be an excellent addition to the school playground, well loved by the pupils and staff alike.
Would you like to be able to use an area of your playground throughout every season? Take a closer look at our playground surfacing solutions here and fill in a Contact Form today to begin your journey with Pentagon Play.
You can also view all of the stunning playground projects we've completed throughout Surrey on our dedicate Surrey page Here.