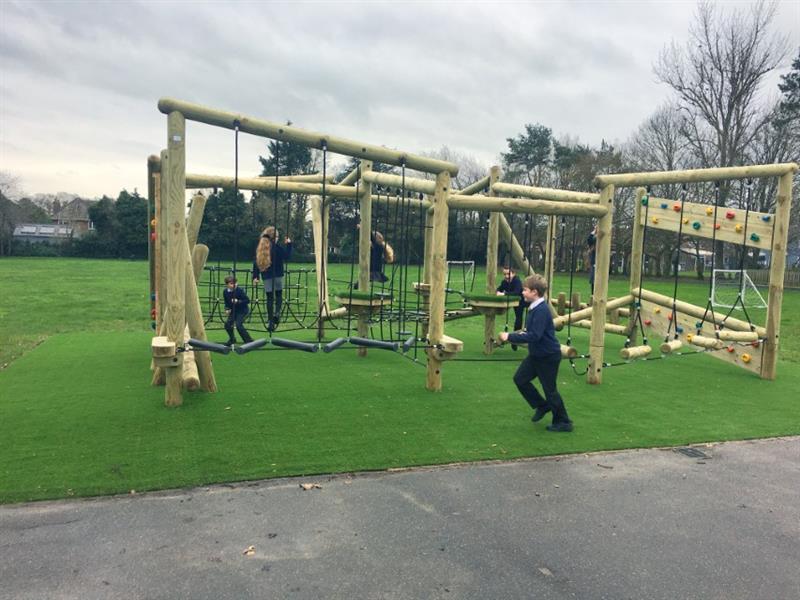 An Impressive Adventure Playground for KS1 and KS2
Determined to inspire imaginative play and provide more physical play opportunities for all children throughout the school, Kyson Primary School in Suffolk contacted us to help upgrade their playground!
Marion Rolph, one of our expert playground consultants, met with the school's passionate headteacher, Tom Gunson, to discuss their outdoor play needs.
After seeing our Grizedale Forest Circuit, the school fell in love with the extravagant climbing frame!
A Forest Circuit for both Thrill Seekers and Cautious Climbers
Standing tall and proud on the school's field, our Grizedale Forest Circuit has created an impressive adventure playground for the Key Stage 1 and Key Stage 2 children.
Featuring dozens of crossing and traversing points for the children to travel to and from, and never-seen-before obstacles, children's enthusiasm and excitement levels are through the roof exploring the huge frame.
Forest challenges transport the children deep down into the jungle. There's rope tunnels to crawl through, tightropes to balance across, nets to scramble across, ropes to swing from and walls to scale!
With so many different traversing points, children have to use every part of their body to navigate the various levels: improving both fine and gross motor skills, balance, proprioception, strength and core stability as they move through the tree and vine obstacles.
A whole class of children can participate in classic playtime games as the Artificial Grass Surfacing turns to lava or they scramble across the challenges playing tig.
There really isn't a limit to the imaginative games the children can invent and play using the forest circuit as a focal point!
Are you looking at improving your children's physical play opportunities? View our huge range of Active Play Products Here and create your own wish list.
We have developed new ways to conduct playground consultations safely in these difficult times. Contact Us Here to begin your journey with Pentagon Play.
View all of our playground developments completed in the Suffolk area on our dedicated Suffolk Page Here.