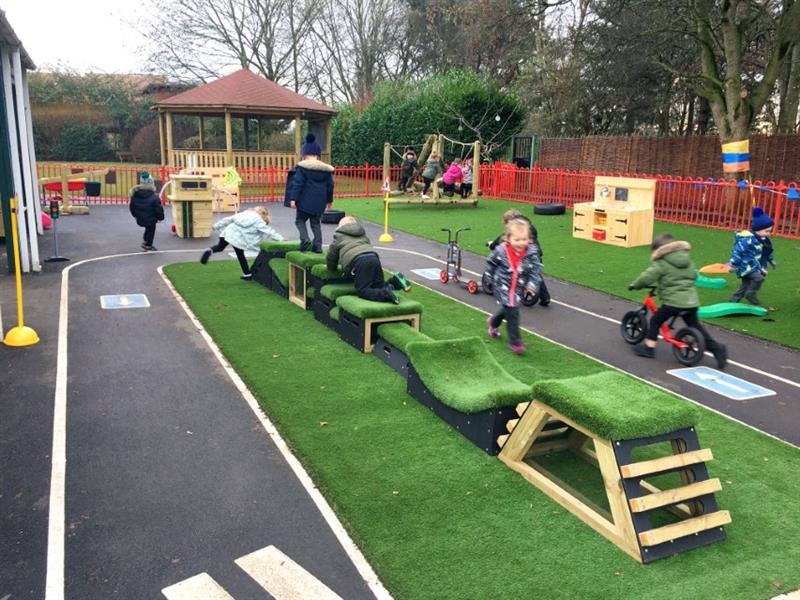 A Nursery Garden That Improves Early Physical Play Opportunities and School Readiness
After completing multiple exciting outdoor learning and play projects for The Lancaster School in Lincolnshire, Marion Rolph, one of our expert playground consultants, was delighted to be invited back to begin another exciting project. This time, the nursery children were in for a big treat!
Truly valuing the importance of outdoor play for all young children in their care, the school wanted to inject some fun learning through play opportunities into their nursery garden.
The main aim of this project was to provide plenty of adventurous physical play activities, whilst readying children for life in reception.
Surfacing for Year-Round Learning
The existing nursery garden was a vast area of tarmac and grass, without much access to engaging equipment for the children to learn through play with.
Its amazing just how much of a difference playground surfacing can make, both for practical every day use and visual appeal.
We transformed the previous grass area into a soft, tactile and beautiful surface for children to run around and sit and relax on.
Our Artificial Grass ensures the space doesn't become muddy during adverse weather conditions, but also creates a soft landing for those inevitable slips, trips and falls!
Take a Learning Journey on a Life-Like Roadway
With a super series of Thermoplastic Playground Markings, the main feature on the playground is a life-like roadway, with a bright artificial green grass island in the middle!
White line markings around the roadway have created a dedicated zone for the children to charge around on their trikes and scooters, keeping high energy activities in one area.
We included some numbered parking bays, directional arrows and zebra crossings, so that the children can enjoy daily life role play and learn a little bit more about road safety as they play.
Climb, Balance and Step on a Moveable Obstacle Course
In the centre of the roadway, we placed a set of our ever so popular Get Set, Go! Blocks.
These moveable active challenge blocks enable children to tackle a new arrangements of challenges every day, exploring and self-selecting their own level of difficulty.
Stepping, climbing, balancing and jumping from block to block is a favourite playtime activity amongst the little learners!
Swing from the Ropes and Balance on the Beams with an Introductory Climber
A nursery garden design isn't complete without a log climbing frame!
Our low-level, introductory Pinnacle Hill Climber is perfect for this young age group.
Designed to begin building children's climbing confidence and improve early key physical skills, this climbing frame is ideal for providing a sense of adventure in the playground.
This non-prescriptive challenge allows the little learners to play in any way they imagine and climb at their own pace as they grip and grasp the ropes and balance across the beams.
"The Playground Has Changed Everything for Our Nursery…"
Beth Ireland, the nursery teacher at The Lancaster School had some wonderful feedback for us after the installation:
"The new outdoor playground has made such a difference to our nursery. The children's physical development has great improved in such a short amount of time. Our children are really happy to be outside in all weathers. The playground has changed everything for our nursery, and we are so grateful for everything."
Does your nursery garden lack stimulating outdoor play activities that target school readiness? Explore our full range of projects designed specifically for this young age group here and Contact Us to begin your journey with Pentagon Play.
Explore all of our stunning playground designs completed for primary schools and nurseries across Lincolnshire Here