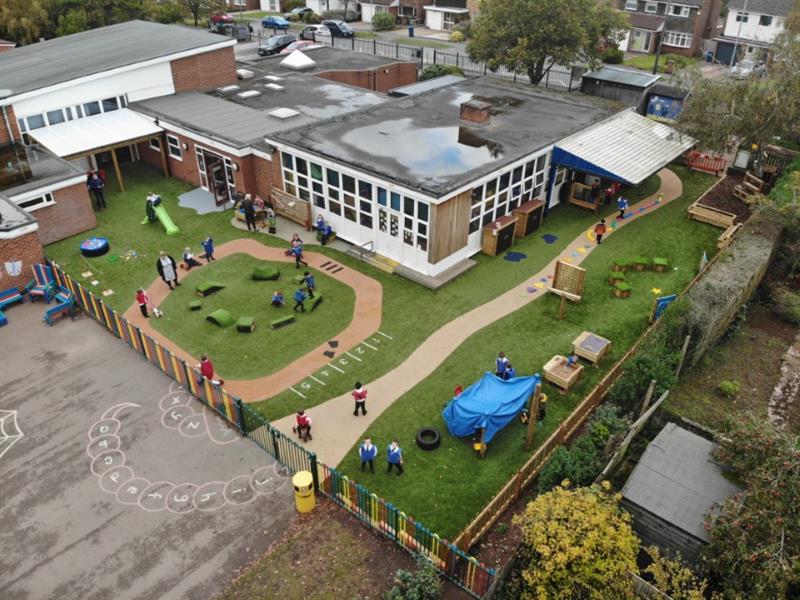 A Creative EYFS Playground Design That Inspires A Life-Long Love Of Learning
After a recent building development of brand-new classrooms for their Reception and Year 1 children, Leasowes Primary School in Staffordshire needed to add to their blank outdoor play space. The school were determined to create an outdoor play area that would benefit the whole of EYFS.
Our playground consultant, Greg Rossiter, was delighted to work alongside the passionate teachers to enable outdoor learning to be exciting, creative and help to develop that life-long love of learning.
The Fundamentals of Any Playground Development – All-weather Surfacing
As the area was a once blank tarmac space, with a sloped grass hill that would become muddy and slippery in the adverse weather conditions, we began by levelling and zoning the play space using a selection of playground surfacing.
The hard tarmac has now become a vibrant, soft and all-weather artificial grass surface.
A series of Wetpour pathways provide a natural route to the classroom doors for the children to follow and even a space dedicated to little race trike drivers!
On the new roadway, we included numbered parking bays to aid number recognition in the outdoor environment and create a tidy space for vehicles to park.
Racing bikes, trikes and scooters around the new track enables little learners to burn off some excess energy and get some exercise, whilst getting all of those little muscles working.
A Unique Moveable Obstacle Course for Early Physical Skills
To keep all the high energy play activities in one area, we've placed a set of our innovative Get Set, Go! Blocks in the island surrounded by the new Roadway.
Teaching staff can easily set up obstacle course for the children to climb, balance and step from block to block on.
They are easily swapped and switched around to alter the direction of travel and level of challenge as the children's key physical skills develop.
Enhancing Free Flow Play from the Indoors to the Outdoors
We installed a Timber Canopy over a set of classroom doors to create a seamless transition from the indoor classroom to the great outdoors!
The space is perfect for undercover floor-based activities as the children listen to the pitter patter of the rain or relax in the shade from the bright sun shine in the summer.
A blue splash incorporated into the surfacing further promotes creative imaginative games outdoors.
Den Making and Construction Play Opportunities
Of course, no early years play environment is complete without den making and construction play opportunities!
A set of Den Making Posts, Sand Tables, Weighing Scales and Weaving Panel Trellis provides the children with a haven of fun as they begin to develop their early fine motor skills, co-operation and social skills during play.
Little learners love building their very own den: weaving materials through the den making holes, working together to stretch it through each of the posts.

Investigative Learning
Using sleeper edges, we've created a fabulous zone for investigative learning.
A fantastic Bug Hotel that the children can fill with natural, ideal resource to create mini beast habitats create a space where they can investigate insects and learn more about scientific concepts through play.
The Mini Mud Kitchen provides a messy, muddy element to the area, enabling little chefs to work together to bake delicious mud muffins, mud pies and mud cakes as they get their hands dirty and different materials.
Offering endless opportunities for physical activity, exploratory, investigative learning through play and social interactions, this fully immersive outdoor learning environment has truly allowed outdoor learning to be exciting, creative and stimulating!
Are you looking at improving your EYFS outdoor area? View our huge range of playground equipment for EYFS here and create your wish list.
We have developed new ways to conduct playground consultations safely in these difficult times. Contact Us Here to begin your journey with Pentagon Play.
If you would like to view more examples of our playground projects in Staffordshire, visit our Staffordshire page here.