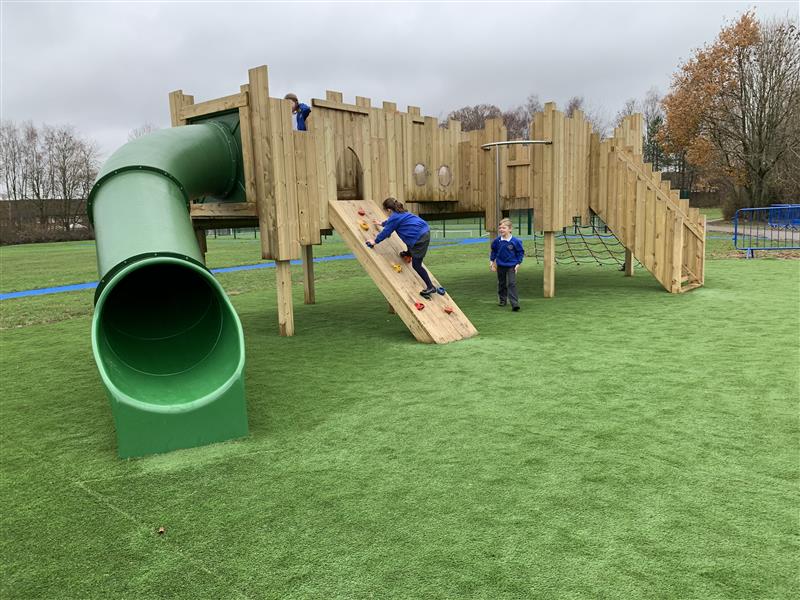 Inspiring active and imaginative play with a huge playground castle
"This has got to be the best piece of playground equipment we have ever had!"
(Michele Frost, Executive Headteacher)
An exciting community project at Liphook Infant School in Hampshire has seen the arrival of our magnificent Langley Play Castle in their school playground. Our Playground Consultant, Donella Felton, helped the school to determine exactly what they needed to achieve their goals for their outdoor space.
The school wanted a play structure that would be suitable for all age groups to use and that would develop their pupils' core strength. They needed more space for children to play and an all-weather space that they could use throughout the year.
Our team installed the Langley Play Castle over the Christmas half term holiday to minimize disruption to the school's daily routine. When the children returned after the break, it was ready and waiting for them and created a real buzz for the new term!
Playground Surfacing
Before the installation, we removed the old bushes which were really limiting the useable outdoor space available to the school. This completely opened up the area for play and exercise.
We installed a large artificial grass area to create an all-weather space to host the Langley Play Castle. Our Playturf Artificial Grass has been designed specifically for use by schools and nurseries. It is woven to high standards which pass FIFA's durability tests and has a beautiful natural look and soft feel.
Crucially, we install it with shock absorbing underlay for children's safety, to soften falls and encourage safe risk taking. It is the perfect choice to place under any of our active play equipment and was an ideal surfacing option for Liphook's project.
"This time of year, it's usually really muddy and not very nice outside" said Mrs Frost. "If we didn't have the all-weather surface there is no way that we would be able to use the outdoor space."
The school actively involved their pupils with the project and consulted them as to what sort of equipment they would like to be able to use in their playground. One of their big requests was something with a slide, the Langley Play Castle was the perfect solution to meeting the school's needs and children's requests.
The Playground Castle
The Playground Castle itself is a fabulous, giant structure built predominantly out of high pressure treated play grade timber and featuring multiple access points for open-ended, approachable and inclusive play. It challenges children physically in several different ways to work different parts of their bodies and help to develop both fine and gross motor skills, balance and core stability.
It features a climbing ramp with brightly coloured and sturdy holds, a climbing net for scrambling up and down, an enclosed staircase, and a bridge with fun bubble windows for the children to peep out of; inspiring both imaginative and active play.
The fireman's pole and the tube slide are a real hit with the children and they absolutely love flying down them!
As a split-level piece of equipment, it has given the children more space to play and created new areas for them to focus on and build their confidence, as well as their boost their physical development.
"It really does fit all of our prerequisites" commented Mrs Frost. "We wanted to develop the children's core strength and having the climbing areas has really done that. Pentagon incorporated all of the things that we asked for in this piece of equipment and the way that they were able to do that has just been amazing. The children really love it and all the parents love it too."
Here's what the school had to say
We always ask for feedback after an installation to make sure that we are continuing to achieve our high standards, and this is what the school had to say:
"The installation team were fantastic, and they could not have been friendlier. We asked to make changes even during the installation and they happily did this for us. They followed all of the protocols and they were really flexible…. they were great in measuring everything out for us and making sure that everything would work. They gave us some great ideas too. You would never know that there had been work going on while they were there. They were an amazing team."
We returned to Liphook after the installation to see the equipment in use and to ensure that the project had achieved what the staff set out to achieve. It was great to see all the happy faces and to see the children really putting the Langley Play Castle through its paces!
"We would be 100% happy to use Pentagon again and we have already recommended them to other schools!" said Mrs Frost.
"They were fantastic because we made a number of changes to what we wanted along the way and they were amazing to have dealt with all of that. With Pentagon, it really feels like we have an ongoing relationship. They weren't pushy and they have followed our journey, followed through with what we really wanted, and asked all the right questions to help us discover what we needed. We're looking forward to the next project we're planning with them now!"
Our installation team are experts at working within a school environment and understand the logistical challenges that a school can face whilst having any type of development work carried out on site...
If you are thinking about embarking on an exciting outdoor playground project at your school or nursery, we would love to hear from you. Please do not hesitate to Contact Us here for a free consultation.