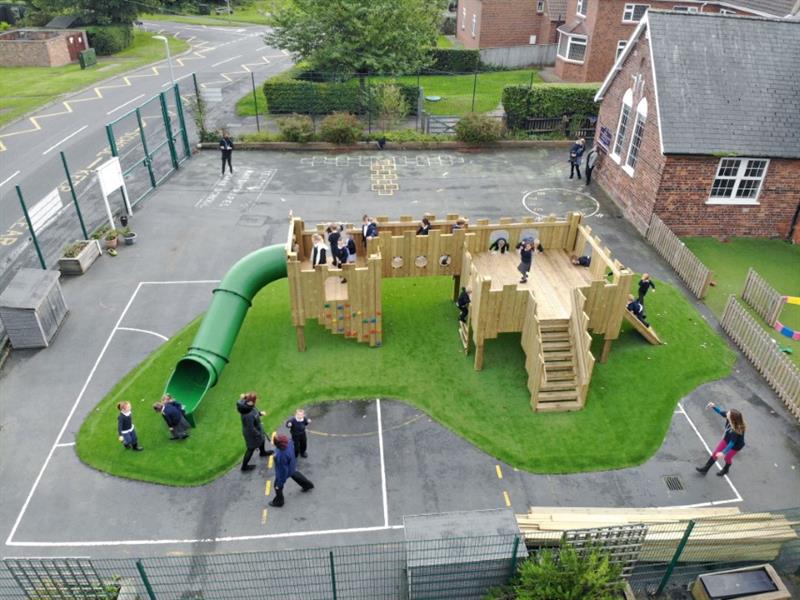 An Incredible Imaginative, Active Playground Castle
Calling all Queens, Kings, Knights and Castles! A truly imaginative active play space has been created for the young, noble children at Marshchapel Infants School, located in Grimsby, Lincolnshire.
The royals at the Grimsby school have been transported to the medieval ages through the addition of a humongous Play Castle in their playground. The queen of Marshchapel Infants, Amanda Turner, contacted us as she had fallen in love with our Langley Play Castle and wanted to inspire imaginative games in her playground, too!
Our playground consultant, Marion Rolph, worked closely with the school to recreate the middle ages on the school grounds.
Amazing Langley Play Castle
The high-level Langley Play Castle is a large structure created for Marshchapel Infants School, providing a home, a fortress, a classroom and even an interactive storytelling space!
Lending itself to both active and imaginative play, the young nobles journey back in time where they can practise and improve their physical skills, whilst participating in child-led play and collaborative games.
With multiple entry and exit points, the children can invade and escape the castle how ever they choose: climbing up aged bricks to reach the top in the form of the climbing wall or escaping through the twisty tunnel slide down to the grassy hill below.
As the children climb up the nets, ramps, walls and stairs, they are developing their upper and lower body strength, core stability, gross and fine motor skills!
Participating in pretend play, the children love grabbing their swords and shields and battling it out to be pronounced King or Queen of the castle. However, not all of their creative games have been revolved around the middle ages.
The children have also been heard pretending to be fire fighters using the castle as their station - racing down the fireman's pole or tunnel slide when the bell rings and rushing to save the day.
Featuring a large deck that provides a vast amount of space on top of the castle, teachers can venture up the energising equipment to share medieval stories or carry out interactive history lessons where children can learn all about old castles and lands, whilst immersed in their very own castle.
Taking children outside for story time engages their imaginations as they watch the characters come to life in front of their own eyes.
During playtimes and lunchtimes, the children can use the huge space underneath the deck to share a story, build dens or take their games to another level - adding great variations to their play.
Additionally, the quiet space underneath can act as an area for those who want to rest away from active play and the hustle and bustle of the playground.
Playground Surfacing
With any high-level piece of playground equipment, safety surfacing is a must.
To ensure the new safe surfacing matches the middle ages theme, we installed our natural-looking Artificial Grass Playground Surfacing to truly inspire the little one's imaginations as they venture up the grassy hill to reach the castle!
Our Artificial Grass for schools is both impact absorbing and free-draining, which means that the children are prevented from serious injury should they take a tumble. In addition, they can also use their new star piece of equipment all-year round since rainwater penetrates through the surface.
The nobles attending the infant school have a fantastic outdoor resource that crosses over between active and imaginative play, while adding a fabulous space that is unique and special to the school.
If you would like to enhance your school playground with an amazing Playground Castle, please feel free to Contact Us. Pentagon Play are specialists in playground design and installation and our expert playground consultants are passionate about improving your children's educational play experience!