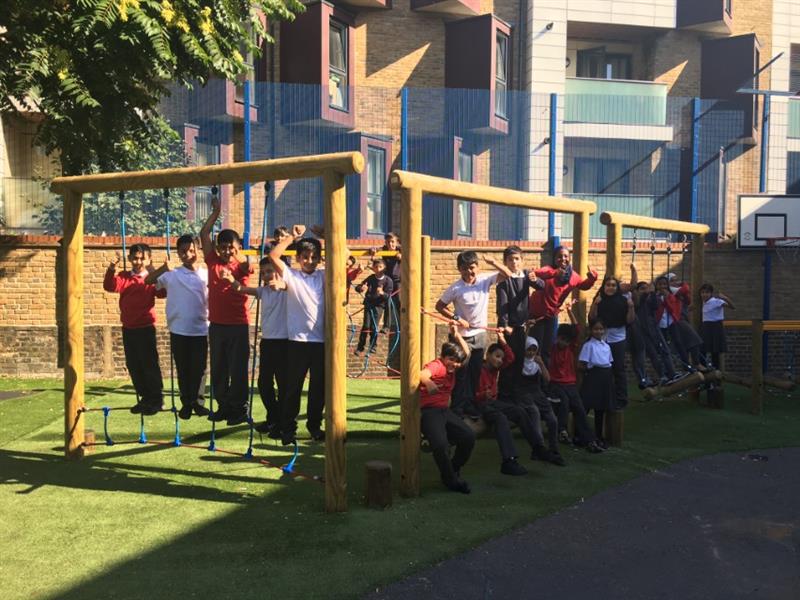 A Challenging Trim Trail For Primary School Children
Mayflower Primary School, located in Poplar, London, contacted us as they had unusable and tired areas in their playground that were no longer stimulating to the children and they felt they didn't provide many challenges for the children to tackle during playtime.
Our playground consultant, Luke Banner, met with the school's deputy headteacher, Adam Stock, to discuss the space and their ideas.
As Adam wanted to add more challenge into the playground, while enabling children of all ages to participate in active, imaginative play games, Luke designed a fantastic trim trail space - the school and the children loved it!
A child from Mayflower Primary School had this to say about their new playground:
"Our playground is an even better place than before. Before there was nothing to play with and now we do. The playground has different challenges."
The Trim Trail
The new Trim Trail includes eight exciting challenges arranged in such a way that it becomes progressively harder and harder as the children move through the obstacles.
From the simple inclined balance beam challenge to the fierce rocking log traverse that attempts to throw you off as you cross, there's an obstacle for everyone!
Younger children can attempt to tackle the easier obstacles, while older children move further along the trail as they build their key physical skills up, ready to complete others they couldn't once do before.
Moving through the challenging adventure trim trail, the children have been creating new imaginative play games using their new equipment as a focal point - adaptations of the floor is lava is a favourite of the children!
While participating in fun imaginative play games using the trim trail as a focal point, key physical skills such as upper and lower body strength, balance, co-ordination, fine and gross motor skills are being improved while crossing each challenging obstacle.
As Adam wanted to maximise the space on the playground, we opted to install their exciting new trim trail alongside an existing MUGA, fully utilising the playground. The new Trim Trail twists and turns around MUGA creating an exciting, path for the children to follow.
Playground Surfacing
To ensure the children won't miss a day of play on their fabulous new active play equipment, we surfaced the space with our vibrant Artificial Grass Playground Surfacing. The new surface is porous, meaning that rainwater won't pool or cause a muddy mess during periods of poor weather. This ensures the children can play each and every day!
Alongside this, the natural-looking playground safety surfacing is impact-absorbing, which enables children to take safe risks without the chance of serious injury. Rest breaks are even taken lay or sat on the soft surface.
All of the children at Mayflower absolutely love their new playground equipment and cannot wait to get outside to challenge their friends on each obstacle.
Adam had some very positive feedback about working with us, too:
"I have thoroughly enjoyed working with Pentagon Play. They have been very professional and extremely helpful. I would like to say a big thank you to Luke, he has been instrumental in getting this project completed. We are very happy at Mayflower with the final outcomes.
I will continue to work with Pentagon Play in the future. I'd still like to do more with some other spaces we have and I would also definitely recommend PP to other schools in the future!"
If you'd like to enhance your school playground with an adventurous Trim Trail, please Contact Us! One of our expert playground consultants would love to help meet your outdoor projects objectives as we have done at Mayflower Primary School.