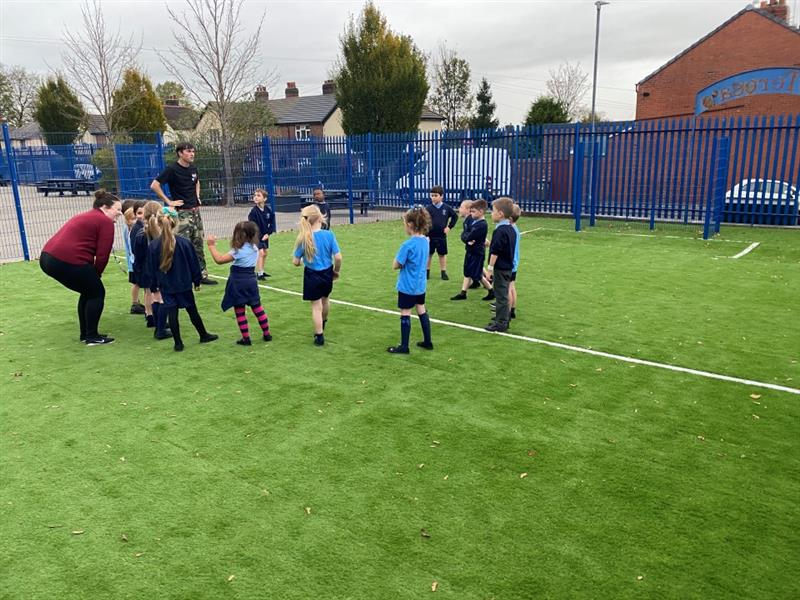 Revitalising Learning Spaces at St Teresa's
Looking to breathe some new life into their learning spaces and create the ideal zones for different aspects of the curriculum for their pupils, St Teresa's Catholic Primary in St Helen's contacted Pentagon Play for a design consultation.
It was very important for the school to have designated spaces for specific learning purposes and our Outdoor Learning Consultant, Ian Wood, really understood this and crafted an ideal design for the school.
St Teresa's now has the facilities available to them in their playground that they can utilise for both lessons and play making this an ideal multi-purpose space that will serve the school very well!
Outdoor Classroom Commotion
The teachers at St Teresa's are all of a buzz about the potential of their new Freestanding Canopy!
Lessons can now be taken outside under the shelter of their brand new addition, giving the pupils a chance to grab some fresh air and experience a change of learning environment.
However, the purpose of this project isn't mainly so that this school has an extra learning space.
St Teresa's really wanted a space for pupils to be able to unwind and focus on their well-being by interacting with the natural world around them.
With the installation of two Straight Planter Benches, pupils can learn all about flowers, insects and natural processes such as pollination in real life.
Removing pupils from the science lab to teach them about their world will give pupils a greater interest in the topic and allow them to experience the lesson in reality.
Changing the learning environment massively improves focus and concentration as well as memory meaning the lessons are actually more effective.
This is a super easy way to make lesson time more impactful and make knowledge more meaningful.
A Sports Facility for All
Another project that St Teresa's chose to work with us on was the creation of a MUGA (Multi-Use Games Area) for their pupils.
Making use of the wide-open space that they were really lucky to have, St Teresa's decided to create a designated sports space to be utlised by the pupils during both break time and lesson time.
School Playgrounds are often the place of multiple games attempting to take place at once- multiple football games, creative story-telling games and pupils just relaxing.
It's difficult in school's to ensure that there are spaces for everyone, no matter their hobbies.
With the addition of brand-new fencing and surfacing, pupils who prefer to spend their breaks playing sports and all sorts of games, now have a specific area to do so safely and securely.
With our Deluxe Artificial Grass Playturf, pupils will have no problem playing a multitude of games ranging from football to hockey, meaning this space can also be utilized for P.E lessons!
With 3G sports line markings, this pitch will make all pupils feel like they are competing in the FA cup- a dream that many of them will have once had!
Opting for spaces that can be used for many reasons, during lesson times and play, is one of the best ways to make sure that your budget is used to its fullest extent.
If you would like some guidance on how best to get the most for your money, Contact us today for a free consultation with one of our learning advisors!
Or, take a look at some more of our Outdoor Classroom Spaces to get some inspiration!