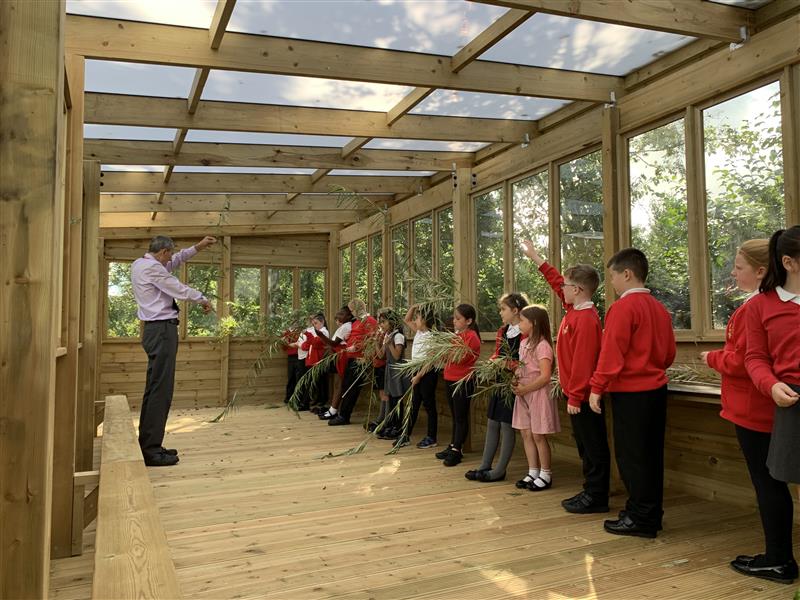 A Brilliant Space for Budding Scientists to Make New Discoveries
Nestled amongst the leafy surroundings of Newburn Manor Primary School in Newcastle Upon Tyne, budding scientists now have a fantastic space to work in.
We were delighted to partner with the headteacher, Stuart Pickup when bringing our unique classroom for learning and discovery to life.
Newburn Manor had a vast, flat area of green space which was the ideal location for the construction of our large Outdoor Science Cabin. The cabin has plenty of space to hold full classes and can be utilised by all year groups throughout the school. We installed a wide ramp allowing easy access into the cabin for all learners.
A Super Space for Investigative Learning
There is plenty of space for groups of children to work together to discuss their questions and carry out investigations. Pupils can sit on the benches, gather at the work stations or even spread out on the floor when observing and researching.
Science involves exploring and making sense of the world around us, therefore, being outside in nature is surely the best way to learn about this curriculum area. Pupils can spend longer periods of time outside as the sturdy, timber frame ensures plenty of protection from the elements.
A polycarbonate roof gives a light, airy feeling to the cabin, allowing children to observe their surroundings throughout the seasons.
The cabin is ideally situated for learning about local wildlife. Pupils will enjoy using magnifiers to study mini beasts, our useful posters help with identification and classification and further learning involving food chains.
Handy Storage Solutions
At one end of the cabin, there is a huge, integrated storage area where resources can be safely kept. Teachers don't need to worry about carrying heavy resources to the cabin for lessons as materials can be placed neatly away ready for use.
The cabin would be a great place for conducting observations over time as experiments could be left and observed when needed.
The practical space could be used in many exciting ways throughout the school year.
It would be a great base for groups to gather to support forest school sessions, it would be an ideal size for lunchtime and after school clubs and could hold school Science events such as workshops or Science Fairs where pupils present their discoveries.
A Base for Observation through the Seasons
Located just outside the cabin are four outdoor planters which double as extra seating. Pupils will develop an understanding of the conditions plants need to grow as they decide which particular flowers and vegetables they would like to plant.
During the summer months, the planters will come into full bloom and children can gain first-hand experience when learning about seeds, bulbs and pollination.
The Outdoor Science Cabin really is the perfect base for children to develop curiosity about the world around them. They could be exploring everyday materials on the school grounds, comparing different rocks that they find or exploring shadows on the playground.
The lucky pupils of Newburn Manor are learning to engage with their local environment and understand the value of maintaining it.
Having a huge, designated space for Science lessons, away from the constraints of the classroom would really allow children to observe and discuss in different groups and pairings, developing their critical thinking.
They will have more opportunities to conduct fieldwork, they can gather evidence and record their ideas on a large scale. Young scientists at Newburn Manor certainly had a thirst for knowledge and we really hope their new space will be a fantastic lab for scientific enquiry.
If you are looking to create an outdoor area for your pupils to reconnect with nature and bring learning outdoors, please contact us here to find out more!
If you are looking for inspiration on how to transform your outdoor area, take a look at our dedicated Newcastle Upon Tyne dedicated projects page here!