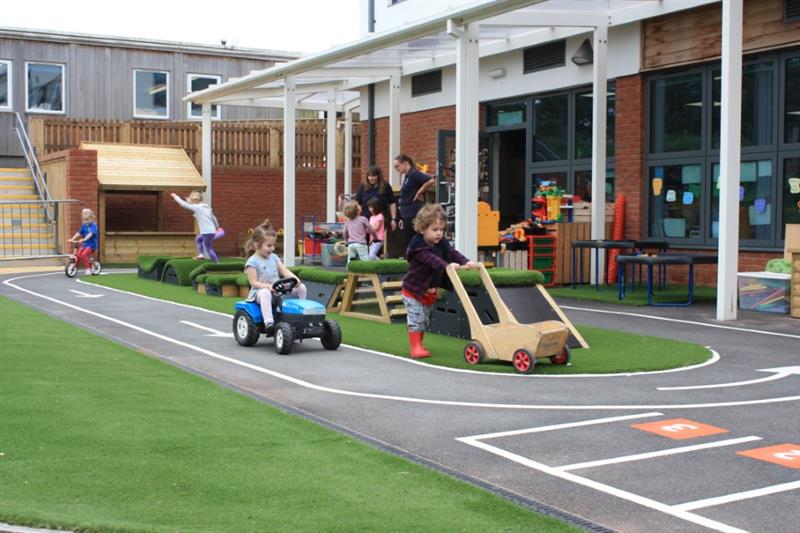 A Captivating EYFS Playground Environment Promoting Cross-Curricular Activites
Our playground consultant, Nicole Fairman, designed a beautifully bright and engaging new Early Years playground for the Nursery and Reception children at Newton Poppleford Primary School in Sidmouth, Devon.
Nicole met with the school's Head Teacher, Stuart Vaughan, Early Years Teacher Amanda Thomas, and Pre-School Leader Mel Burns to collectively gather ideas and discuss the school's requirements for developing their Early Years outdoor provision.
They wanted a play and learning space that would enable their Early Years pupils to explore all of the different areas of learning in an outdoor environment. In particular, they needed an outdoor space that would:
Be flexible and offer open-ended learning;
Host multi-use equipment to progressively support all ages and abilities across the EYFS group;
Offer activities that children are able to engage with independently;
Provide opportunities for physical development that promote both fine and gross motor development; and
Include sensory play activities.
In order to achieve this, we created a playground design that breaks the outdoor space up into different learning zones - making it easy for teaching staff to set up purposeful learning activities in each of the zones.
We used our fabulous Playturf Artificial Grass surfacing throughout the area, not only for a beautiful visual effect to support the zoning, but to create an all-weather environment that can be used all throughout the year.
It has proved to be really popular with the young children at Newton Poppleford due to its soft, tactile textures. It's lovely to sit and play on - whatever they might be doing!
Physical Activity Zone
We themed the Physical Activity Zone with a super series of Thermoplastic Playground Markings. The main feature is an exciting real-life roadway, which the children love charging around on their trikes and scooters!
We included some numbered parking bays, arrows and zebra crossings, so the children can enjoy daily life role-play and learn about road safety as they play. A bright and colourful rocket hopscotch and a 1-20 number snake add floor-based activities to the physical fun!
In the centre of the roadway is an open-ended Playturf Artificial Grass area, which is the perfect setting for Newton Poppleford's new set of Get Set, Go! Blocks.
The staff have set them up as an obstacle course for the children to climb over and because they can be moved around easily, the children can explore and self-select their own challenges.
Next to the roadway, we have installed a selection of Trim Trail Equipment, including Climbing Poles, a Twist Net and a Climb Through Tunnel, which combined together, provide a whole variety of climbing challenges and opportunities for physical development.
Young children can climb independently, solving problems and using different parts of their bodies to make their way around the equipment while their motor movements evolve and improve.
Literacy and Numeracy Zone
We designed a straightforward Literacy and Numeracy Zone that provides teaching teams at Newton Poppleford with a basic infrastructure from which they can develop a range of learning activities depending on the topic or learning area they are focusing on.
Sand is an essential learning resource for EYFS children because it is so versatile, adaptable and open-ended - and because children just love playing with it! Not only does it have a wonderful, sensory and tactile learning element to it, but it can be used to explore science and maths-based subjects, to encourage children to solve problems and to develop creative and imaginative play.
An ideal choice for a Literacy and Numeracy Zone, our sand table provides a large sand-play area that is easy for staff at Newton Poppleford to maintain and keep clean. Coupled with a set of large wooden weighing scales, we've created a popular curiosity station for endless experiments and investigative learning.
We included a Giant Whiteboard as an immediately accessible mark-making facility, so the children can independently develop their writing and drawing skills in a fun way as they play.
We used a selection of natural Planter Benches for aesthetic appeal, to inspire creativity in literacy and to link the zone to the Science and Nature Zone.
Science and Nature Zone
The school wanted to include an area that would support more messy and natural play. To achieve this, we created a science and Nature Zone surrounded by a selection of Straight and Back to Back Planter Benches.
The seating on either side of the planters allows children to easily explore the contents and get up close to their plants. The children have already filled them with a selection of beautiful plants!
Their juicy-looking strawberries have prompted interest and discussion around healthy eating. There is endless potential here for developing scientific enquiry, learning about topics such as lifecycles or plant reproduction. It's also a wonderful sensory space for more quiet and relaxing, therapeutic learning activities.
We included a Mud Box so that the children have a designated mud source to explore and create some messy masterpieces and mud-pies.
A set of Moveable Grass-Topped Seats offer a comfortable spot for children to rest as they develop their thinking, reasoning and learning in this zone. They're great because they are versatile for teachers to arrange their layout to suit learning activities, yet they are heavy enough to make sure young children can't topple them over.
Role Play Zone
An all-singing Giant Playhouse sets the scene perfectly for Newton Poppleford's Role Play Zone.
It's an open-ended play house, which can easily be accessed by everyone. It's a lovely space for children to initiate their own imaginative games and learning, supporting language and communication as well as social and emotional exploration and development.
The integrated chalkboard is huge and allows plenty of space for children to experiment with mark-making. Along with the den holes across the front for threading, weaving and hanging, this Playhouse is designed to be easily themed to encourage all sorts of real-life learning activities.
It could be a shop or a restaurant, a hospital or a hotel, a garage or a bus station: it can be whatever the children would like it to be!
In keeping with the requirement for independent activity, we installed a Self-Selecting Store opposite the Playhouse. The children can easily and safely access their own choice of small-world toys, fancy dress equipment, mark-making materials and so on to play with in their chosen zone.
This store can be propped open so that children can select and set up their own activities independently and with minimal supervision. It's secure so it keeps everything well-protected while not in use, and keeps set-up and tidy-up time in an outdoor environment straightforward.
The school love their new outdoor area and Amanda Thomas, EYFS Lead, had this to say about the development:
"On completion of our new school building the Early Years was left with what I would describe as a 'prison yard' for an outdoor area! It was to be fenced in rectangular piece of tarmac, lacking in character and opportunities for the children.
We didn't have the biggest of areas to work with, but what has since been created for us has maximized its potential. We now have an eye-catching, flexible and stimulating outdoor space for the children, which makes provision for opportunities across the areas of learning of the foundation stage.
Zoning has ensured that we are providing an environment that offers a range of experiences for the children. They have been equipped to enable the children to be challenged, to encourage their independence and to foster their enquiring minds.
We have versatile spaces that can be adapted in many ways, to respond to the directions that play takes. It has been fascinating to see how the children are developing the provision for themselves."
You can view our full range of outstanding outdoor learning, play and sports products for schools Here. We offer a free, expert, no-obligation consultation service for any school or nursery wishing to develop their playground into a curriculum-focused outdoor learning environment. Contact Us Here to find out how we can help you.