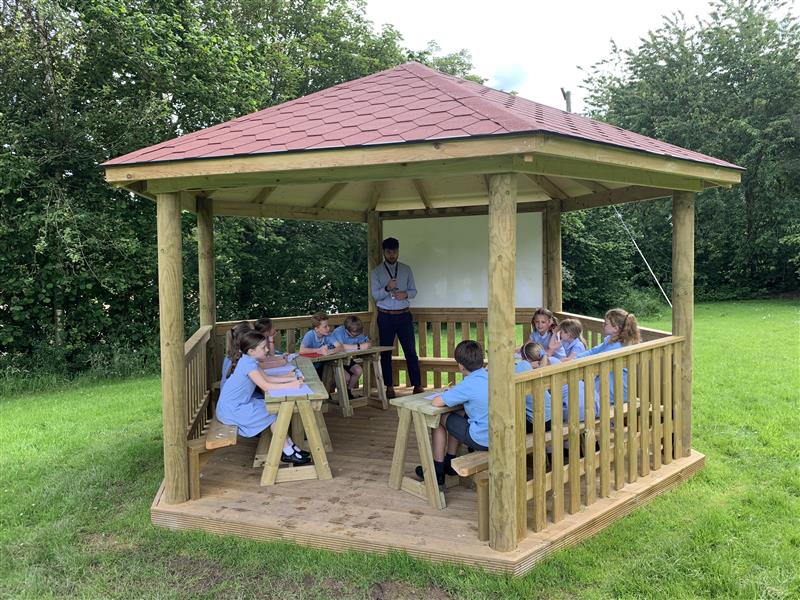 An Outdoor Classroom For Learning Amongst Nature
Our playground consultant, Ian Wood, worked closely with Norley CE Primary School, located in Cheshire, to create a base for learning outdoors. The school wanted an area where whole classes of children could be taken to participate in learning amongst nature, no matter the weather.
Outdoor Classroom
Ian worked with the school to install a magnificent outdoor classroom situated in a secluded area of the school's field. It has taken away the constraints of the indoor classroom, creating a thriving outdoor working environment for the children at the school.
A whole class of 30 children can now be taken outdoors t work in a sheltered and waterproof environment year round.
This wonderful sheltered outdoor learning environment includes a fantastic selection of features, including:
Decked Base
Giant Whiteboard
Benches
Moveable Workstations
These amazing features ensure that lessons can take place in a practical setting where the children have space to rest their books and write along with a space for teachers to present information that the whole class can see.
The moveable workstations enable teachers to use the space effectively and re-position the stations around the area for both group and individual work. Each workstation provides the children with a large amount of desk space for writing, drawing and support on their arms.
During break and lunch times, children can use the huge amounts of space inside the gazebo for socialising, relaxing, eating lunch and reflecting on the school day. This is the perfect place to escape form an energetic playground – benefiting the children's mental health.
If you would like a base for outdoor learning in your school, please take a look at our full range of Outdoor Classrooms for schools. Alternatively, you can Contact Us to arrange a free playground consultation.