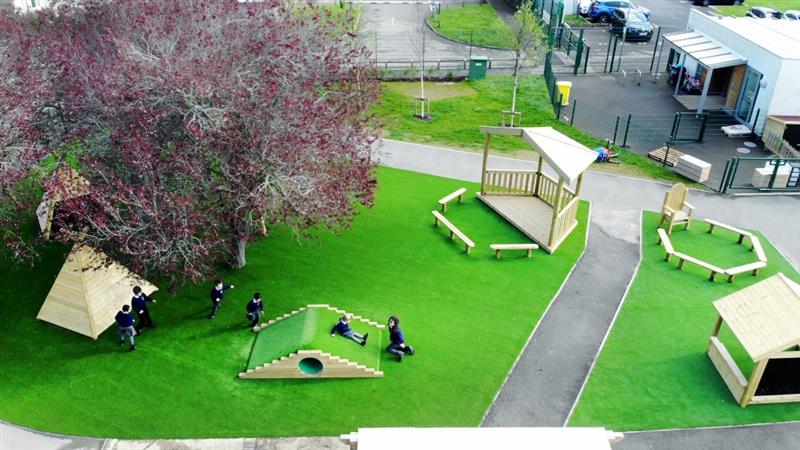 Explore 3 Spectacular Playground Transformations
The Oakridge Schools Federation wanted to bring the "Wow" factor back to their pre-school, infant and junior school's outdoor learning environments.
Our Playground Consultant, Donella Felton, worked closely with the Federation's Executive Head Teacher, Diane Charman, to see these outstanding projects through from start to finish.
Covering all areas of the curriculum, these amazing developments span across three different sites including the Federation's Nursery, Infant and Junior School.
Diane Charman was thrilled with the finished outcome and had this to say:
"The entrance to the school was looking particularly tired and uninviting with equipment that couldn't be used. This area has now been transformed into an inviting, exciting and engaging space for the children to use. The child particularly love the 'climb through tunnel hill' trying to find different ways up, over and through which has benefited their core strength and balance as well as communication skills."
Before the installation could begin, there was work to be done to prepare the sites. We took care of that by removing the old play equipment, storage and unwanted bushes, then repositioned and replaced the fencing to suit the new layout, before repairing the surfacing.
On the Infant School site we installed our Playturf Artificial Grass all-weather surfacing across the new play areas, laid onto our Dynamic Baseworks for excellent drainage and year-round use. Then once we'd got the surface laid, we were ready to move on to the fun stuff!
The Reception Playground
The Reception playground at Oakridge was lacklustre. But what it did have was a beautiful, big oak tree which provided natural shelter, gorgeous seasonal colour and a great "base" for the children to play at.
We designed and built the Reception Garden around this wonderful oak tree, to create a stunning natural-looking play area for the children to enjoy.
We included the following selection of playground equipment to enhance the curriculum outdoors:
A Climb Through Tunnel Hill - for crawling through, scrambling, and practicing balance and physical control. An excellent resource for teaching positional language and concepts to younger children.
Wigwams and Wigwam Posts - for inventive den building activities.
Half Hex Stage with Roof - for drama and role play activities as well as a place to socialise. This one has a roof so it's a relaxing, sensory space to shelter and watch the weather, allowing children to get outside and get some fresh air even on the rainiest of days.
3 Perch Benches - arranged in front of the stage for spectators and audience participation.
Storytelling Circle - to bring outdoor reading sessions and group discussion to life.
Giant Playhouse with Walls, Chalkboard and Benches - an all singing role play resource which encourages educational mark-making as well as imaginative fun-making.
The children at Oakridge Infant School are now enjoying a beautiful new play area with plenty of space and options to run around and exercise, play and learn.
It's made outdoor play and learning so much more practical for teaching staff, too - thanks to the mud-free all weather playground surfacing.
There is less risk of injury from falls, no need to let the weather interrupt activities and less time needed to set up and clear away means more time for doing what they do best!
Explore more of our excellent Imaginative and Creative Play Equipment here
Infant School Playground Castle
The Oakridge Schools Federation have been a fantastic customer who we originally worked with back in 2017. Our first project was for their infant playground environment where we installed our magnificent Langley Play Castle.
Lending itself to both active and imaginative play, our Langley Play Castle promotes physical play and encourages children to take part in role play and den-making activities. We wanted children moving to the Infants school to be in awe of this amazing structure and hoped it would encourage child-led activities.
It was amazing to return to the school and see the smiles on the children's faces while they played on the castle. It may be 2 years old but our Play Castle still brings the 'Wow' factor to infants looking to play and explore.
The Nursery Playground Development
A dedicated nursery playground placed explorative, messy and sensory play high on the agenda. They needed good facilities for physical development, too.
The fact that they had a big space to be completely redeveloped was great news for us - we love the challenge of a blank canvas to show off just how incredible outdoor learning spaces can be!
Speaking about our development for the nursery aea, Diane had this to say:
"The nursery equipment transformed the outdoor area and now the children always want to be outside whatever the weather developing their imagination and creative play."
Active Play Resources For Physical Activities
Artificial Grass at the rear of the playground was the obvious choice to provide a safe surface for more physical activity based resources.
We installed our popular Pinnacle Hill Climber with Platform: the perfect entry-level log and rope climber for young children to begin their climbing adventures.
It has flexible entry and exit points so they can get on and off wherever they feel comfortable and it's designed to allow little hands to grip and grasp at all points - it's great for building their confidence at the same time as improving their motor skills.
A set of Get Set, Go! Blocks completes the scene, allowing the staff and children to build their very own assault course to offer the nursery a range of up and over physical challenges.
Messy Play Zone
We created an exciting exploratory Water Play Zone. This combination of water play equipment was a great choice for Oakridge because, combined together, they create unlimited opportunities for a number of children to play together at any one time.
It enables them to really investigate and explore key EYFS learning topics, in particular around science, maths and developing their understanding of the world.
The flexible designs allow children to build their own courses for the water to flow, so they really get to experiment and discover for themselves cause, effect and influence.
Messy Play Equipment is an essential feature of any nursery setting.
A great big Sliding Sand Pit with Roof offers tons of space for children to immerse themselves and enjoy all the many benefits of sand play. The roof provides shelter and shade and the sliding cover gives staff peace of mind that the sand is kept clean while it's not in use.
No messy play zone would be complete without our famous Mud Kitchen, and the giant one with the nursery area keeps the children busy making mud pies, soil sandwiches and leaf cakes.
We included a covered Messy Play Dig Pit and a Tuff Spot Table for examining, exploring and displaying, ensuring there is always plenty of mud to hand for concoctions.
Musical Play Equipment
Our innovative range of Outdoor Musical Equipment is ideal for encouraging children to experiment with sound and rhythm, have a go, express themselves and make as much noise as they like without disturbing the rest of the school!
Most of our instruments are even properly tuned, so children can genuinely make some great sounds and compose music together. No really, they can.
The nursery staff chose a Glockenspiel Panel, a Shaker Panel and a Bongo Panel for their playground. We're never quite sure who enjoys playing with them the most….children or staff….we'd better not say!
Playhouse For Role Play Activities
In the far corner of the play space we installed a Playhouse with Walls, Chalkboard and Playturf, for the children to escape to and create their own magical imaginary games. It even has den making holes, for threading and hanging materials to theme the area and enhance pretend play.
Mark Making opportunities are available right across the area with the inclusion of some super Giant Mark Making Panels - Chalkboard, Whiteboard and an Easel Table.
These are a good fun way of helping the children practice their fine motor skills and learn the foundations for reading and writing. We included some Moveable Artificial Grass Topped Seats for comfort, too.
Storage For Toys and Resources
Good storage facilities make all the difference, particularly in an outdoor play space for very young children where you have lots of different smaller toys and resources to rotate and allow for variety.
In the nursery outdoor space we included two Self-Selecting Stores, which allow children to easily and safely pick and choose what they want to play with. This encourages them to make their own choices as they develop interest in different activities, and to learn how to take responsibility for looking after their toys.
The stores are lockable so everything can be kept tidy and secure when it's not in use and quickly and easily accessible when it's time to play.
View our exciting selection of Preschool Play Equipment Here.
Oakridge Junior School's Humongous Climbing Frame
We weren't joking when we said the Juniors at Oakridge were not to be outdone!
Our Crinkle Crags Climber is our largest climbing frame, with logs, reinforced ropes and nets, dozens of crossing points and even a climbing wall panel - it can comfortably accommodate a whole class playing at once.
Diane loves our Crinkle Crags Climber and had this to say about the installation:
"The installation team for the Crinkle Crags Log Climber were exceptional, the weather was not particularly kind however the team persevered and completed the install ahead of schedule. This piece of equipment has been a huge hit with the older children."
To protect children from falls and promote safe risk taking, we installed our all-weather Playturf Artificial Grass which includes an impact absorbing underlayer (as if that would put the children off anyway!).
It's a joy of a resource for promoting all aspects of physical development and exercise, but as much as this, it allows junior children to test and stretch the boundaries of what they are capable of.
Learning to assess and manage risks in a fun and safe environment and building their confidence and self belief. And we know it works because we've seen the children at Oakridge in action, and there was no stopping them!
It was amazing to revisit the school and see so many happy children enjoying their new play spaces.
As well as the children, Diane was over the moon with our development and had some very kind words to say:
"Using Pentagon Play, we have been able to install a range of equipment that enhances the physical, mental and creative stimulation of our children. It has made playtime more engaging for the children which has impacted positively in the classroom. Parents are happy to stay with their children after school and use the equipment in a safe and secure environment which has enhanced the community cohesion."
If you would like to redevelop or improve your school's outdoor play and learning space like the Oakridge Schools Federation, please don't hesitate to Contact Us to see how we can help. Alternatively, you can view our full range of exciting Playground Products Here.