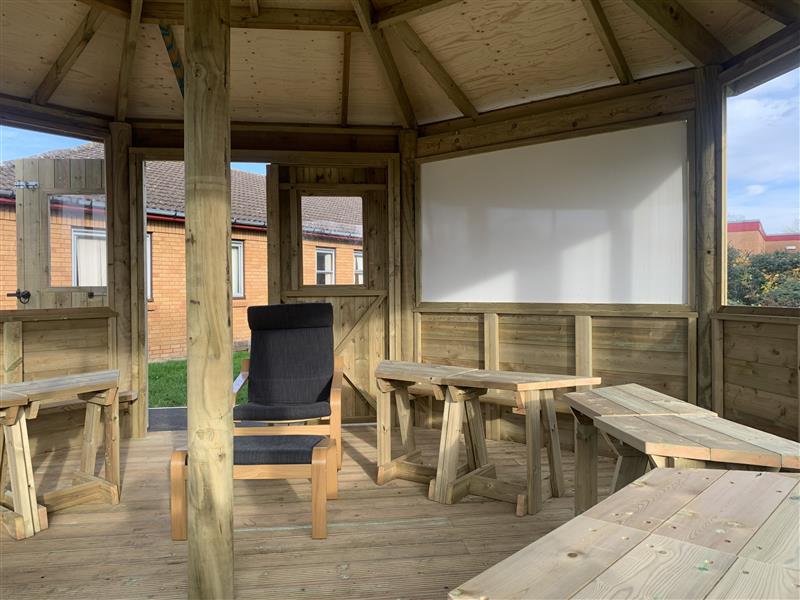 A Universal, Multi-Purpose Sheltered Space for Outdoor Lessons
After completing a purpose-built EYFS play area and a marvellous MUGA pitch to revolutionise the sporting provision at Oliver Tomkins CE Primary School in Swindon, our playground consultant, Becky Hazell, was delighted to be invited back to begin another new development that would benefit the whole school.
The aim of this development was to provide an additional space that would benefit pupils and teachers all year round, along with offering more shelter and shade on the playground.
A Weatherproof Space for Year Round Learning
A 6m Octagonal Gazebo was constructed. A wide range of features ensures that it becomes home to a variety of uses, used throughout the school day by all age groups.
The outdoor classroom includes:
Freestanding Work Stations to ensure children have a sturdy space to rest their workbooks and participate in lessons effectively
Internal benches to provide plenty of comfortable seating
A water-tight roof to enable the space to be used throughout the four seasons and ensure that the weather doesn't interrupt learning.
Double opening doors to create easy access into the classroom
A giant whiteboard to allow teachers to present information that the whole class can see
Pupils and teachers alike and have really enjoyed being able to participate in fresh air learning.
During breaktimes and lunchtimes, the children love relaxing in the sheltered space to socialise with friends, eat lunch and relax away from the hustle and bustle of the busy playground.
The outdoor classroom has truly benefited the whole school!
Would you like to create an inspiring space for outdoor lessons? View our full range of Outdoor Classrooms Here or Contact Us Here to begin your journey with Pentagon Play.
If you'd like to view more examples of our work in Swindon, visit our Swindon Case Studies Page.