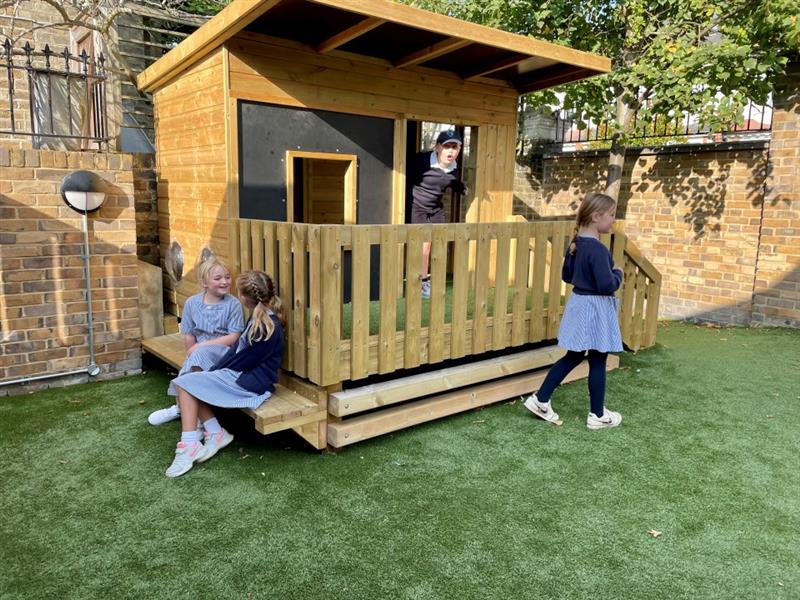 A Refurbished Outdoor Play Area for Finton House, London
Sam Flatman worked with Guy Collins-Down, Finton House's School Bursar, at his previous school and Guy was keen to work with him again on this project, knowing the quality of a Pentagon Playground!
As Sam says, "we were all wearing masks and my glasses kept steaming up, so when I visited Finton House, I hadn't quite realised that this chap walking over to me was Guy! It was great to see him at his new school and I know it helped that we'd worked together before as it helped me make the changes to the brief to ensure it was exactly what they were looking for!"
Working with returning customers is always an honour and makes the process so much easier. Good projects come from trust and collaboration, and we work hard to create these lasting relationships with every customer!
A Surfacing Overhaul
Looking to replace their old surfacing, Finton House wanted to remove the dangerous trees and stumps surrounding their playground to remove any danger of trips and tumbles.
Desiring a surface where their pupils could run all year round, Sam guided the school towards the installation of Playturf- an all-weather surface, perfect for a multitude of activities through each season.
Sam explained "by moving away from a roadway scheme to a single green grass (Playturf) we make the whole space seem much bigger, smarter and more flexible.".
The stunning forest green Playturf adds a sense of life and vibrancy to the playground and provides a softer space should anyone take a little fall. Looking luscious, even during autumn and winter, this grass provides a full and healthy look for each playground!
A Seating Area for All
Creating communal areas for their pupils to convene and communicate in was key for Finton House and they definitely achieved this!
By providing a combination of both Small Artificial Grass-Topped Seats and Large Artificial Grass-Topped Seats, the children now have a shared space where they can take a moment and step away from the excitement and energy of the playground and relax.
This space is great for aiding the mental health of pupils and benefitting their communication and emotional skills!
Looking to the Left
Looking to expand their imaginative and creative play offering for their pupils, Finton House requested the removal of their old playhouses and a replacement of a Lookout Cabin with a Window on the left side.
"The Lookout Cabin can be used in many ways by the children: for role play, social play, sitting down and having a chat – it even provides a dry space in which to read on a wet day!"
A perfect dry space for the pupils to convene in their break, this lookout cabin is an ideal replacement for tired and worn playhouses as children can create their own stories within this unique space and improve their communication skills via roleplay.
Getting Ready! Getting Set! Going!
Improving their active play provisions for their pupils, Finton House acquired a set of the Get Set, Go! Blocks- The Cheviot Set; our largest and most advanced set.
Moveable to their own wishes, pupils can reposition these blocks daily to create unique and exciting obstacle course with the 15 blocks available in this package.
Complete with mark making panels on the side, children can add numbers and letters to the blocks to customise their route a little bit more!
Super Storage Solutions
We all know what it's like to have too much stuff and not enough room to put it all away.
With their new Small Self-Selecting Store, Finton House has the ability to free up some space for their pupils by having a neat and tidy storage area for their resources and provisions!
Organisation is the key to success and we hope that Finton House loves their new storage space and the freedom that it gives them and their pupils!
Sam concludes: 'I'm really proud of this design, it fits in well and enhances the existing playgrounds of Finton House School and really works with the school's smart brand.'
If you would like to transform your playground just like Finton House, then Contact Us Here
Or, if you'd like some more inspiration, browse our other Greater London projects here