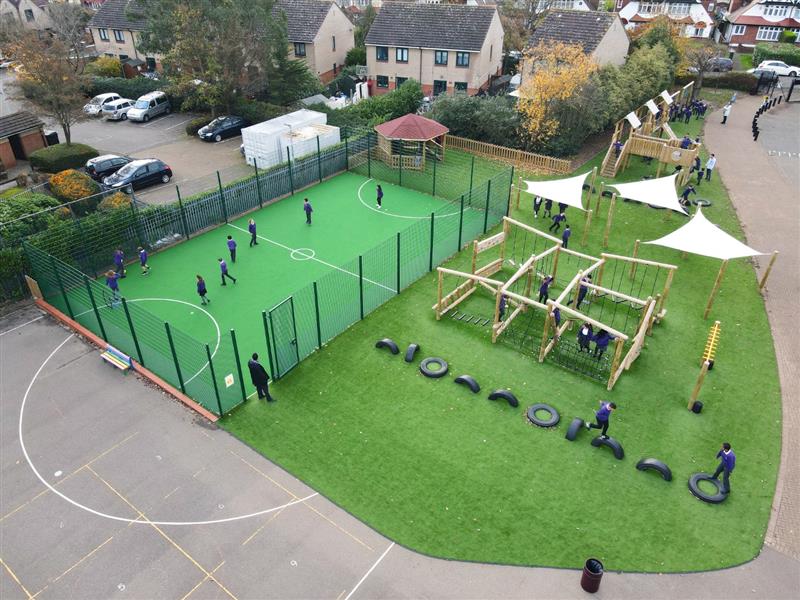 A Captivating Playground Environment with Activities for Every Pupil
A blank, tired outdoor area has been transformed into a captivating playground where there are a range of activities for all children to participate in.
Our playground consultant, Luke Banner, was delighted to work alongside Parkside Primary School to create a fun-filled, healthy and relaxing outdoor play and learning environment.
Listening to the school's vision for their playground, Luke got to work designing a new space that would maximise the area and enable the children to utilise the area to its full potential.
A Dedicated Space for PE and Ball Games
One of the project must-haves was a space where ball games and PE lessons could take place. With this in mind, we installed a huge multi-use games area against the existing school fencing.
This new area provides a dedicated space for the children to participate in a wide range of sporting activities.
The vibrant pitch includes free-draining, artificial grass suitable for all seasons, ensures the weather won't interrupt competitive games and 2m high rebound fencing to ensure the ball always stays in play - games won't encroach onto other meaningful play activities taking place around the MUGA!
Not only has the MUGA Pitch become a favourite playground hang out, it has also become an invaluable part of the school's PE and extracurricular activity offering.
An Inspiring, Challenging and Energising Play Area
The children were also keen to be able to swing, climb and balance to their hearts content!
Using the vast amount of space available, we installed our enormous Grizedale Forest Circuit next to the multi-use games area and an immense twenty-piece Modular Play Tower that twists and turns with the space!
Parkside's Grizedale Forest Circuit encompasses a multitude of challenges for little learners to conquer that naturally raise their enthusiasm and excitement levels. Using every part of their body to overcome the challenges featured, this truly unique climbing frame tests and targets each physical development skill through play.
Before moving onto the modular play tower, children can relax under the three sail shades to recoup their energy and socialise with one another before taking on the humongous play tower.
Over the truck tyres, children can bounce up the steps onto their very own castle.
Featuring plenty of challenges and imaginative play aspects, children can climb, swing and balance their way to the other end as they re-enact medieval time stories and legends.
This inspiring selection of active playground equipment has provided plenty of classes of children with spaces where they can use every part of their bodies and exercise their little muscles, whilst participating in fun and creative imaginative games.
With an incredible new active play space, Parkside were keen to ensure that the children could use the new area throughout the four seasons, which is why we surfaced the entire play space with our soft and comfortable Artificial Grass Playground Surfacing.
As both a free draining and impact absorbing surfacing solution, the children can exercise and get active come rain or shine whilst taking and assessing risks without the risk of serious injury.
Fresh Air Learning and Relaxation
In the corner of the playground, we've provided the children with a space to relax and socialise in during playtime and the teachers with an area where fresh air lessons can take place.
A 5m Hexagonal Gazebo complete with benches, a triple storytelling chair, fenced sides and trellis panels creates a tranquil space to learn and play within.
A watertight roof ensures adverse weather conditions will never interrupt activities taking place!
The children can watch plants grow up the trellis panels or thread and weave materials in and around the timber to create their very own playground den.
The outdoor classroom has become the ideal space to relax away from the hustle and bustle of the playground!
Alongside the benches, comfortable and clean artificial grass provides plentiful seating for children to gather around to enjoy their time socialising outdoors.
"The Playground Space is Attractive… and the Children Love It!"
Claire Houghton, Parkside's passionate SENDCo and SLT Lead, had some wonderful feedback once the project was complete.
Here's what she had to say:
"The playground space is attractive, inviting and challenging and the children love it! We are now a year on from installation and the equipment is constantly in use. The MUGA has become an invaluable part of our school PE offer as well as being used at playtimes. We have had parents asking us to keep the playground open after hours to enable their children to use the equipment rather than that of the park next door! Our experience of working with Pentagon has been extremely positive and we would thoroughly recommend the company to other schools."
Would you like to make better use of your playground space? Contact Us Here to begin your playground transformation with Pentagon Play. To see our full Playground Product offering, click here and begin your wish list today!