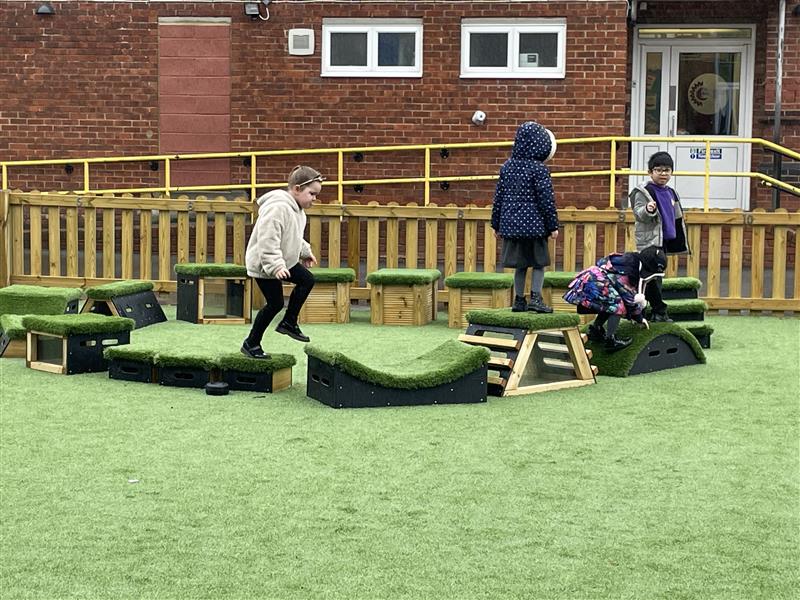 An Inspiring EYFS Development which Promotes a Love of Learning at Penbridge Infant School
Pupils at Penbridge Infant School in Portsmouth have been busy exploring the many areas and features that their new EYFS outdoor playspace has to offer.
The multi-purpose, unique provision engages all pupils of differing needs and abilities. Playground Consultant, Donella Felton used her skills and expertise to design a wonderful outdoor space to cater for all areas of EYFS learning and development.
Extending and Reinventing the Space
Before the transformation, Penbridge Infant School had no areas of greenery and the playground equipment was dated.
Artificial Grass Playturf has completely changed the appearance of the playground, providing a soft, durable surfacing that instantly appeals to pupils and allows play to continue regardless of weather conditions!
The use of play turf enabled us to extend the playing space and natural, Bow Topped Timber Fencing frames the early years area beautifully. A Wetpour roadway was created which includes road safety markings and numbered parking bays. Pupils enjoy following the track whilst learning about the real world when role-playing different games and scenarios.
An Outdoor Canopy Forming part of the Messy Play Zone

A Timber Canopy provides a new and exciting learning hub for all pupils to enjoy. Timber cladding and glazed windows help to provide a comfortable spot for children to sit and work together.
Further Wetpour surfacing offers an ideal base for some marvellous messy play! Imaginative ideas have been flowing as pupils mix, pour, invent and create new dishes at the Mud Kitchen and accompanying Mud Box.
A Corner Planter Bench allows children to grow chosen produce and to observe plants and insects closely. It is a lovely friendship to stop to sit and socialise, to relax and to regulate emotions. Fine motor skills and hand dexterity can be developed when using the Giant Paint Panel on Wheels. A new piece of shared art can be created each day!
Pupils love jumping into the Large Covered Sandbox where discoveries can be made, structures built and stories told.
Developing Gross Motor Skills through Creative Play
Penbridge School selected many key pieces to promote physical development amongst their young pupils. A Harter Fell Climber with Platform and Slide stands proudly in the centre of the space offering pupils the opportunity to improve their climbing skills. Children will develop their sense of balance as they cross the beams and aim for the top!
A set of Get Set, Go! Blocks- The Cheviot Set was initially purchased by Penbridge via our online shop and proved to be a huge hit. Children develop independence when designing their own courses by moving and positioning the blocks to test out ideas before jumping stepping and leaping around their chosen route.
Young scientists are offered hands-on, practical explorative play with a Rope and Pulley Materials Mover. Pupils quickly learn how to work this moving mechanism developing teamwork, turn-taking and cooperation.
A set of Messy Play Tables and a Tuff Spot Table are the perfect height for communal play. Pupils can engage with small-world play in the outdoor environment. A Giant Mirror on Posts and an Easel on Wheels allow children to express themselves independently and to explore mark-making on a vertical surface.
Storage Solutions in the New Space
Penbridge opted for both our small and medium Self-Selecting Stores. Pupils can independently access equipment which is clear to see in transparent boxes or hung in bags on the handy wall hooks
The Outstanding Outdoor Learning Room
A short walk from the EYFS playspace is the new outdoor learning room. The outdoor classroom has been regularly used since its construction by nursery and reception classes and also pupils from the school Inclusion Centre. The space has proven to be extremely beneficial for children with complex cognition and learning difficulties.
The huge 8m by 4m Freestanding Timber Canopy is an ideal spot for children to relax, play games or hold whole class active lessons. The canopy is made from high-quality, pressure-treated timber with cladded sides and a double door to provide a sheltered space where both adults and children can enjoy spending time outside together.
Schools are always searching for more space and the canopy with its glazed windows and chalkboard provides a large space for children to move freely in lessons or for intervention groups to take place.
Executive Headteacher, Anna Webb told us that students were in awe of their new space and so excited to explore, in fact, three months later pupils still felt exactly the same! Anna reported that the development has completely changed how early years staff use the outdoor space which involves a mixture of both adult and child-led activities.
Our team loved creating this fantastic EYFS space where children can now safely learn outdoors as a regular part of the curriculum. Clearly, pupils are certainly embodying the school's vision: 'Love Learning for Life.'
If you would to upgrade your playground development just like Penbridge Primary School then please don't hesitate to get in contact with our friendly outdoor learning consultants here!