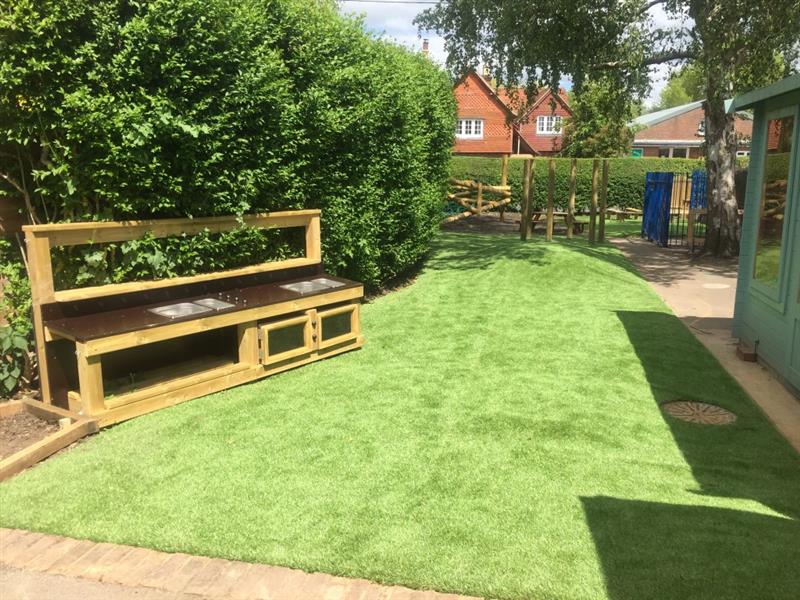 Pentagon Transform Long Marston's EYFS Outdoor Learning Environment
During a Headteachers Conference in Hertfordshire, we had the pleasure of meeting Clare South, the Headteacher of Long Marston VA C of E Primary School. After an initial conversation, it was apparent that Clare had issues with her EYFS playground and needed solutions to improve it for it to become a viable outdoor learning environment.
"It's a narrow space which we can't use for most of the year as it gets muddy".
One of Pentagon's EYFS experts, Sam Flatman, visited the school to discuss possible developments to bring their Early Years area to life. As the area was so narrow, one of the major issues it faced, was mud easily filling the entire space, making it unusable for large parts of the year.
Pentagon has a large range of Safety Surfacing that can solve surface problems and from our many solutions, it was decided that Play Turf would be used due to its realistic grass fibres and the fact it can be used in all weathers and not be affected by mud.
During the consultation, as well as providing a safer surface area, Clare wanted to update the outdoor provision with specialised EYFS equipment that covered the 3 prime and 4 specific areas of learning whilst encouraging child initiated play.
Mud Kitchens offer many learning experiences through imaginative play
We decided to install our popular Mud Kitchen to enable creative and transformative learning by allowing children to use their imagination to transform mud into 'foods'. As well as messy play, Mud Kitchens allow learners to have meaningful exchanges to produce their muddy creations which initiates one of the prime areas of learning, Communication & language. It's also a great addition to improve sensory skills through touching mud, moulding shapes and changing the consistency by adding water
Story Telling Circles bring Literacy to life
To further target Communication, Language & Literacy, we decided to install a Story Telling Circle to give the children a less formal environment than inside the classroom when speaking aloud and telling stories.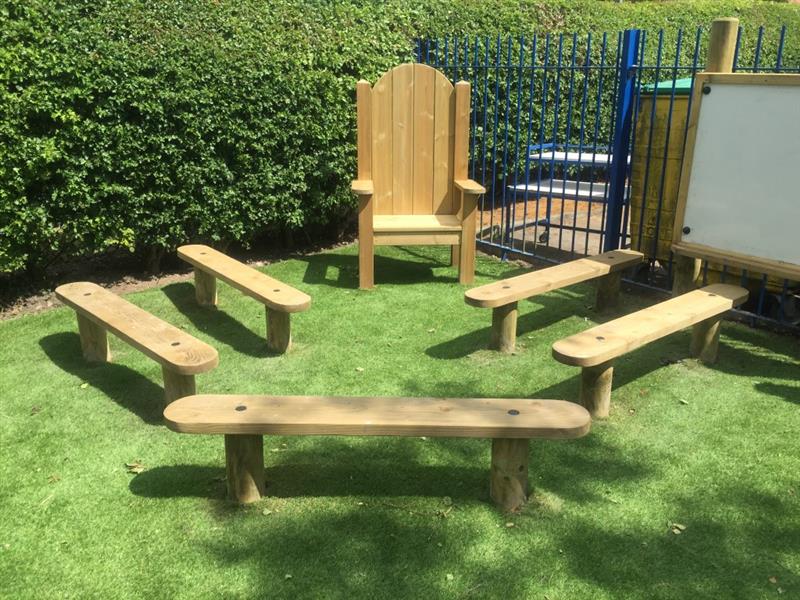 Story Telling Circles really bring Literacy to life and offer a more inspiring method to teach this core curricular subject to early years children.
Log Frame Climber's fascinate children to climb and develop physically
To target Physical Development, we installed our excellent Log Frame Climber to provide the children with a variety of challenges that cover balance, upper and lower body strength, hand strength, core stability and opportunities for task and gross motor skill development. It's an excellent Playframe that encourages group challenges through cooperation, competition and imaginative play.
As well as a Log Frame Climber, we included Den Posts to fuel the children's imagination and encourage role play and communication through den making. This equipment also targets children's Personal, Social and Emotional Development as it gives the children a chance to work in small groups and create dens together. This area was made complete with lovely Playbond and a picnic table to give children a social setting to relax, chat and eat lunch together. It's also a great role play space that can be resourced to reflect diversity giving the children knowledge and a better Understanding of the World.
Children express their feelings artistically through Mark Making
We then targeted another specific area of learning, Expressive Arts and Design through mark making on our Activity Play Panels that included our Giant Mirror. The boards can be used to teach Mathematics and Literacy whilst allowing children to express themselves and create art. The giant mirror can be used to express feelings and emotion and is a good resource for role and pretend play i.e. children can pretend they are in a shop trying on clothes.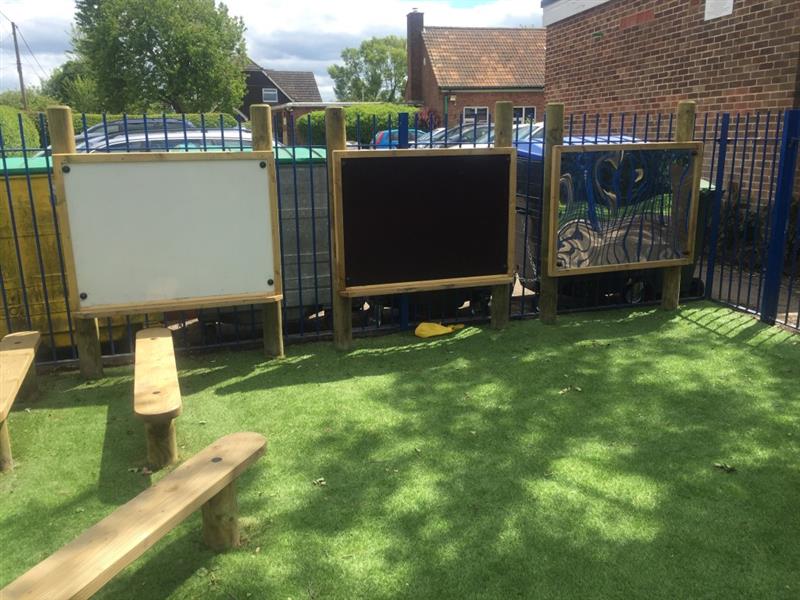 Clare had to this to say after we completed this excellent project:
"With the lottery and PTA funding we were lucky enough to get, Pentagon Sport have really helped us positively transform our EYFS outdoor provision. It's a well thought out space which is accessible all year round. It covers the 3 prime and 4 specific areas of learning and encourages child initiated play and learning…we are very pleased and will be happy to recommend and refer you."
What was once a muddy and underused space, is now a thriving child-led environment that will naturally develop children through the 7 areas of learning..
Is your Early Years space in need of improvement? We're experts in developing EYFS outdoor learning environments, simply contact us through the website to discuss your provision in detail. You can also view our dedicated EYFS page to see our innovative early years offering.