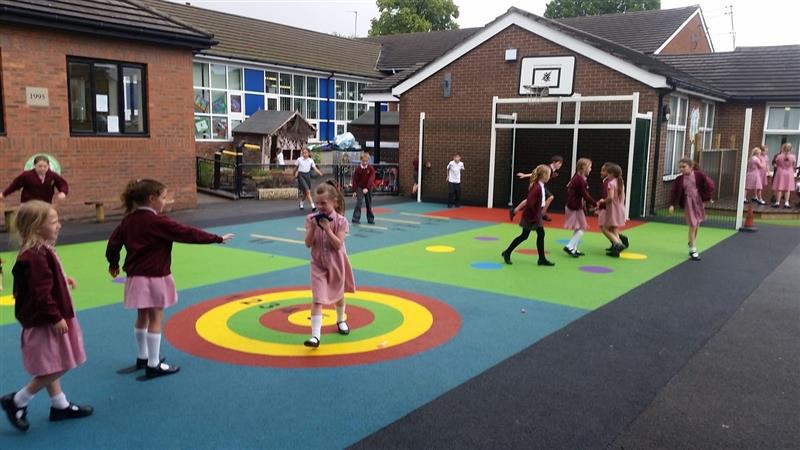 Through Primary Spaces Funding, Pentagon helped St Mary's children get active & engaged in sports
We met with St Mary's RC Primary School after the school were awarded Primary Spaces Funding due to limited playground space for sports and outdoor play. Sport England established the Primary Spaces Fund to help primary schools who have little outside space with the aim of providing multi-sport areas to help get children active.
During our initial consultation, we were tasked to develop an innovative sports play area that would bring physical activity to life and inspire children to play and get active. With the limited space they had available, we knew we had to create something inspiring that offered different opportunities for sports and activities.
A MUGA facilitates multiple sports
Our ability to bespoke designs enabled us to create an innovative MUGA (Multi Use Games Area) that effectively utilised the use of safety surfacing. The MUGA included two goal ends for traditional games including football, netball, hockey and basketball. With the ability to facilitate multiple sports, the MUGA will not only enhance child-led outdoor play during lunch and break times but also enhance P.E. lessons through its extensive sports provision.
The MUGA included multi-coloured Wetpour Safety Surfacing to give the area an aesthetic appeal and positive outlook. Our creative vision was then brought to life through the innovative use of our Playground Markings that gave the space a whole new playful dimension.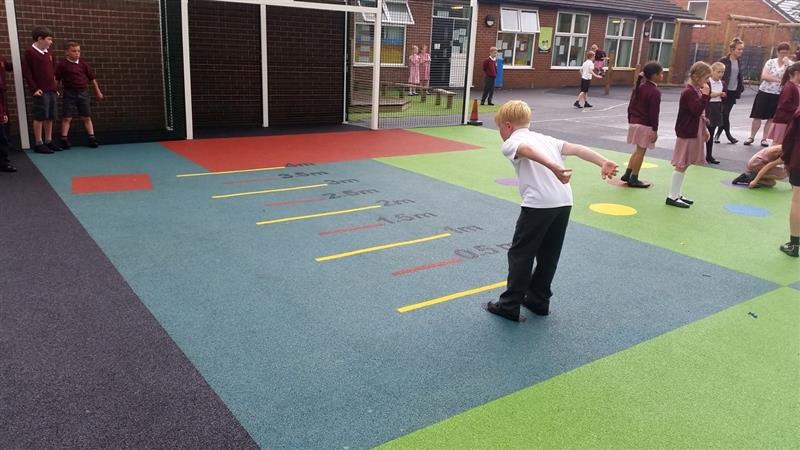 Playground Markings - An imaginative way to engage children in active play
Our Playground Markings varied from a dedicated long jump area to help children practise a famed athletics skill, to coloured circles that can be used for favoured playground games including 'piggy in the middle'. We also included a circular target area for throwing and practising aim; children take it in turns to see who can land their object closest to the middle. Number circles were also added for more creative play opportunities that can even include introducing the teaching of numeracy in an outdoor environment.
As well as the fantastic MUGA, we added a climbing wall surrounded by safety surfacing to offer children who aren't as interested in ball games, an opportunity for physical activity. The climbing wall is ideal for developing upper body strength, gross motor skills and confidence and additionally, allows children to take safe risks.
As you can see, we effectively used the space available to give the children of St Mary's Primary School an area for sports, fun and physical development. We were inspired by Sport England's Primary Spaces initiative and firmly believe, as does the school, that the children will now become more active, healthy and sociable than they were before.
When it comes to outside the box thinking, there is no one better. We have the ability to bespoke designs and creatively use our products to create the ideal playground setting for your school no matter what space limitations it may have. Call us today or contact us through the website to see how we can help develop your school.