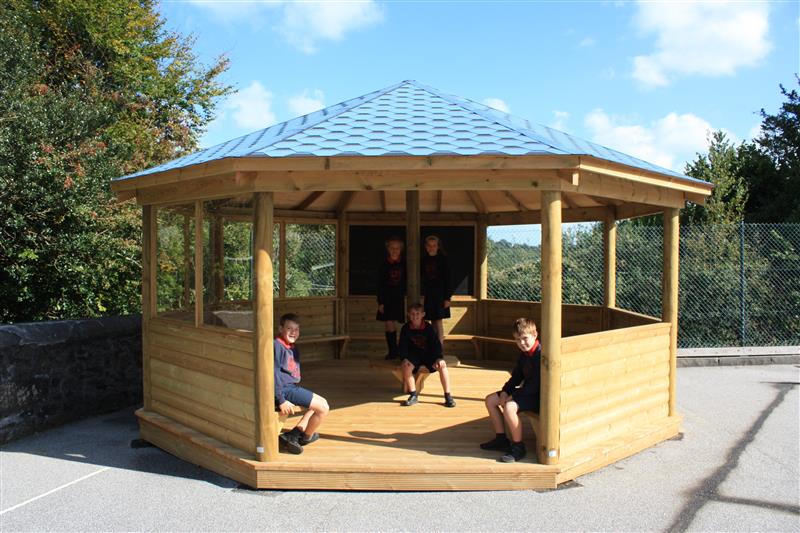 An Excellent Multi-Use Outdoor Shelter To Support Outdoor Learning
Rachel Heffer, the Headteacher of Perran-Ar-Worthal Community Primary School, contacted us as she had exciting plans for her school's outdoor area. She wanted to develop a multi-use outdoor shelter that would not only support the school, but also the surrounding community.
Her aim was to create a space that would bring families together, where parents could meet one another and local fundraising events could take place.
Nicole Fairman, one of our expert playground consultants, worked closely with the Cornwall based school to transform Rachel's playground dreams into a reality through the installation of a brilliant Outdoor Classroom.
The Outdoor Classroom
As Rachel wanted a space that was sheltered and where many activities and events could take place, Nicole decided that an Outdoor Gazebo would be the perfect addition to the school grounds to meet the needs set out.
To ensure it is suitable for both the school and local community, the new 6m Outdoor Gazebo includes a fabulous selection of features:
Decked Base
Benches
Chalkboard
Cladding
Glazing
Bespoke Blue Roof
Through the inclusion of benches, the children, parents and the community are able to sit in a relaxing space, surrounded by nature, to socialise, organise events or simply rest away from the weather.
The benches have been placed around the perimeter of the structure and the central post to ensure that there is enough room for tables and other items, which may be needed for events such as tea and coffee mornings and tuck shops.
Overall, they are able to accommodate up to 50 children and adults, ensuring there is always enough space for each and every child and parent!
Alongside the seating, we have also installed a Giant Chalkboard to create a practical outdoor learning base that ensures it can become a classroom where lessons can take place away from the constraints of an indoor classroom, in a relaxing space surrounded by nature.
Not only can it become a teaching resource, the new mark making panel can become a parent or event notice board and can support events taking place.
Finally, we have ensured that the new outdoor gazebo can be used throughout all weathers through the inclusion of a water-tight, blue roof to match the school's colours. Furthermore, cladding and glazing provides additional protection from the wind and rain to ensure that lessons and events will never be prevented by the elements.
The children love relaxing in the Gazebo during breaktimes and lunchtimes as they socialise with one another or simply relax and share a story.
If you would like to create a functional, practical outdoor learning base through the installation of an Outdoor Classroom in your school playground, please feel free to Contact Us for a no-obligation quotation from one of our expert playground consultants.