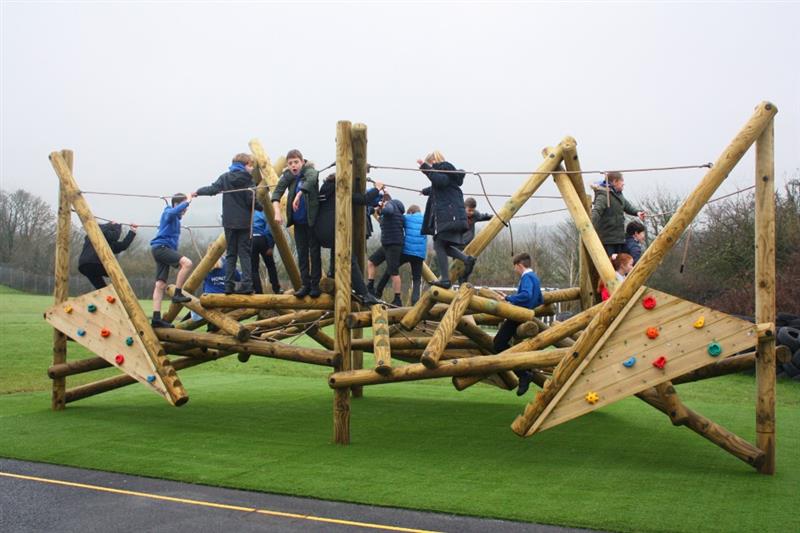 A Progressive Physical Play Provision that Runs Through EYFS all the way to KS2
Pupils across Honiton Primary School recently returned to an exciting new active play provision!
Truly valuing the benefits climbing, swinging and balancing brings to their children, each outdoor play area has seen a brand-new climbing frame installed.
Our playground consultant, Nicole Fairman, worked alongside the Devon based school to develop a progressive physical play provision that runs throughout the entire school, from EYFS all the way up to KS2!
"The Pentagon consultation with Nicole was relaxed, easy and professional. We had open and frank discussions about what Pentagon could offer compared to what the school's budget was likely to be. Nicole and her team worked incredibly hard on several occasions to adjust the designs so that they were tailor-made for us. All communication was very effective and clear. The pre-installation visit was ideal as it led to a smooth start for the installation team who communicated well with our on-site staff and caretaker. Despite installation occurring during a wet and windy fortnight, the team worked throughout and completed all installations within the time frame." - Sam Ayres, PE Lead
An Introductory Climbing Frame for EYFS
For the little monkeys in Reception, we installed our Harter Fell Climber, which a fantastic introductory climbing resource made for those just finding their climbing confidence.
Climbing in any way they imagine, children can tackle the smallest climbing frame at their own pace, whilst using the space as a focal point for imaginative play games.
The little monkeys can grip and grasp and carefully move across the beams as they make their way to the top, improving early gross motor and fine motor skills.
The bravest of them all will immediately take a leap of faith from the highest beam, while those just finding their forest feet will work their way up to the top over time. Safe risks are always safe and encouraged, thanks to our soft, impact absorbing artificial grass underneath the frame.
A Space for KS1 Children to Swing, Climb and Balance
A step up from the Harter Fell Climber, the Year 1 and Year 2 children at Honiton have seen the magnificent Bowfell Climber land in their playground.
Featuring plenty of crossing and traversing points for the children to climb to and from, this bigger log climbing challenge ensures a whole group of children can practice swinging, climbing and balancing outdoors.
Traditional playground games, such as the floor is lava, come to life as the children move through the frame as the artificial grass transforms to bright hot liquid molten.
Who can cling to the ropes the longest?
Year 3 and 4's Impressive Log and Rope Climber
For Year 3 and Year 4 children, our Tryfan Climber has proved very popular!
Plenty of children can get active whilst moving across this non-prescriptive climbing frame, taking on a higher challenge and improving their upper body strength, gross and fine motor skills, core stability and lower body strength through play.
Traversing through the magnificent log and rope climbing through, children are encouraged to communicate with one another, work in teams and solve problems as they tackle this huge, non-prescriptive active challenge!
Our Biggest Climbing Frame to Date for Year 5 and 6
For the older children of the school, our biggest climbing frame ever, the Crinkle Crags Climber, was the perfect playground obstacle!
Dozens of crossing and traversing points ensures children's key physical skills, communication and teamwork are targeted and developed through outdoor play.
This incredible climber inspires children to get active, climb, swing and balance outdoors due to the sheer size and possibilities it presents.
Figuring out different ways to approach the challenge has helped to create a positive atmosphere and improve the children's attitude and behaviour once back in the classroom.
Positive Feedback From All!
"Since installation, the children, staff, and in fact parents have had nothing but positive comments to make!
The children are loving the multitude of access points, the range of challenges on their climbing frames, and the games that they are inventing in, under, on and around them are very creative. The climbing Frames have even been used within cross-curricular lessons; for example: where the Year 6 children were training to be part of Ernest Shackleton's Antarctica Explorer Team and had to cross the 'dangerous ice-floes' without dropping their heavy bags of essential equipment!
The Year 1 & 2 children are developing confidence and great leadership skills with the 'mirror me' markings and of course, the netball and court markings have been put to good use in both curricular PE and sports after school clubs.
Obviously, we had to wait until school reopened to all children to determine whether there has been a positive impact on behaviour and relationships; but the early signs have been very encouraging with far fewer incidents, accidents and friendship fallouts for staff to deal with!" - Sam Ayres, PE Lead
The whole school are more than impressed by their new outdoor play and learning areas and the health and fitness benefits this impressive development has brought!
Would you like to encourage your children to be more active during playtimes and lunchtimes? Contact Us Here to begin your journey with Pentagon Play.
Explore all of the spectacular playground designs we've installed for primary schools and nurseries in Devon on our dedicated Devon Playground Projects Page Here.