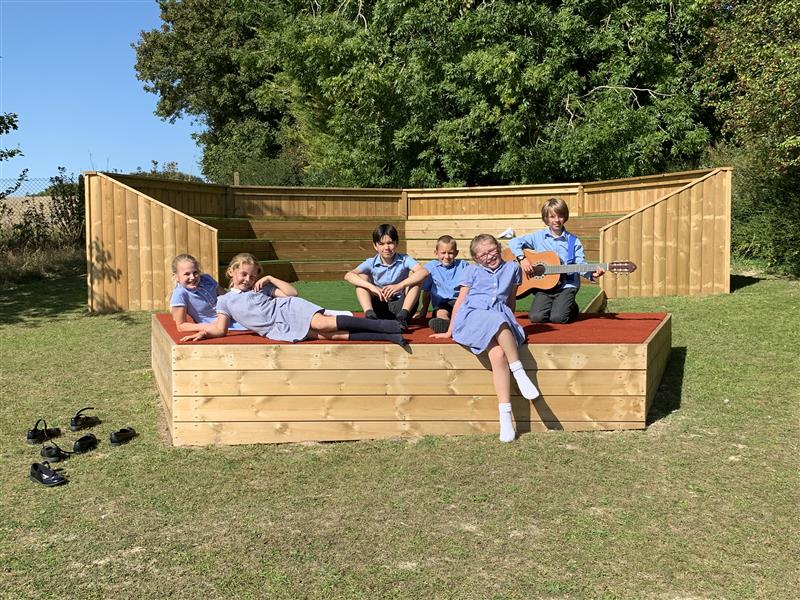 A Bespoke Outdoor Performance Stage For Cross-Curricular Activities
Pitton Church of England Voluntary Aided Primary School contacted Pentagon as they wanted to create an outdoor performance area in their school playground. However, they didn't want anything currently offered on the market - they wanted an outdoor performance stage that was unique to their school and met all the aims set out for the project.
Our playground consultant, Donella Felton, worked closely with the Wiltshire primary school to design and install a bespoke space that:
Provided seating
Is soft and comfortable
Non-slippery
Has an extended stage space
The Bespoke Outdoor Performance Stage
The bespoke outdoor performance stage has been built in the shape of one of our Amphitheatres, which includes timber, tiered seats that are layered with Artificial Grass along with a deck covered in the same surface and an extended stage space surfaced in red Saferturf.
As both spaces are surfaced, the area doesn't become slippery and is a soft and comfortable surface for the children to sit, perform, dance, tumble and sing on.
The new bespoke Performance Stage is an open-ended outdoor resource that can accommodate many children at once. Lessons such as Literacy and Drama can thrive as the children have the perfect space to excel on - building up their own self-confidence, spoken language, communication and social skills.
Others can gather round and sit comfortably as they are invited to watch the magical show taking place.
Additionally, other subjects can be taken outdoors on the huge stage as art and science is given a breath of inspiration as children draw, observe and explore nature around them.
The young actors and musicians at Pitton Primary School love relaxing in the sun on their new stage, talking and socialising on the seats, performing in their own band and dancing on the deck!
Emma Wilkinson, Deputy Headteacher, provided us with the following lovely feedback about the new playground development:
"We pride ourselves on taking lessons outdoors and we have a lot of children who are quite artistic, so we wanted to promote the arts to both of our children and the local community. The children absolutely love it and we definitely had a good experience of working with Pentagon. They were very helpful all along the way and the playground designs were just beautiful, they are just spot on! It's uncanny how similar the design and the area looks."
If you have a project in mind but can't seem to find exactly what you're looking for, like Pitton Primary School and their Outdoor Performance Stage, please feel free to Contact Us. We love bringing bespoke playground designs to life for schools and nurseries across the UK.