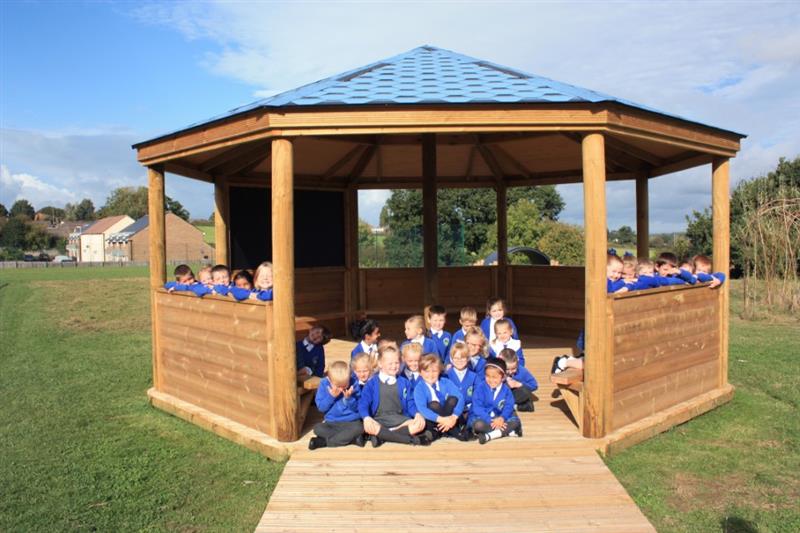 A Magnificent, Multi-Use Outdoor Learning Shelter
With exciting plans to develop a multi-use outdoor learning shelter at Primrose Lane Primary School, our playground consultant, Nicole Fairman, worked with Primrose Lane Primary School to design and install an excellent outdoor space.
The Somerset primary school wanted to create a different teaching and learning space, whilst bring families together and enabling the children to participate in fun lessons outdoors.
Nicole knew that a brilliant Outdoor Gazebo would create the perfect space that could be accessed throughout all seasons, support PTA events in all-weathers, provide their children with a quiet space during playtimes and lunchtimes and even create a dry, shaded area for parents to wait during pick up and drop off times!
The Magnificent Outdoor Classroom
In a central location, on the school field, we installed an excellent 6m Octagonal Gazebo.
The Gazebo has been installed with a number of different features to ensure that the space is truly multi-use and can be utilised by the wider community, PTA, children and staff.
Internally, there are several benches that run along the outside of the space, which can seat up to fifty children at once.
Additionally, a Giant Chalkboard sits at the rear of the space to support the staff as they are teaching, inspire children to mark make during playtime and lunch time and even create a parent noticeboard to communicate information to parents.
Featuring a water-tight roof, the space can be used throughout all-weathers, ensuring the elements do not interrupt learning taking place.
Overall, the Outdoor Classroom has created a calm and wonderful outdoor learning and play space where children can learn amongst nature away from the constraints of the indoor classroom.
All-ages of children at the school love being taken outdoors to participate in exciting lessons as they breathe fresh air and concentrate on the learning at hand.
We loved creating the multi-use outdoor learning shelter at Primrose Lane to support both the children attending the school and the wider community! If you would like to create an excellent Outdoor Classroom at your school, please Contact Us. We'd love to help!