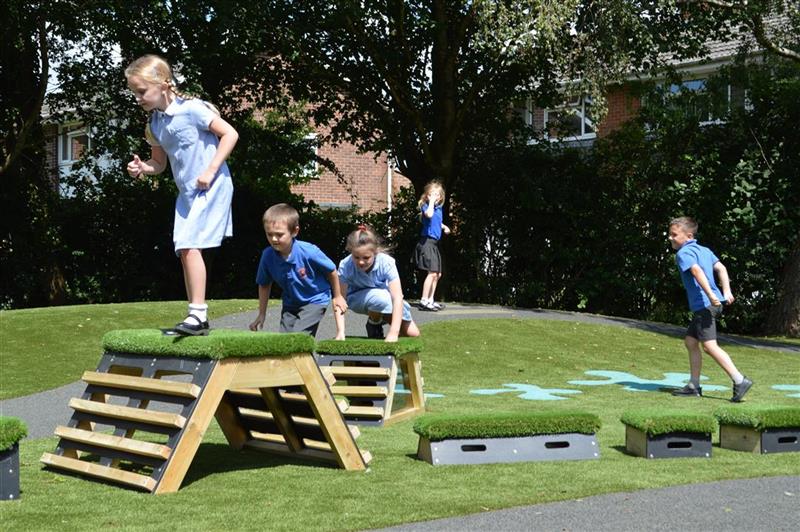 A stunning, bespoke surfacing design for Raysfield Primary School
Pentagon's wide range of surfacing options can completely transform a space and revolutionise playtimes. This was certainly the case at Raysfield Primary School in South Gloucestershire.
One of our outdoor learning consultants, Becky Hazell, met with Headteacher Claire Hill and SBM Teresa Turner to look at improving the outdoor areas for both infants and juniors as the current spaces were uneven, muddy and not fit for use.
A bespoke surface design
Having previously worked with Raysfield on a MUGA project, this surfacing transformation, to link both infant and junior areas together, was the first phase of our next project.
We used our Artificial Grass Playturf which gives a natural feel and is so soft for children to enjoy climbing, cartwheeling and sitting on.
As the original ground conditions were poor, we prepared the area by installing a compacted stone base which created a stable, level and free-draining surface.
A popular area in the school required a hardwearing, durable surface that would be perfect for playing sports and devising games.
The curved, sloped design perfectly suits the available space and we included extra drainage at the bottom of the slope to ensure that the area could be used in all seasons.
The Bespoke Wetpour Design really brings this area to life. A variety of bright colours have been used to create Splashes and dots which act as a brilliant stimulus for imaginative games.
At the centre of the design, we created the Raysfield school logo using the school colours, to make the space personal to them.
This visual prompt reminds children of the community they belong to and the values they uphold.
Pupils now have a large, bright and appealing space in which they can safely race, roll and form new friendships.
A wonderful place to play for KS1 pupils
The second area to be transformed was the KS1 playground.
Once we removed and disposed of the existing pathway, paving, shrubs and arbour we could begin preparing the ground so that it would be free draining and weed free.
Once again, we used our deluxe artificial grass surfacing to compliment the leafy surroundings.
A further bespoke, wetpour design was used this time to create a roadway for little learners to race and practise using bikes and scooters.
A zebra crossing, parking bays and speed bumps help to give a real-life feel when children are role-playing everyday scenarios.
To add some height and physical challenge, Claire and Teresa chose our Climb Through Tunnel Hill which pupils love to venture through, slide down or view the entire playground from the top.
Blue wetpour surfacing is used underneath the tunnel to give a river effect which pupils can hop, skip and jump across.
The addition of our Get Set, Go! Mendips Block Set provides the children with open-ended challenges as they set up their own courses and race to the finish.
Climbing confidence is built upon as pupils move from one block to the next block, the chalkboard sides on the blocks can be drawn on to aid number or letter recognition.
We hope staff and pupils at Raysfield Primary school enjoy their vibrant, exciting and fun playground spaces.
If you are looking to redevelop your playground surfacing please do not hesitate to get in Contact With Us Here, to start your journey with Pentagon Play
If you would like some inspiration to transform your playground please take a look at our dedicated South Gloucestershire & Bristol Projects Page Here, to see some outstanding Playground Projects.