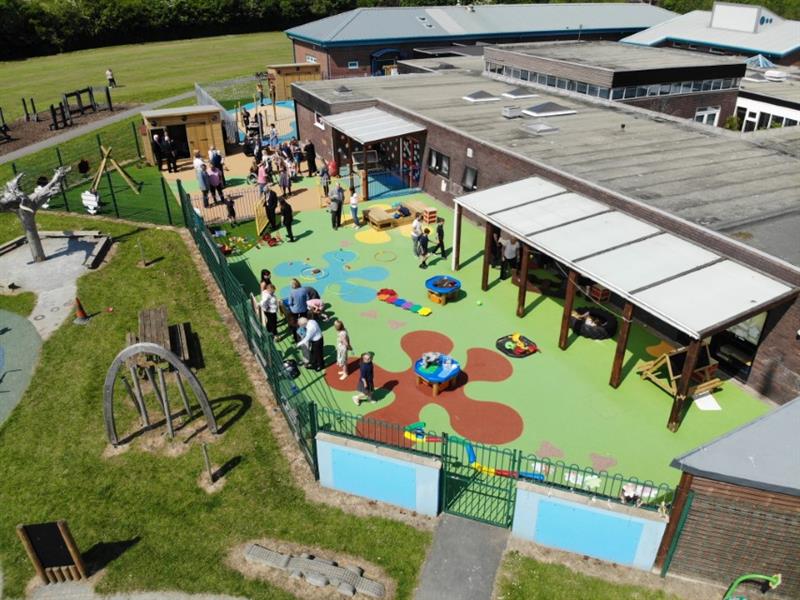 An Amazing Inclusive Playground For Children With SEN
We were delighted to be invited to Red Marsh Specialist School's opening day in May after completing phase 4 of their amazing playground projects.
The outdoor area was officially opened by Sir Bill Beaumont from the Wooden Spoon Charity, who provided the funding that enabled these projects to take place.
We had a fantastic day seeing all the happy children playing in the new areas and engaging with the stimulating play equipment.
So far, we have worked with the school, who specialises in educating two to nineteen year old children with complex educational needs, to redevelop 4 outdoor areas.
Phase 1, 2 and 3 have seen areas transformed into inclusive and stimulating outdoor learning environments by ourselves.
Phase 4 saw us work closely with the school, once again, to develop a smaller area. This smaller space serves as a pathway between the two buildings and access into the gated play areas.
Sensory Zone
Within this smaller area, we have included a selection of fantastic play equipment, designed specifically for children with SEN, to create a wonderful sensory outdoor area.
To provide the children with both audio and visual stimulation, we installed our amazing Sensory Arbour.
Complete with musical chimes, artificial grass and multi coloured polycarbonate sides and roof, it is a fantastic investigative play and discovery resource that improves the children's colour recognition and strengthens memory skill as well as encouraging melody and music making.
Along the traditional bricked walls of the buildings, we positioned various sensory panels to provide tactile stimulation for the children as they develop their sense of touch.
The children are able to freely explore this area and the different textures and visual aids. Not only does the new equipment provide tactile, audio and visual stimulation, it is also a calming place of discovery.
Amazing Playground Flooring Design
The hard tarmac surface was replaced with our soft, impact absorbing Wet Pour Surfacing. We installed a vibrant blue path which serves as a visual aid for the children to follow between each building.
The surfacing has ensured the ground is both level and soft. The children can now play freely and move between building and play area without the risk of injuries due to the impact absorbent surface.
Further Playground Additions
After phase 3 of the development had been completed, the school asked us to advise on wonderful Sensory Playground Equipment that would benefit the children and encourage sensory development and learning through play.
To meet these requirements, we installed:
2 Covered Sand Boxes
4 Tuff Spot Tables
2 Water Table
3 Easel Table
We would like to say a huge thank you to Red Marsh Specialist School for working with us to develop another area, and for inviting us to the opening day to see all the wonderful children enjoying the new areas.
Read more about Phase 1, 2 and 3 of these excellent playground projects by clicking Here.
If you would like to develop your SEN schools playground, please do not hesitate to Contact Us. We would love to help transform your area as we have done with Red Marsh. Alternatively, you can view our full range of Play Equipment Suitable For SEN Children.