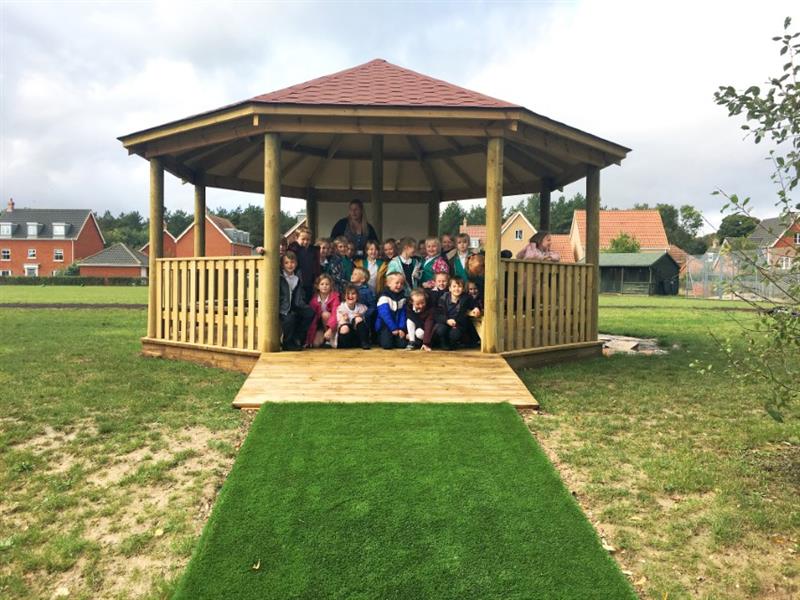 An Inspiring Space for Outdoor Lessons and Activities
Rendlesham Primary School, Suffolk, wanted to create an area that would provide shelter and shade for their children throughout the year. Our wonderful outdoor learning consultant, Marion Rolph, worked alongside the school to discuss their options and ideas.
The school opted for a 6m Octagonal Gazebo with a wide range of features and an artificial grass path.
A Weatherproof Space for Year-Round Learning
The Outdoor Gazebo has created more than just a weather-proof space; it has created an inspiring area for outdoor lessons and activities.
Offering a dry, fresh new environment to learn in, teachers are able to take their lessons from the indoors to outdoors.
Alongside this, the school's PTA can set up events and activities and parents have a comfortable space to wait during pick up and drop off times.
Featuring fence sides, benches and a whiteboard, children can take their learning outdoors into this thriving, practical outdoor working environment.
Moreover, we've ensured that the new space is fully accessible for both the children and throughout the seasons through the inclusion of a non-slip ramp, decked base and an Artificial Grass Pathway.
It has been proven that learning in the outdoor environment has many benefits: children are engaged in the lesson at hand whilst breathing a breath of fresh air.
The outdoor environment can help spark imaginative, creative writing ideas and allows the children to observe the natural world around them. Literacy and scientific learning is truly enhanced outdoors!
Moreover, the outdoor classroom offers the children a space where they can relax and socialise during playtimes and breaktimes. Whether children are relaxing away from active play games or resting and socialising, the outdoor classroom is being fully utilised during the school day!
"The Childen Love Using The Gazebo For Their Learning..."
Hannah Woodruff, the KS1 Phase Leader, had some lovely feedback for us once the project was complete.
She said:
"Thank you so much, all the children love using the gazebo for their learning, it has also been perfect for filming our nativity last week!
It has been an amazing addition to our school grounds - a big hit with the children and staff and we can't wait for the weather to warm up so we can spend even more time outside!"
Are you looking to create a covered area in your playground? View our huge range of Outdoor Classrooms here and create your own wish list.
During these difficult times, we have developed new ways to conduct playground consultations safely. Contact Us Here to begin your journey with Pentagon Play. One of our consultants will be in touch to arrange a free consultation.
View more fantastic Playground Projects Completed in The Suffolk Area Here.