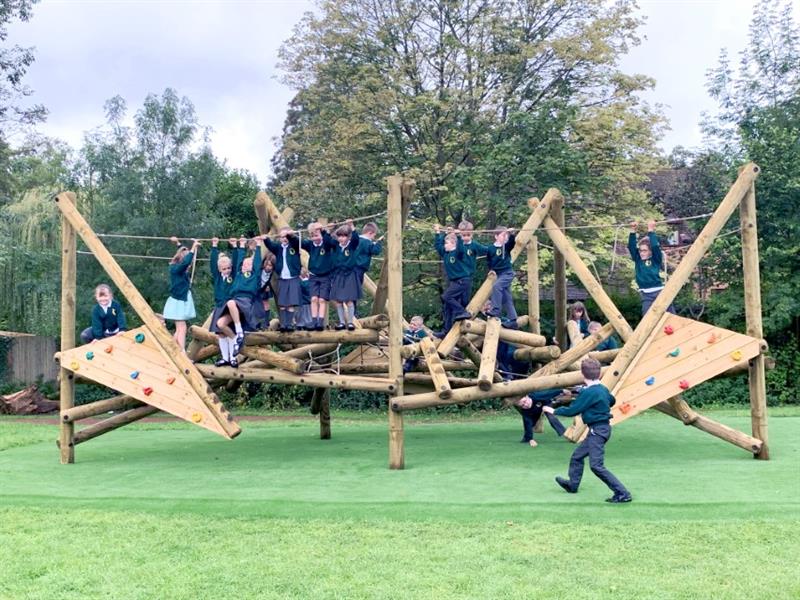 Extending Physical Play Opportunities With An Energising Climbing Frame
Our playground consultant, Donella Felton, worked with Romsey Abbey Church of England Primary School, located in Hampshire, to extend their children's physical play opportunities through the addition of energising active playground equipment.
As the school wanted many children to be able to use the area at once, we installed our humongous Crinkle Crags Climber to meet their needs and create an exciting active play area.
Crinkle Crags Climbing Frame
Our Crinkle Crags Climber is an enormous structure made up of rounded logs, ropes and climbing walls to create an invigorating playground challenge, that enables a full class of children to improve their physical fitness at playtimes and lunch times.
The children at Romsey Abbey have been seen hanging, swinging and balancing on the logs as they motivate one another to reach the top - improving their climbing confidence.
As the children hang from the ropes and traverse across the logs like orangutans in the jungle, their overall body strength, coordination, core stability, balance, foot placement and both their fine and gross motor skills are being developed through play.
With plenty of space underneath the climber, the new climbing frame enables multiple activities to take place at once.
The children can build dens, read and relax away from active play underneath as they take a simple rest break away from play before heading back to face the challenge head on: who can reach the top of the tree first?
The teachers at the school have also found that the atmosphere at playtimes and lunchtimes is very positive, with a reduction in disruptive behaviour.
When the children are back in the classroom, their attitudes towards learning have improved and they are more focused on the lessons taking place.
Vibrant Playground Surfacing
Underneath the massive climber, we surfaced the space with our bright green Artificial Grass Playground Surfacing.
As it is free draining, it has enabled the area to be used all year round without muddy footprints coming back into the classroom. The playground surfacing is impact absorbing, too, meaning that serious injuries are prevented during play!
If you'd like to extend your children's physical play opportunities with an exciting Climbing Frame, please feel free to Contact Us for a no-obligation quotation.