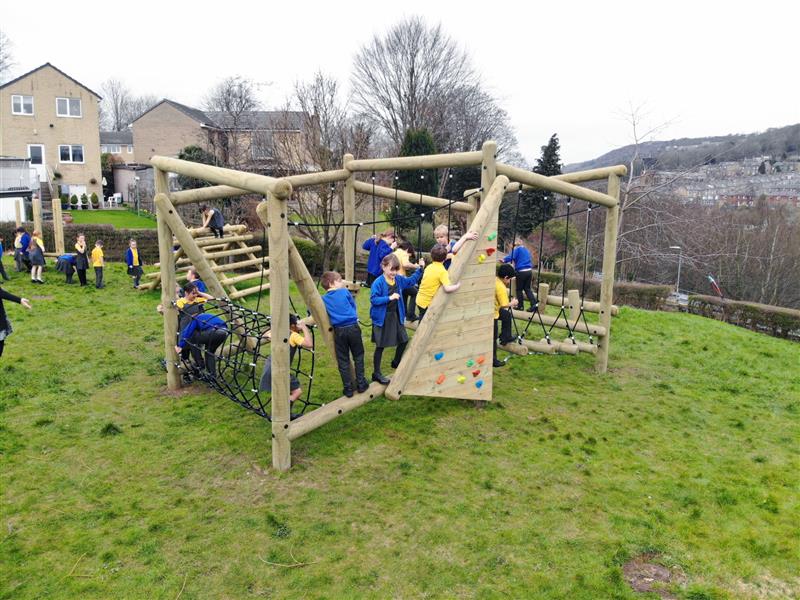 An Active Play Environment That Encourages Exercise and Good Mental Health Amongst Children
Determined to improve their playground to provide more opportunities for the children to exercise and get active with their friends, Salterhebble Junior and Infant School have created an energising active play space for all key stages attending the school!
Our playground consultant, Meg Booth, was delighted to work with headteacher, Caroline Bullard, to help bring this important project through to fruition!
An Impressive Adventure Playground for All Key Stages
Located in the visually stunning area of Halifax in West Yorkshire, a brand new Puzzlewood Forest Circuit overlooks the spectacular countryside views to provide even more inspiration for the children's imaginative play games!
Featuring dozens of crossing and traversing points and never seen before obstacles, this one of a kind climbing frame has made the children's enthusiasm and excitement levels go through the roof!
With so many different challenges, children must use every part of their body to navigate the various levels: improving both fine and gross motor skills, balance, proprioception, strength and core stability as they move through the tree and vine obstacles.
Alongside the Puzzlewood Forest Circuit, we installed a classic log climber to provide the children with even more inspiration for their creative play games: climbing to the top of a mountain or taking a leap of faith from a cliff edge has never been more fun!
The young explorers at Salterhebble Junior and Infant School adore their new active play space and cannot wait to burn off some excess energy, exercise and improve their overall strength each and every day.
Would you like to improve your school playground to promote exercise outdoors? Contact Us Here to begin your journey with Pentagon Play Today.
Alternatively, take a closer look at all of the excellent playground projects we've completed for primary schools and nurseries in West Yorkshire on our dedicated West Yorkshire Page Here.