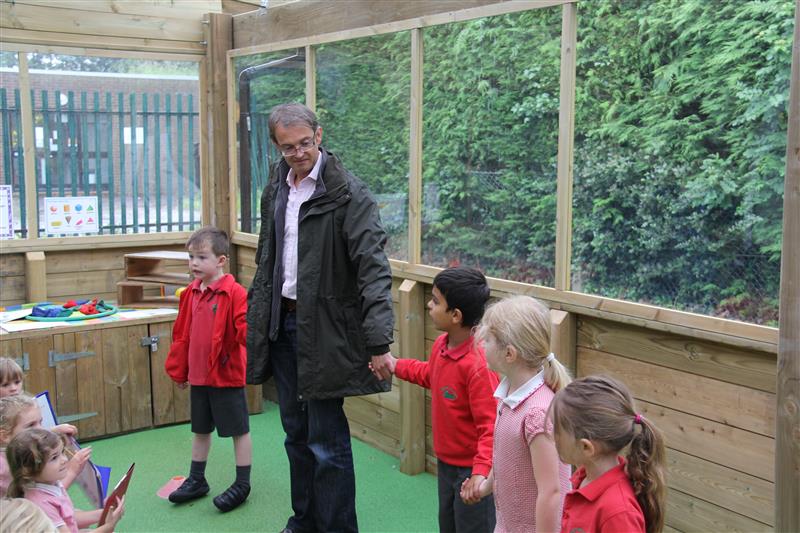 Sam Flatman re-visited Mortimer St john's for a day of outdoor learning
Back in March, our South Outdoor Learning Consultant, Sam Flatman, developed the outdoor early years environment at Mortimer St John's School. A once dark and narrow space was imaginatively transformed into a colourful and vibrant playground environment full of active and creative play opportunities.
Sam returned to view the finished installation and get the views and opinions of both the children and the staff. He wanted to see how the children and teachers interacted with the resources on a normal school day, so after agreeing with the teachers, he decided to return for a full of day of outdoor learning with the children. This would give us and Sam a better insight into our products and act as inspiration for new ideas and development.
Our consultants love to return to schools to ensure they have the support and care to help them feel comfortable taking their children outside to their new environment. We also want to learn how children interact with our products so that we can continuously develop and improve our play equipment range.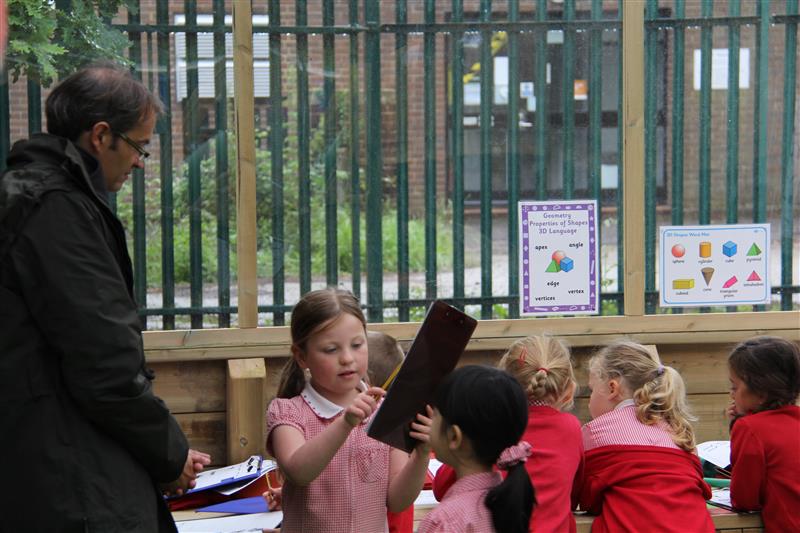 The full day of learning had a special timetable
The date was set, Mortimer had a fantastic plan set out for us, we were all very excited. Early Years teacher, Michelle Ham, creates a weekly outdoor programme that ensures children interact with their resources in a new way each and every day. This is a fantastic way to keep activities fresh and cover as many areas of development as possible. The plan for our day included the following:
Moving and handling of bean bags.
Build your own thrones.
Create a sand castle.
Perform a show for the Queen.
Numeracy challenges on the Water Wall.
Reading at the story telling corner and writing activities.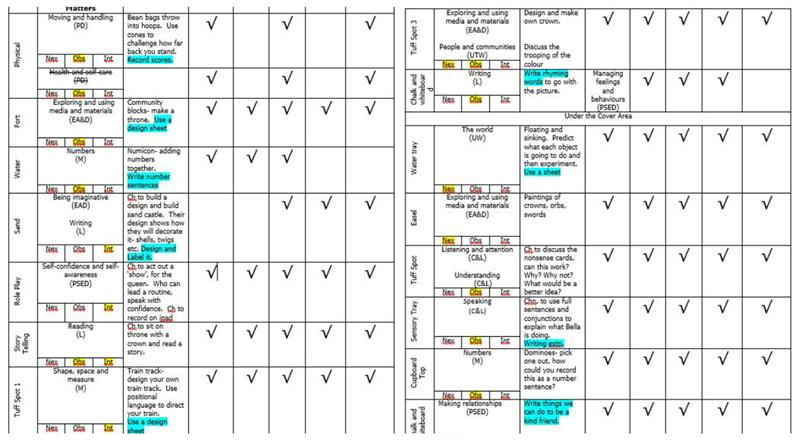 Let the Outdoor Learning Commence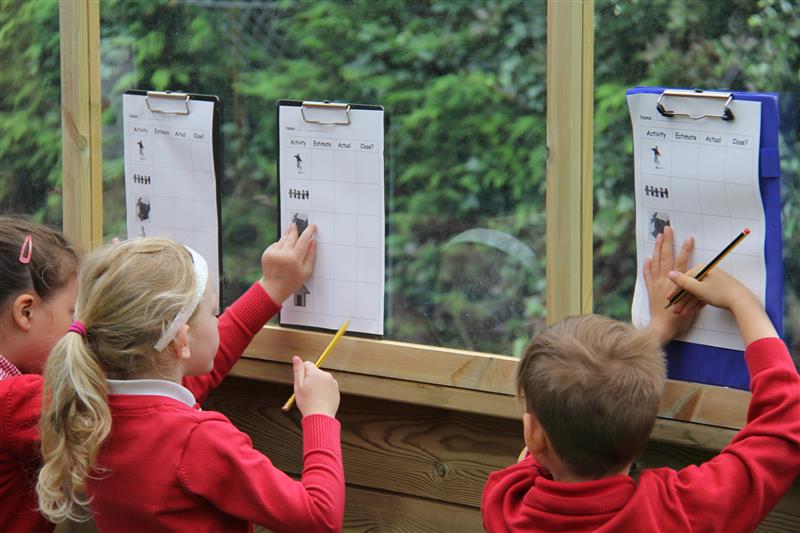 Although the weather wasn't at its best, it didn't stop lessons or activities taking place under both of their Canopies.
The first activity of the day was all about predictions. The children were walked along to their Canopy where they to individually guess and write down what the outcomes would be from five different activities.
For instance, children were asked to guess the amount of beanbags that were placed within a hula hoop which was a challenging prediction that really got the children thinking about the answer. It also helped to build the children's confidence in sharing and expressing their own ideas without the help of their surrounding classmates or teacher.
---
When we asked the two boys what they were doing with the stones, they replied by saying that they were "searching for dinosaur bones to create a skeleton of a Stegosaurus".
---
We then moved onto their other canopy to see what activities the children were getting up to. We noticed that the children had created a space specifically for creative writing, in fact, it was a special area for 'Sending Notes'. The children were writing notes about what they liked or what they thought was good about themselves. These note were then placed safely and securely in their pre made domino post box.
Looking elsewhere, we noticed a table filled with small pebbles which were being used for clean sensory play activities. When we asked two of the boys what they were doing with the stones, they replied by saying that they were "searching for dinosaur bones to create the skeleton of a Stegosaurus".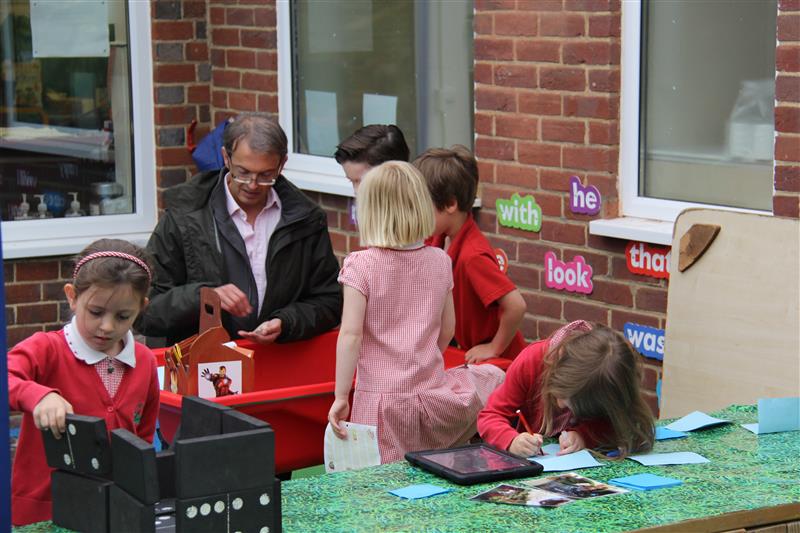 Let's Get Reading
It was time for some of the children to take time away from the manic environment of the classroom and enjoy some quiet outdoor reading… what better place to do this than in Mortimer's new Story Telling Zone. The area is uniquely situated so that it drowns out the noise and distractions from the rest of the environment which helps with children's reading confidence and ability as they are able to fully concentrate.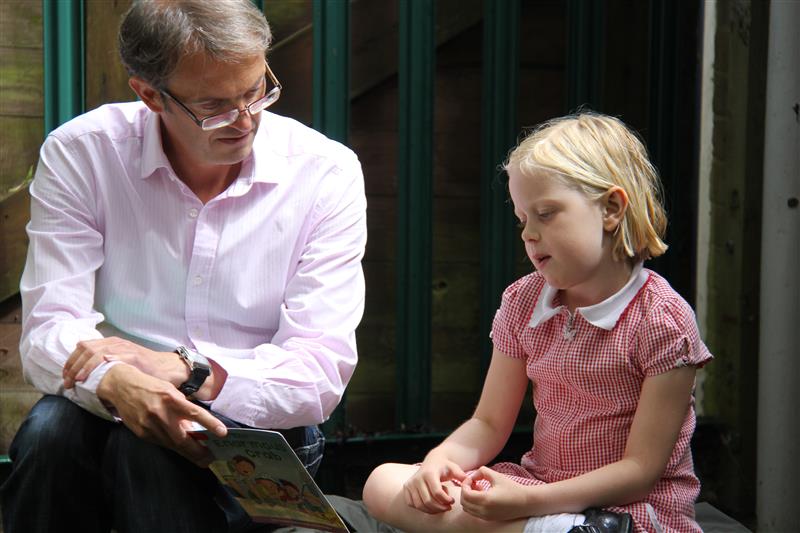 Play at Lunch Time
We were already at lunch time and the children were allowed to self-select what resources they wanted to play with. The Langley Play Castle seemed like the most popular resource but overall, it seemed like the children were spreading their play and learning across the entire area as every resource was being used.
Looking underneath the Langley Play Castle, we could see that the children had created two separate dens. One had been created with sheets and other materials where the children seemed to be having fun with their own imaginative games. The other was a 'thrown making den' as it focused on their build a throne task for the day. From the thrown designs they had previously drawn up in class, the children worked together to build their thrones from some community blocks that had been provided.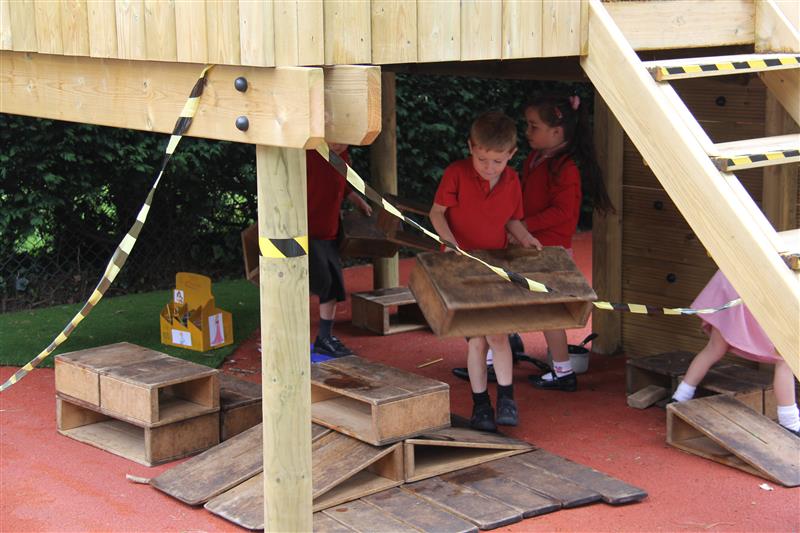 The two Tuff Spot Tables we provided were great for small tasks that children could work on individually or in small groups. The teachers placed resources on one table for the children to design and build their own train track. A boy was enjoying this task in particular and said he "enjoyed drawing and creating his very own track with train station and bridge". The other Tuff Spot Table had materials for the children to design their own crown. With no instructions, the children were left to create the crown themselves with materials such as glue, scissors and paper.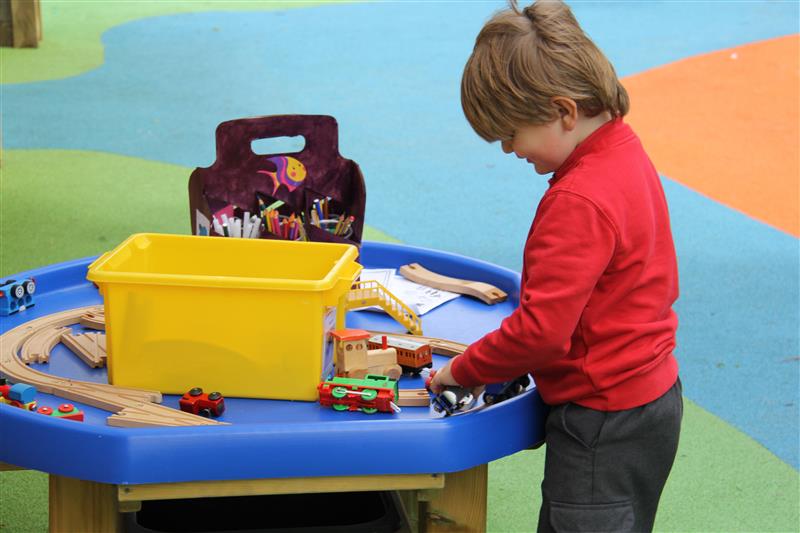 Let the Show Begin
It was time to see the children on our Performance Stage and see how they interacted with the musical instruments we installed next to it. The girls were first to dress up and take to the stage as they performed some fantastic songs together. The children needed no encouragement to jump on the Xylophone and African Drums to create some musical numbers for the performance.
This area is fantastic for group play and teamwork and encourages children to learn about musical notes and how to work in different roles whilst performing together. With each of these resources being totally open ended, the possibilities are endless and offer the children a huge range of variation during play and learning activities.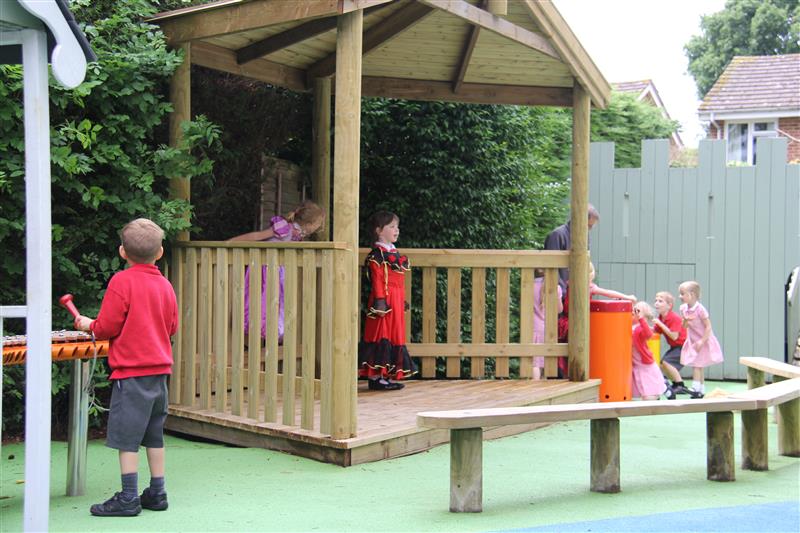 ---
St Mortimer St John's have our Half Hex Stage
---
If there was more time in the school day, the children would have definitely loved to continue playing and learning in their new outdoor learning environment. This is why we love visiting schools, sharing ideas and finding out what influences each individual child. Mortimer St John's is a perfect example of the fantastic work we can do when working closely with a school as the children now have an environment that will help them excel through the seven areas of learning.
If you are interested in developing your outdoor learning environment and need a company you can collaborate with and trust, do not hesitate to Contact Us through the website or give us a call on the chosen number – 01625 890 330 (North Office) or 0117 379 0899 (South Office).
You will also find the following interesting: