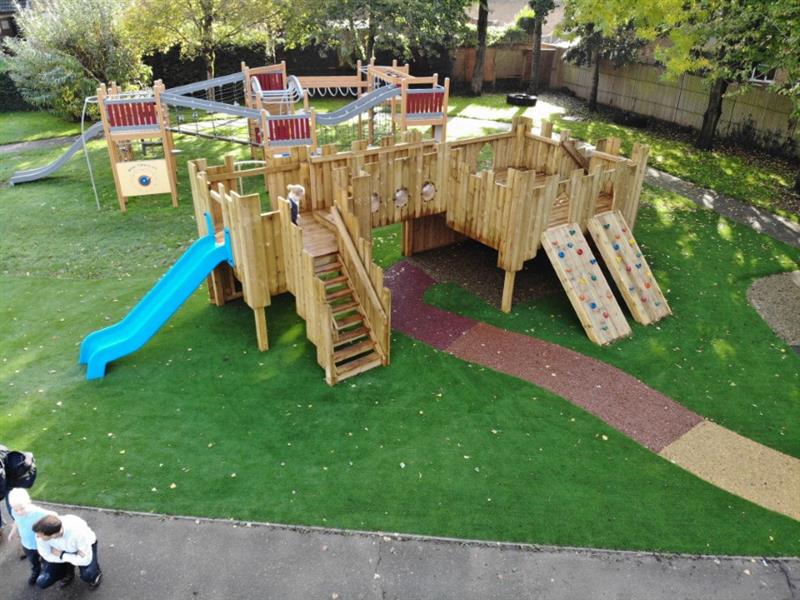 A Very Special SEN Playground Development for a Very Special School!
We are delighted to share with you the story of this fantastic project at Selworthy School in Taunton, Somerset.
Mark Ruffet, Headteacher, and Andy Holden, Deputy Headteacher and Head of Progress at the special school in Somerset, have a "dream scheme" plan for the long term development of their outdoor space - and we're so excited to be a part of it.
Our specialist playground consultant, Becky Hazell, went to visit Mark and Andy at their school to find out more about the dream scheme, what they want to achieve and their specific needs.
Selworthy's Playground Dream
During the meeting, Mark and Andy identified certain priorities for making the best use of their outdoor space. These priorities included the creation of a new Physical Challenge Zone which would:
Incorporate varied physical challenges,
Include challenges that extend the most able, and
Support key areas recommended by the occupational therapist, e.g varying stairs.
They also wanted an imaginative play space to promote social engagement and imaginative play, with den spaces that would feel snug and cosy, but still allow staff to easily supervise the children.
An important part of the dream scheme was to make sure that the area would be usable all year round. All weather surfacing would be essential to allow this - and to create a practical surface with plenty of space for children using wheelchairs and walking frames to comfortably engage and enjoy the outdoors.
With all of this in mind, we set to work to create a magnificent bespoke Playground Castle that would see the dream scheme come to light. We designed and installed the exciting new "Selworthy Castle". It's packed with physical and mental challenges and play points to engage all ages, interests and abilities and features:
A series of raised decks creating varied and progressive physical challenges. There are 7 different access points to the decks, which include 2 stair access points with supporting handrails and a fun open slide from which children can exit freely or with support.
2 medium-level challenge climbing-wall ramps. These ramps promote key skills in co-ordination and balance whilst also developing gross motor skills, grip strength and fine motor skills.
A higher-level challenge vertical climbing wall, which children will relish as they become more confident climbers. It's a great facility for developing core and upper body strength and further improving balance.
A fireman's pole, which provides a thrilling high-challenge exit point - a favourite for all adrenaline lovers and perfect for developing core and grip strength.
Beneath each deck of the Selworthy Castle we added cladded panels with fun porthole windows and sociable Perch Bench seats, to create the social spaces and den areas that were an important part of the dream scheme. It's a fabulous space for children to enjoy imaginative play with their friends.
Beneath the larger deck we included a Giant Mirror to add more excitement and intrigue for children playing within the ground level play space - a great spot for role play and games.
As well as the Selworthy Castle, we created a super new Motion Zone, which boasts our inclusive wheelchair-accessible Roundabout and a Basket Swing with a group seat, for some wonderful proprioceptive input and lovely, regulating movement.
Surfacing was a key part of the project and it was important to get it right. We prepared all the baseworks and laid a Playbond pathway for children to navigate under the Selworthy Castle bridge, leading into the den space below the deck.
We used a section of this pathway to create new all-weather wheelchair access to the school's existing sunken trampoline, which has significantly improved the children's enjoyment of the space.
We surrounded the entire Selworthy Castle area with our fail-safe Artificial Grass for Schools and Nurseries. We installed it with a safety attenuating layer, so it's self-draining and mud-free, reduces the risk of slips and trips and ensures that the play space can be enjoyed all year round.
We extended the new surfacing underneath all of the new equipment in the Motion Zone, again to make sure that the area can always be accessed easily and doesn't become muddy. Using a clever contrasting-colour design layout for the rubberised surfacing around the kinetic equipment, we have been able to help children to clearly identify between the "safe" zones and the "danger" zones when approaching moving equipment and waiting for their turn.
And they can't wait! It was a pleasure for us to be able to return to Selworthy once the installation was complete, and to see the children out in the fresh air enjoying their fantastic new outdoor space.
Are you looking for something special for your outdoor learning area? At Pentagon, we have been creating incredible playgrounds for schools and nurseries for over 20 years. We have developed an exciting new range of specialist outdoor equipment for children with Special Educational Needs. Please don't hesitate to Contact Us for more information or to arrange a free playground consultation with one of our education experts.