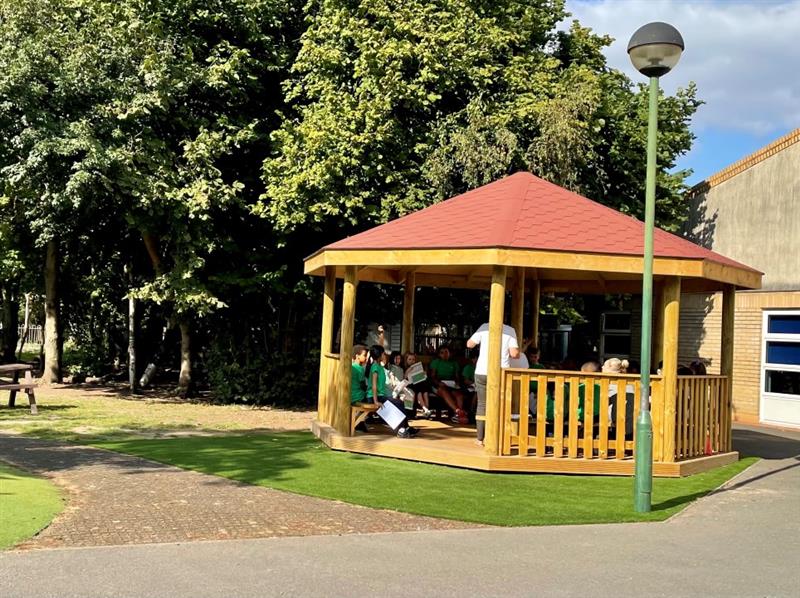 A redevelopment across the entire Smallberry Green Primary School!
Sam Flatman one of our experienced Outdoor Learning Consultants met up with Stacey acting headteacher at The Smallberry Primary School, in January of 2021. When they first met up, it was clear to Sam that not having a dedicated football and sports space for the school KS2 children was causing some real issues.
The school has the 'Evergreen Centre' based within its grounds, a provision for children with a primary diagnosis of autistic spectrum disorder (ASD), within the Key Stage 2 age range (Years 3,4,5 and 6) and who have an Education and Health Care Plan (EHCP).
Let's look at what's in the garden area!
In their 'garden' areas we were able to make these more accessible for all and useable in all weathers with some new areas of Playturf.
The school is in Hounslow in a very built-up area, and it is lucky to have extensive grounds and green spaces, that many of the children wouldn't have access to, if not in school.
We created a HUGE canopy that wraps around these classrooms and allows an all-weather free-flowing space.
It's really added to their classroom space and means that in these Covid aware times that they have more space and fresh air.
Like many schools the current year 1 experienced their reception year in lockdown and so many of these children were educated at home, this canopy and school learning ethos will help them to catch up on their Communication and Language skills, to name but one!
Outdoor Learning Just became an option for Smallberry Green!
On the KS2 playground, the school were able to add in some much needed physical development with a focus on upper body strength – the Pull-up bars and monkey bars are a real hit and will I'm sure help support those children whose handwriting has suffered due to lockdown.
The wonderful 6m Gazebo - Outdoor Classroom, means that a whole class of 30 can comfortably sit outside and learn (with coats on in the winter) in all weathers!'
We installed a Secret Garden Gazebo and some seating, the school are so lucky to be in the heart of the Capital with so much green space, I'm thrilled that we could help provide them with spaces to sit, read, discuss and learn outside.
We were also able to renew the surfacing in their Nursery. Here the space had some very uneven surfaces which made great parts of it, unsuitable for young children to use.
Now, these children can pretty much go anywhere in their Nursery Garden / outdoor learning space. It must feel like it's three times the size of the old area!
Imaginative and creative play!
Across both Key Stages, we added in lots of Thermoplastic line markings.
These have gone down a real storm with the children, who can use them to make up lots of social and imaginative play, alongside the sporting opportunities that these provide.
Finally, they have a colourful multiplication table near the main parent's entrance – so no excuses for not knowing your time's tables at Smallberry Green!
Stacey said 'These have been a great addition to our school grounds and it's resources, they can be used by children during their break times, but also by our after school and holiday clubs. They are easy to supervise as you can see through them.' Sam goes on, we were able to add in some additional areas of Playturf Artificial Grass (all weather surface) around the school and behind the KS2 MUGA, this provided their children with some much-needed break out spaces for sitting, chatting, making up games in ALL weathers.
Sam says, 'The school were so taken with this idea, that we created a smaller blue fenced off space for KS1, so they could get used to the concept of playing sports in a designated area.'
Alternatively, if you would like to see the further projects we have completed within this area, take a look at our Greater London Projects Page here.