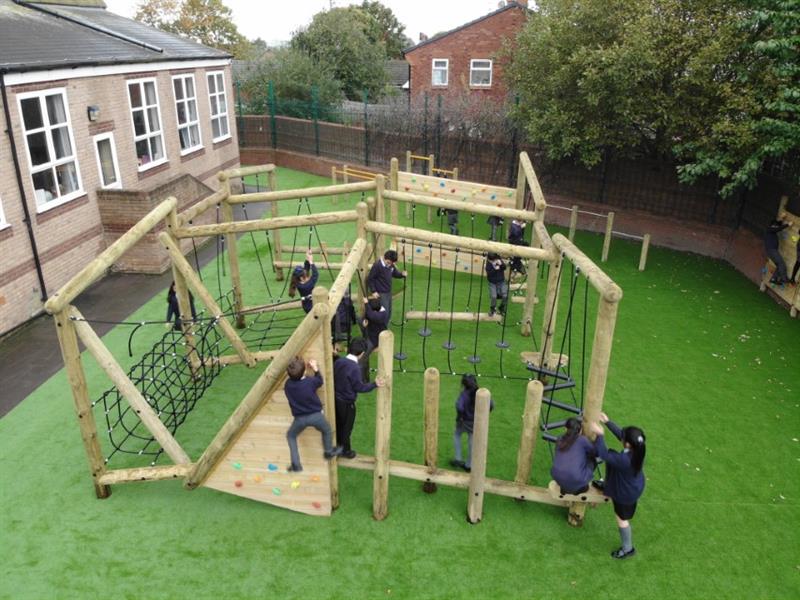 Excellent School Playground Equipment For KS1, KS2 and EYFS!
Phil Horne, the headteacher at Smithdown Primary School in Merseyside, had exciting ideas in mind when it came to his KS1 and KS2 children's outdoor learning environments. However, he needed someone to help bring these ideas to life.
Delighted with the opportunity to work with an excellent school, our playground consultant, Ian Wood, worked closely with Phil to transform his playground dreams into a reality.
KS1 Outdoor Play and Learning Space
Phil wanted to develop a creative, quiet space where the KS1 children could mark make, participate in collaborative imaginative play games and relax and socialise.
Ian designed and installed a stimulating literacy zone for the children, with plenty of opportunities for mark making, reading and storytelling outdoors.
A range of Activity Play Panels, including Chalkboards, Paint Panels and Easel Tables, enable many children to draw, get creative, scribble and write at once as they discuss their artistic creations and improve their handwriting and dexterity.
Additionally, we also created a comfortable space for storytelling with two of our magnificent Wigwams. The children have a relaxing, inspiring space where fairy tales can come to life as they unleash their inner imaginations; playing games using the Wigwam as a focal point.
They love sharing stories with one another, like the Big Bad Wolf as they watch Little Red Riding Hood skip through the forest on her way to Grandma's house.
A dedicated area for taking lessons outdoors and somewhere the children can use as a quiet, social area during lunch times and play times is a wonderful 5m Gazebo. Learning amongst nature, away from the constraints of the indoor classroom, is an inspiring way to create a thriving outdoor working environment.
Featuring a Giant Chalkboard and Benches, mark making is further promoted outdoors along with providing staff with a suitable outdoor learning space.
KS2 Adventure Play Zone
For the KS2 children attending Smithdown Primary School, Phil wanted to provide them with energising active play equipment to ensure that they had the opportunity to truly develop and target their key physical skills outdoors.
As this was the case, we believed that our Grizedale Forest Circuit and a selection of Trim Trail Equipment was perfect to meet the schools needs - extending the physical play opportunities.
Our Grizedale Forest Circuit is a humongous array of challenges and obstacles that presents children with a series of pathways to navigate at different level. The stimulating, open-ended climbing frame enables children to safely learn to manage risks as they navigate the environment, balancing through the Scrambling Beam Crossing or crawling through the Tunnel Net.
With such a variety of equipment, it enables children to use every part of their body to develop both fine and gross motor skills, improve their balance, proprioception, strength and core stability.
Coupled in the same areas a selection of trim trail equipment including Roll Over Bars, Parallel Bars, Pull Up Bars and a Timber Climbing Wall installed against the wall and fencing, the children have plenty of physical resources where a whole class of children can step and balance, reach and stretch, grip and grasp, pull and push, hang and swing, climb and jump!
The way the area has been designed ensures that we have made the best use out of the new space. As well as this, we have also ensured that the new play area can be used throughout all-seasons through surfacing the space with Artificial Grass Playground Surfacing: a soft, impact-absorbing, vibrant and free-draining surface.
EYFS Timber Canopy
A 7m x 3m Timber Canopy has been installed outside the EYFS classroom to provide the children with shelter, shade and a free-flow play environment.
The fantastic Timber Canopy has been built to the school's specification, including Bubble Windows, Artificial Grass and Saferturf to promote imaginative play and enable the early years children to learn and play in a comfortable environment.
Overall, the Early Years, Infant and Junior children all have a fantastic outdoor learning and play environment to explore and participate in cross-curricular learning activities. Phil is more than pleased with the new playground equipment we have installed, and the children love their new spaces!
If you'd like to enhance your outdoor spaces through the installation of School Playground Equipment, please feel free to Contact Us for a free, no-obligation quotation.