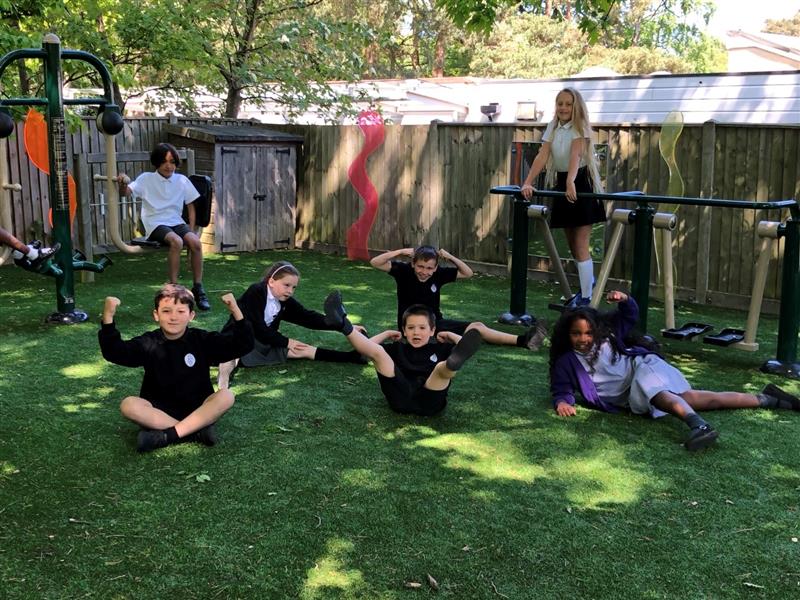 An Amazing Range of Outdoor Gym Equipment
Pupils at South Ascot Village Primary School in Berkshire are delighting in a first-class fitness area, newly installed in their playground.
Our Sales Consultant, Donella Felton, worked with South Ascot's Headteacher Kate Rimell, and School Business Manager Helen Thomson, on this exciting project which saw a complete renovation of the school's old outdoor nursery area.
Mrs Rimmell and Mrs Thomson explained that the reason behind the project was that they wanted to reinstate and revitalize the nursery garden. It had become very tired and was no longer being used effectively.
They wanted to create an outdoor space that the children would use and enjoy on a daily basis. They canvassed opinion throughout the school as to what everyone would like to see the space being used for, and the children asked for an outdoor gym.
It was put to a vote around the classes, and a fitness area which included outdoor gym equipment was a clear winner.
First of all, we installed our all-weather Artificial Grass. It's a textured surface designed specifically for schools to be robust and low maintenance.
It's self-draining so South Ascot will never have to worry about it becoming water-logged, and it provides a safe landing when children tumble over.
The new fitness area itself is situated in a lovely part of the school which enjoys natural shade from the beautiful mature trees surrounding it.
Our natural-looking green artificial grass is really in keeping with this and creates a stunning spot for outdoor exercise!
The children are using the surfacing as a resource in itself for floor work, stretching, warm up and cool down exercises.
The facility goes well with the school's pre-existing wall mirrors set along the timber perimeter fencing. The children can enjoy watching what they are doing, observing and improving their technique!
On top of the artificial grass we installed the following Outdoor Gym Equipment:
Double Air Walker - Designed to be used by children alone or in pairs, it creates a social aspect to their cardiovascular and lower body work-out. Creating a pivoted swinging motion, it's perfect for strengthening the legs and improving their core stability and flexibility.
Arm and Pedal Bikes - Seated pedal bikes for improving gross motor skills and getting the oxygen flowing!
Air Skier - Good for strengthening abdominal muscles and the lower back.
Seated Leg Press - Designed to be used by two children at once, this provides a workout where children have to use their own body weight to provide resistance.
All of the outdoor gym equipment we installed at South Ascot requires the children to use big body movements, really working on their physical strength and fitness, their coordination and gross motor skills.
Resistance work is really good for them at this age, with push and pull and stretching movements helping them to unleash energy and prepare their bodies both physically and mentally for the rest of the school day.
Outdoor gym equipment such as this is also an absolutely brilliant way for schools to spend their PE and Sports Premium.
This is especially true where schools have smaller spaces that they want to make the most of for physical activity.
Children can get a really good work out in smaller spaces where it is impractical for them to run around. Lots of children can use the space at once by turn-taking and using the floor as a gym resource too.
Once the fitness area was up and running, Donella returned to the school to see how the staff and children were getting on. We were delighted to learn that they are all really happy because it's totally transformed the area, and of course the grass doesn't need cutting!
They have been using it all the time for playtimes and for lessons as well. It's on a rota for playtimes to make sure that everyone gets a chance to use it. For PE lessons it's readily available whenever they want to use it.
Mrs Rimell and Mrs Thomson said:
"Working with Pentagon has been a great experience and we look forward to working with them again on future exciting projects!"
If you are looking for effective ways to spend your PE and Sports Premium, please do not hesitate to Contact Us. You can view Pentagon's full range of Outdoor Gym Equipment here.