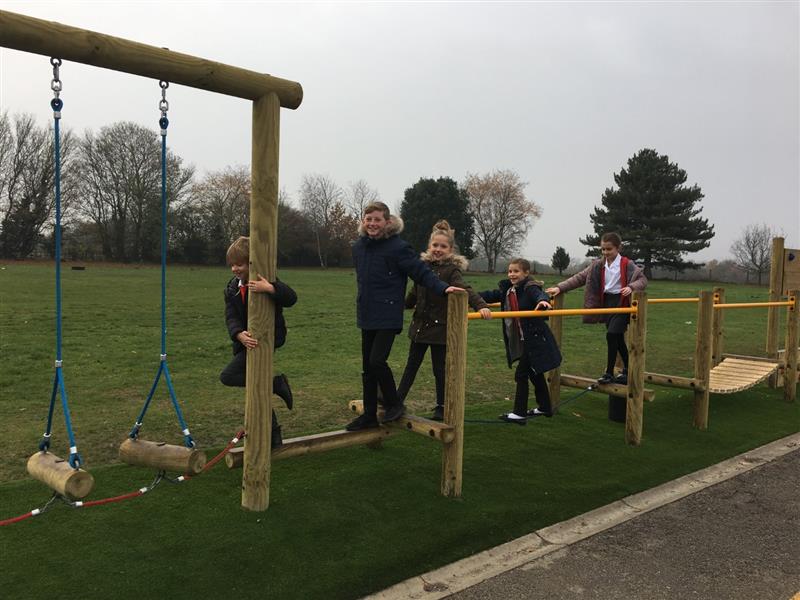 An Exciting Trim Trail for KS1 and KS2
Our playground consultant, Marion Rolph, collaborated with St Andrew's C of E Primary School to deliver an exhilarating and innovative trim trail to their current outdoor play areas, which could be utilised all year round.
The fresh trim trail offers a variety of physical challenges for the children in KS1 and KS2 to master. It comprises of specific apparatus focused on building muscle strength, core stability, balance and coordination in children.
Owing to its arrangement, the new and exciting trim trail encourages communication amongst peers; turn taking and teamwork too. As the children progress from one activity to another, their overall sense of confidence grows.
Deluxe Artificial Grass Surfacing
The inventive trim trail lies adjacent to the concrete playground and blends well with its neighbouring field.
So that it can be used in all weathers, irrespective of rain or shine, we have used 70m2 of natural- looking, low maintenance, artificial grass for the surfacing. It has reinforced fleece backing and is filled with monofilament yarns, leaving it strong yet soft to touch.
The Artificial Grass Surfacing is robust enough to deal with recurrent use and delivers a safer and softer landing for trips and falls.
Ingenious Trim Trail Equipment
The new and physically simulating trim trail that we installed at St Andrew's C of E Primary School comprises of 11 entertaining tasks:
Double-sided Climbing Wall: This intricately constructed climbing wall is made from high-quality pressure-treated 'play grade' timber and features over 50 colourful climbing holds to help children vary their play. The climbing wall is valuable for developing core stability and gross motor skills in children.
Clatter Bridge: Next in line is a slatted, timber deck bridge that sways from side to side as it is crossed. The rails offer support as the children progress their balance, coordination and build their overall confidence. The flat-top beams at each end of the bridge deck provide a sturdy start and finish point too.
Large Rubber Stepping Log: Following the bridge is a large width rubber stepping stone to provide a robust podium to step on and off and incorporate into other challenges.
Tightrope Bridge: Subsequently tightrope supported from two beam platforms offers a great way to test children's sense of balance, improve foot placement and coordination. A handrail on either side delivers extra support: ideal for beginners and shy and timid kids. It is a great confidence boosting challenge as children can feel proud when they conquer the task.
Mini Balance Beam x 4: These offer fun links amid different parts of the trail and a resting point, so kids can prepare themselves for bigger challenges.
Swinging Log Traverse: A physically demanding challenge, this is seamless for physical development and refining strength, gross motor skills and coordination. This adventurous traversing trial entails swinging logs that are unstable, under-foot. They test children's steadiness, core stability, and lower body strength as kids fight to keep their feet from sliding and legs from gliding apart.
Net Traverse: An equal net ladder across a timber frame to create a traversing challenge that will progress lower body strength, gross motor skills and harmonisation. To boost confidence, children can steady themselves with the vertical ropes while they negotiate the ladder with their feet.
Rocking Log Traverse: A large beam that spins eccentrically, it tests children's balance, gross motor skills with quick footwork and improve overall lower body strength. Crossing this is no mean feat!
Rope Swing Traverse: An overhead crossing challenge featuring rope handhold suspended from a timber beam and a tightrope between supporting posts. It advances children's upper body strength as they grip the handholds and advances lower body strength as they navigate the tightrope. Not only a strength task, this challenge also develops coordination and gross motor skills and the hand strength feeds back into developing fine motor skills. It is a perfect apparatus for children's physical development.
Climbing Poles: A set of six climbing poles with two of our designed, wildlife climbing holds, which add a fun and imaginative aspect to the challenge. These poles test children's climbing ability, upper and lower body strength, hand strength and coordination as each pole is negotiated.
Twist Net Bridge: Lastly, a net that twists as it spans between two timber beams to produce a crossing challenge for children. This twist net bridge is fantastic for improving coordination and building lower body strength and core stability.
We are delighted to have designed and produced a bold and adventurous trim trail that can be used by the beaming children during break times, or even as part of physical education lessons. The versatile trail featuring 11 diverse pieces of Trim Trail Equipment can be used by the children at St Andrew's C of E Primary School all year round.
The school love their new trim trail and provided lovely feedback:
'The whole process from the entire meeting with Marion to installation was really easy. The children are delighted with the adventure trail.'
If you are looking to add some fresh and stimulating features to compliment your existing outdoor play area or are wanting to completely refurbish your playground, we can design and install fun apparatus to support the seven areas of learning. To discuss how we can help you to achieve your goals, please contact us for specialist guidance and a free consultation.