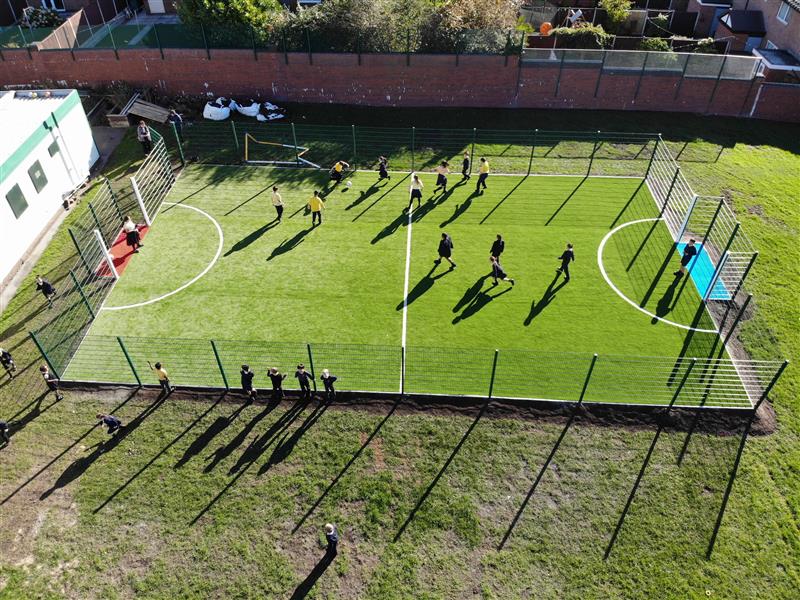 Enhancing the sporting curriculum with a MUGA pitch
Staff and children alike at St Cleopas Church of England Junior and Infant School, in Liverpool, are enjoying the benefits of a new Pentagon Multi Use Games Area on what was once a muddy school field.
Our Sales Director, Paul Bayliss, worked with the Merseyside primary school to help them improve their PE and Sports provision through this fantastic facility.
Paul went to visit the school to carry out the initial consultation and discuss the school's requirements as to how they wanted to develop their sports area.
St Cleopas have plenty of outdoor space with a lovely large field area off of the main playground. However, changing weather conditions have significantly affected how often the field can actually be used, with slippy mud and worn grass rendering much of the space impractical and going to waste.
The solution?
An enclosed, all-weather, Multi-Use Games Area, built on a section of the field to create an inspiring space for sporting activity all year round.
Our team began by preparing the ground and installing our sports surface base works, to ensure that the space would be self-draining. Onto this, we installed our all-weather, multi-sport artificial grass surface.
It's a high-quality artificial grass, tested to match FIFA's rigorous durability standards. White sports markings with a half-way line were set onto the pitch, and at each end we installed recessed goals with white goal posts.
With a red surface goal area at one end and blue at the other, it certainly sets the scene for some energetic team games!
We surrounded the entire MUGA - which, as with all of our MUGAs, is built to Sport England standards - with a 2m high steel mesh sports fencing, powder coated in an attractive green to complement the aesthetics of the school's field. Our sports fencing has an anti-climb design so it's safe and secure from both sides.
It's a fabulous new sporting facility that we know will really benefit the children at St Cleopas and see them enjoy participating in sports together for many years to come.
The school's motto is "Live, Laugh, Learn," and it was wonderful to witness the children demonstrating each of these principles on their MUGA Pitch when we went back to visit them in action.
Their football team is doing really well (we hear reports of a recent win!) and absolutely look the part in their new football kits too - we wish them every success for the future!
If you are looking to improve your sports facilities at your school, or if you are looking for long term and cost-effective ways to spend your PE and Sports Premium, please do not hesitate to Contact Us here to arrange a free consultation.
Pentagon's Multi Use Games Areas are designed and installed to suit your requirements, and we can help you to manage the entire planning process. You can view our full range of Sports Products for Schools Here.