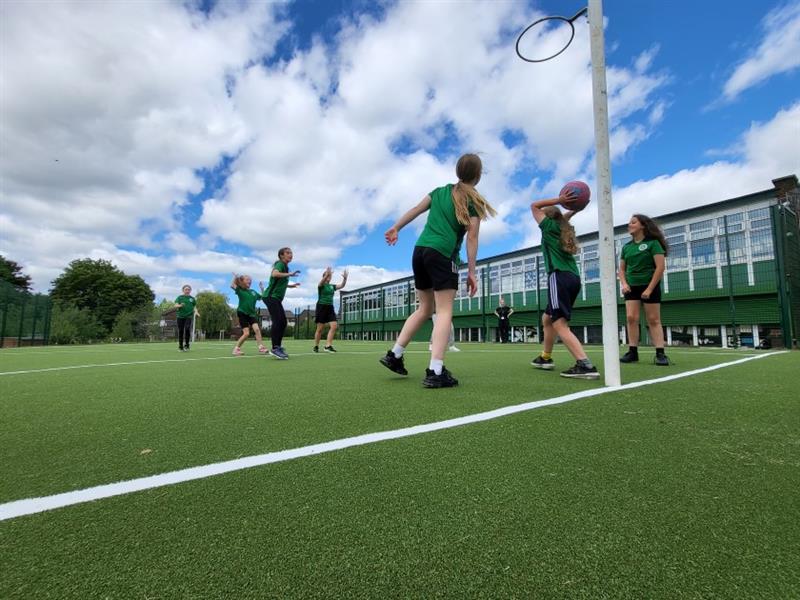 Making a MUGA for St Joseph and St Bede's Catholic Primary School!
Looking to create a dedicated sports space for their pupils, St Joseph and St Bede's Catholic Primary School contacted Pentagon Play for some support.
Equipped with a range of knowledge and experience, Outdoor Learning Consultant, Greg Gavin, was happy to help the school, listening to all of their needs and wishes and designing a space to meet them!
Having an uneven playground meant that during games of football, the ball often ended up all over the playground, meaning that children spent the majority of their time chasing after it, rather than playing.
Fencing off the area…
Wanting to reduce the amount of time that pupils spent running around the playground searching for the ball, it was important for the school to add fencing to the MUGA.
Creating a dedicated and zoned-off space for pupils means that the playground as a whole can be a shared space, with different zones for different activities.
Those wishing to be involved with sports can retreat to the MUGA where they will find play resources waiting for them in a great environment that encourages teamwork and communication.
It also means that those within the rest of the playground have their own space to play amongst themselves if they prefer not to be involved with sports!
Learning through sport…
Sport is an excellent method of instilling pupils with key values that will be carried forward with them throughout their education and career.
Fantastic for communication, team sports encourage a range of vocabulary as team members interact with one another, learning how to interact with one another and meet their goals during the game.
Team sports are also great for PSED, allowing children to build their confidence and get involved in new trials and challenges during their break time.
Having this dedicated sports space will encourage pupils to use their free time wisely, and get involved with something new and exciting.
Why a MUGA?
Multi-Use Games Areas provide a zone for pupils to not only enjoy their break time, but also to have their lessons.
Ideal for a multitude of games and activities, MUGA's are essentially an outdoor classroom for physical education.
Teachers can lead a variety of different tasks in this space and ensure it is being used to its full potential.
MUGA's are a great use of sports premium funding also. They level up the physical education offered to pupils and are eye-catching to prospective parents.
They're also long-lasting and invaluable to the education of pupils across all ages for years to come!
If you like the look of this development, then why not Contact Us Today and chat with one of our Internal Learning Advisors today about your options.
Or, see more of our impressive MUGAs and get inspiration for your own development now!