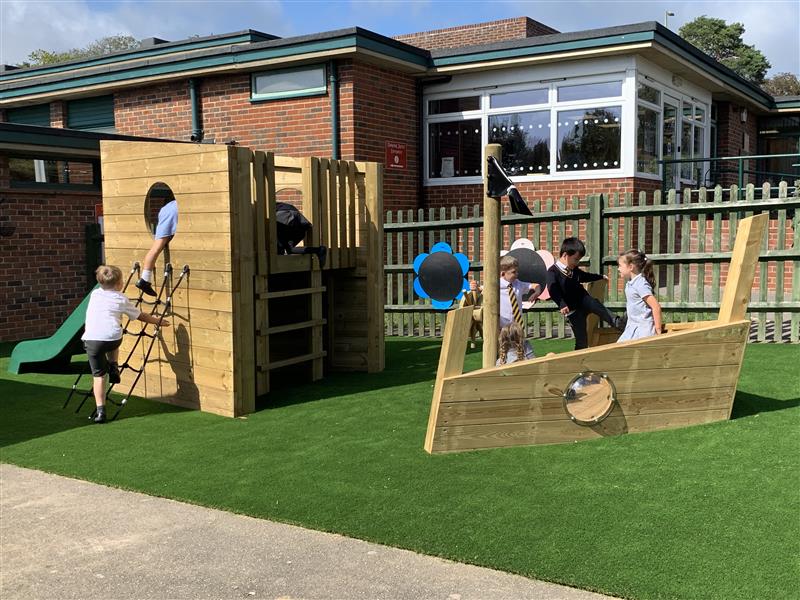 Targeting The Curriculum Outdoors With a Fabulous Selection Of EYFS Playground Equipment
St Jude's Catholic Primary School, located in Hampshire, contacted us as they wanted to enhance their EYFS playground to enable outdoor learning and play to take place all-year round and target the curriculum outdoors.
Our playground consultant, Donella Felton, was delighted to work with the school to install a variety of equipment to meet their outdoor needs and help ensure they could make the most out of their outdoor learning environment, all within their budget.
Sailing The Seven Seas In A Play Ship
The school wanted a space where their young sailors could truly indulge in cross-curricular imaginative play. So we installed our enchanting Play Ship to allow the pirates to roam free and explore the seven seas!
The play ship is the perfect crossover for both active and imaginative play as the children can climb the scramble net to the top deck to look out for land in the Atlantic Ocean before sliding down the slide to dig for buried treasure.
With a realistic ship's wheel and working flag system, they love taking charge of the ship's direction through the seas and heavy waves as they sail to imaginary worlds full of sailors and pirates.
Furthermore, teachers can fully utilise the exciting playground resource as they use the top deck for storytelling to share pirate stories and fairy tales, use the den making post disguised as the mast for construction play or take children outdoors for interactive lessons in Geography, History and Literacy. Learning can truly come to life outdoors!
Around the interactive learning resource, we installed our vibrant Artificial Grass Playground Surfacing to enable the area to be used throughout all weathers as well as protecting children from serious injury during inventible slips, trips and falls.
Providing Shade and Shelter with a Timber Canopy
To enable free-flow play to take place, throughout all weathers, we installed a wonderful Timber Canopy with Cladding, Glazing and Storage above the classroom door. Protected by a watertight, polycarbonate roof, the children can play in both the rain and the strong sunshine.
Outside the classroom, under the timber canopy, we have created a cosy space for play and learning to take place through the installation of our Artificial Grass Surfacing. The children have found the new surface is very comfortable as they sit and share stories with one another!
We also included a brilliant Sand Table for fine and gross motor skills development as the children participate in investigative play, a Water Table to encourage explorative play as they scoop, spill and pour water and finally, a giant whiteboard and a giant chalkboard to encourage the young children to scribble, draw and write outdoors.
As the children collaborate with one another during play, their communication, language and social skills are advancing.
The school are more than pleased with their new outdoor learning environment and love watching the learning taking place as the children freely learn through play outdoors!
If you'd like to enhance your outdoor learning environment with a variety of EYFS Playground Equipment, please Contact Us for a free, no-obligation consultation with one of our expert playground consultants.