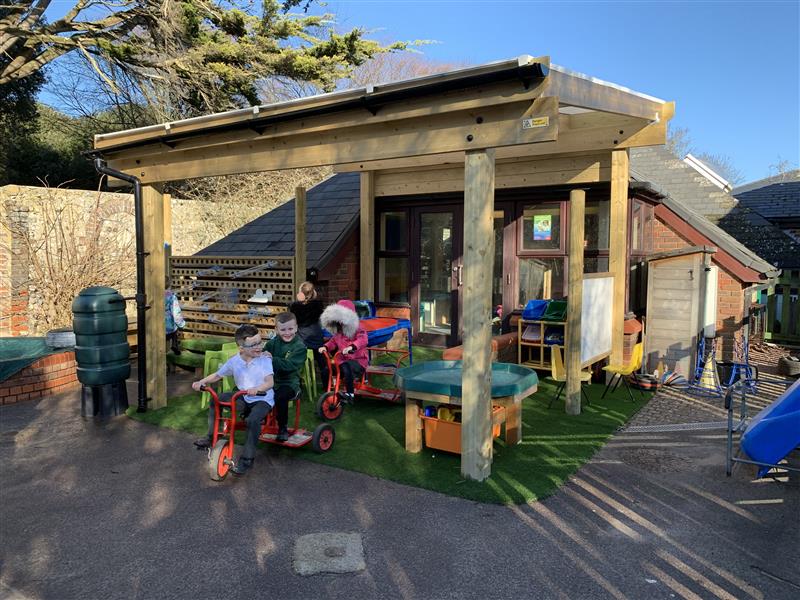 3 Exciting School Playground Developments For Learning and Fitness
Our playground consultant, Donella Felton, met with St Margaret's CE Primary School to discuss plans to modernise their EYFS, Key Stage 1 and Key Stage 2 outdoor play areas. We installed a sturdy, detached, high-quality timber and outdoor canopy into the school grounds - ideal for outdoor lessons, while delivering shelter from the elements.
KS1 Playground Equipment
We resurfaced the playground with even, high-quality, black tarmac to produce an all-year-round finish for the Key Stage 1 children to use. A variety of attractive and arty, Thermoplastic Playground Markings were then added to the tarmac to provoke learning through active play.
The markings include the following to complement the curriculum:
A Bespoke roadway (19m x 6m) with numbered parking bays, which delivers a perfect way to introduce children to road safety and an effective region of the playground for children to park their bikes and trikes.
1 Alphabet Spiral A-Z (lowercase) providing a fantastic literacy aid, offering a visual representation of the alphabet. The more children practise and play with this design, will allow for better recall in class when spelling, reading and practising letter formation.
A Mirror Me with 3 stations - a vibrant and lively design, allowing children to reinforce their knowledge of colours, network with their peers to form new relationships and hone coordination skills.
1 1-100 Snakes and ladders: a clever and nifty design, which can be used as a number line for practising additions and subtractions; where one child can jump forwards (for additions) and backwards (for subtractions) to find the answer. It supports number recognition and aids counting forwards and backwards to establish which number comes next and in so doing, supporting the Key stage 1 Maths curriculum.
A 1-10 Hopscotch: a lively Pentagon Play take on a playground classic. Children can practise their numeracy skills, whilst building their overall muscle strength and fitness.
KS2 Playground Equipment
Similarly, once we fitted first-class, black tarmac surfacing, an assortment of age-appropriate and visually striking Thermoplastic Playground Markings were added to invite Key Stage 2 children to the play area.
These include the following inspired designs to help children get physically active and move more, in line with the government initiative.
Basketball court line markings
Netball court outline
Chessboard: this giant 2.5m x 2.5m chessboard lets children develop a higher-level of thinking. Whether children know how to play or not, it familiarises them with the game of chess and can create interest and motivate them to want to learn. Not only is it a striking addition to the playground, studies have shown that playing chess can help with mental clarity too.
Thermoplastic Double Line Track for Daily Mile with 14 Laps = 1 Mile: a versatile and distinct pathway was laid to encourage children to become healthier. Whether they choose to jump, hop, run or walk the distance of a mile, or progressively build themselves to do more, it can support the development of lifelong fitness habits. Also, observing friends using the trail will inspire children to try the same.
Activity Trail: this entertaining and stimulating activity trail in a handy design allows children to build their muscle strength, co-ordination and flexibility without any additional equipment. The handy designs allows it to also be used as part of PE lessons too
Outdoor Classroom
The installation of the striking, multipurpose Gazebo on the grounds of the schools KS2 playground offers an alternative to indoor lessons. With this excellent addition, teachers and children can take lessons outdoors, whilst being protected from the elements: thanks to the Gazebo's cladding, decking and truly waterproof roof.
As the brilliant Outdoor Classroom includes workstations, benches and a chalkboard, a whole class of 30 children can be taken outdoors into the informal, functional classroom which creates a thriving, energetic working environment for lessons to take place.
EYFS Playground Equipment
Sheltered Play Zone:
The installation of the striking, multipurpose Timber Canopy in the grounds of the eyfs playground offers an alternative to indoor lessons. Teachers and children can take learning outdoors, whilst being protected from inclement weathers.
Water Play Area:
In the corner of the playground, we installed our fantastic water wall - complete with water channels and a grass topped seat to help children to access the higher channels.
The Water Wall is a fantastic resource to stimulate exploratory learning. This great region of the playground offers collaborative play, discussion and a mode for children to learn about flow and motion, how water travels and kinetic energy.
Giant Whiteboard on Posts:
This double-sided, powder coated, zinc-plated steel Giant Whiteboard is mounted on high-quality, pressure treated timber. The nifty, wooden frame is ideal for resting pens.
It is a great addition to the playground where artistic children from St Margaret's CE Primary School can draw, practise writing and numbers, or play 'teacher' with their friends.
The spirited children and lovely teachers at St Margaret's CE Primary School are thrilled with their recently revamped outdoor play areas. What were once dated and tired-looking playgrounds have now been transformed into striking and inviting areas for children to boost their learning and overall fitness too.
We have over 20 years of experience in the playground industry. Our ingeniously designed apparatus and skilled knowledge in the field, allows us to entirely convert any outdoor play space, irrespective of the size of the area or school budget. For more information, please Contact Us for professional advice.