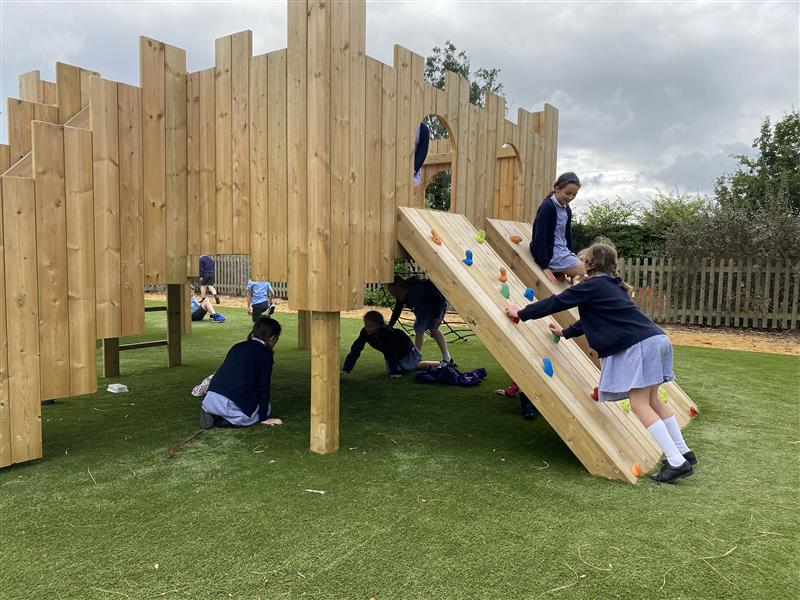 A Haven of the Imagination
Looking to provide their pupils with an outdoor play space for them to let their imaginations run wild and enjoy their break times, St Mary's Primary School knew that Pentagon Play was the only company to contact.
Working closely with experienced Outdoor Learning Consultant, Marion Rolph, St Mary's in Woodbridge, Suffolk contemplated which product would give their pupils the most freedom to really make the most of their break time, yet still participate in informal learning practice.
To do this, Marion advised them wisely to opt for something that would enable students to embrace their creativity and construct schemas of knowledge regarding the world around them.
A Castle fit for Kings and Queens
The ideal play environment for St Mary's was undoubtedly The Langley Play Castle; our ultimate fun haven.
Complete with several different aspects, pupils can test all different aspects of their agility and compete against one another to reach the top.
Who will be the reigning monarch this playtime?
Also, this product not only looks good, you can also use it for lessons.
Learn about the kings and queens of England atop of an actual play castle-how exciting!
Sliding into Success
Studies have shown that play can set your child up for success by teaching them relevant lifestyle and socialisation skills that they will need in the future.
By offering pupils the facilities for active play and imaginative play, children can interact with the whole around them, learning as they go, whilst still in a safe and secure environment.
This awesome play castle features our largest slide to date, giving pupils the chance to get their adrenaline going and race down the slide!
How exciting for the pupils of St Mary's!
Climb your way to the top!
Children can test their climbing skills as they pull themselves to the top on the featured climbing wall!
The colourful rocks on this stunning feature add to the vibrancy of this playground and make it delightful for all pupils to retreat to after lunch or school!
Climbing aids concentration, coordination and balance- key skills for any child's development.
Who will succeed in climbing successfully and reign on from above?
It's net all glamorous in royal life!
Being a royal is a full-time job and it can be exhausting for your pupils.
With this fabulous net climber, children can leisurely clamber along the ropes and practice their climbing skills.
What will the views be like at the top of this enormous tower!
We couldn't be more thrilled to have installed such an exciting product here at St Mary's and we're delighted to be able to say that they have since worked with us again!
Looking for some resurfacing work, St Mary's chose us for our reliable nature, consistent quality and hard work.
We send our best wishes to St Mary's and can't wait to work with them again!
To discuss your play transformation with us, Contact Us Today.
Or, browse the rest of our Suffolk Projects on our website today!