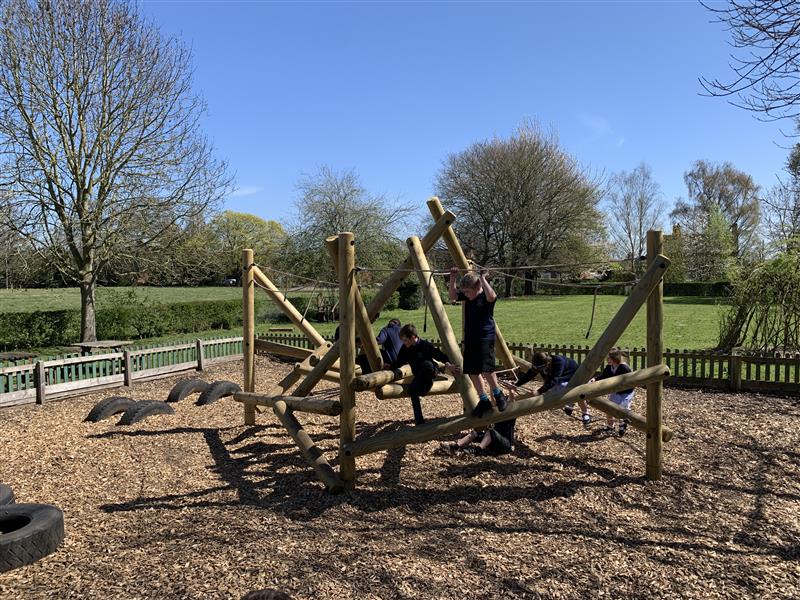 A Humongous Log and Rope Challenge For Active Playtimes
St Peter's Primary School wanted to provide more physical play opportunities for their KS1 and KS2 children to promote healthy and active playtimes, whilst giving their children a space to burn off some excess energy.
Our playground consultant, Tom Hollingworth, was delighted to work alongside the school to select the best climbing frame for their needs… and they chose our immense Tryfan Climber!
A Non-Prescriptive Active Challenge
Installed in a large fenced off area, surfaced with Bark, the Tryfan Climber stands tall in the playground!
Featuring dozens of crossing points and multiple ways to climb and traverse, the huge log and rope climbing frame enables plenty of children to use the area at one time as they balance on the beams and cling onto the ropes.
Cautious climbers can make their way up to the highest point over a number of playtimes as they build up their confidence, whilst the daredevils take a leap of faith to the ground below.
Underneath the climbing frame, there is plenty of space for groups of children to gather to socialise as they rest and relax away from active play or build their secret dens as part of their creative play games.
While climbing, balancing, jumping and hanging from the ropes, the children are improving their overall body strength, core stability, balance, gross and fine motor skills through play!
When Tom went back to visit St Peters, he heard all about how much the children love their new physical challenge and saw the children fully utilising the new area.
Would you like to introduce some more physical play opportunities into your playground to promote active playtimes? Explore all of our active playground equipment here and begin your journey with Pentagon Play by contacting us here.