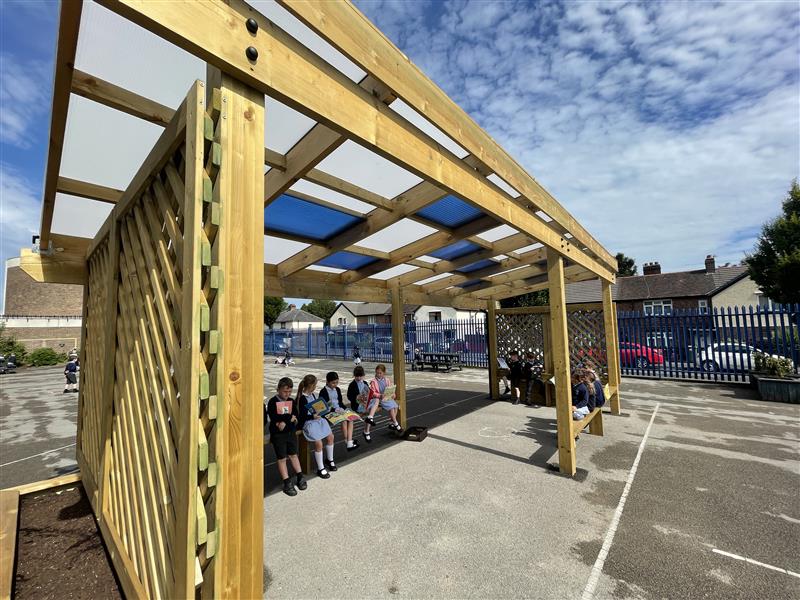 St Teresa's Catholic Primary School's Coloured Roof Canopy
A very exciting project has been completed for the lucky pupils at St Teresa's Catholic Primary School in St Helens!
Ian Wood, one of our passionate playground consultants, was delighted to work alongside Rachael Brookes, headteacher, to bring an exciting playground improvement idea to life.
Previously, the playground didn't have any focal point to the area or shade and shelter. However, Rachael was keen for something a little bit more special and bespoke to her school, so Ian got to work designing the perfect timber canopy for St Teresa's.
A Coloured Roof Timber Canopy for the School Playground
There's many features which make the brand new 8m x 3m Timber Canopy unique to St Teresa's. The canopy has been built to suit the needs of the school and includes:
Integrated benches to seat multiple children.
Planter benches and trellis fenced sides to combine natural play opportunities and create a relaxing social space.
A watertight polycarbonate roof to provide shade in the hot sun and shelter during adverse weather conditions.
The roof features bright blue square panels to provide an extra surprise of the light dancing in the space when rays of sunshine through.
The school and Rachael are more than impressed with the new timber canopy and when Ian went back to visit the space, he saw the children engrossed in reading in the outdoor classroom surrounded by the beautiful bright blue skies!
"How has the canopy benefited your school?"
"It has been a fantastic addition to the playground, it has created a real focal point where the children can sit and socialise. It has caused a lot of excitement towards the community as well, when people are passing by, it's a lovely feature to the playground and you get that extra surprise of the light underneath when you see the blue when the sunlight comes through."
"How was your experience working with PentagonPlay?"
"Steve and Steve, the installers, were fantastic. The children had lots of questions and they were very patient with them and it was an excellent experience working with them.
Our experience working with Pentagon was very professional from start to finish, even coming out and doing the quote for us, I really liked the ethos of the company and that's why I went with them, but as I say it was very professional throughout, as we had all the quotes and the designs and pictures sent to us as well"
Would you like a Timber Canopy to create a focal space in your playground? Contact Us Here to begin your journey with Pentagon Play today.
Alternatively, take a closer look at all of the excellent playground projects we've completed for primary schools and nurseries in Liverpool on our dedicated Liverpool Page Here.